Community's Danny Pudi Shares His Embarrassing Moments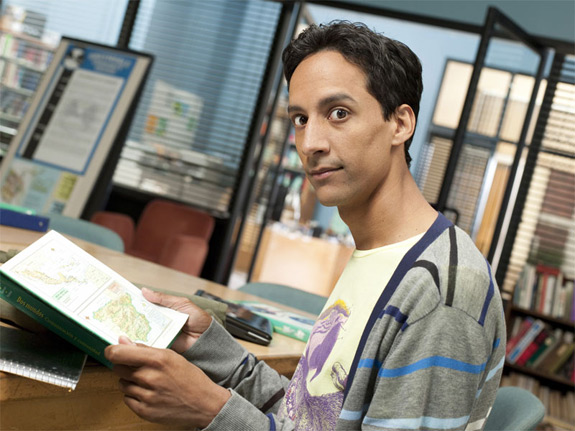 Have you ever called your date by the wrong name? Or worn jeans and a t-shirt to a meeting where everyone else was dressed up? These HANDLE IT moments often have guys sweating on the inside while trying to maintain their cool on the outside.
To help guys keep their cool, new Speed Stick Power and Community star Danny Pudi are kicking off a new HANDLE IT Twitter campaign by asking guys "How do you #HandleIt?"
I had a chance to interview Pudi last week, and that was definitely entertaining.. Abed may just be a television character, but he's not that different in real life. We talked about the future of Community, asked if Alison Brie was single, and found out why he wanted to get involved with the HANDLE IT campaign.
Unfortunately, they don't know if Community will be renewed for another season.. On a brighter note, co-star Alison Brie is single – But he wouldn't give up her digits. Trust me, I tried!
And as for HANDLE IT campaign:
I'm really excited about, because of my fascination about – and always finding myself in – awkward situations. We're asking people to tweet their awkward stories and encounters to @SpeedStick, using the hashtag #HandleIt. Out of these stories, we're going to pick one, and I'm going to narrate it. I'm really excited to see what happened to some of these people…
I'm constantly telling my wife and friends about things that I've done, or times I've gotten in trouble for saying the wrong thing, doing the wrong thing in front of my wife's parents… I yelled out "Hooters!" from my car at my wife one of the first times I met her Dad. That didn't go over well. It will be fun just hearing about how people got into awkward situations, and got out of them. It's April 23rd through May 14th. Hopefully I learn something about myself, and find out I'm not the only one who's been in many awkward situations.
To help guys manage some of life's top HANDLE IT moments, Danny and Speed Stick Power have the following "Don't sweat it, HANDLE IT" advice:
The BREAK-UP: Be a man and HANDLE IT the right way. I'd suggest having a buddy on standby to woo your future ex immediately after giving her the bad news. If he does a good job complimenting her, and bad talking you, it'll ease the blow to her ego.
INNAPPRORIATE CONFERENCE CALL LAUGHTER: Inappropriate laughter doesn't go over well when you're accidentally NOT on mute. Don't sweat it though, next time your laughter is exposed, own up and insist that a "hysterical laugher" is way better than a "hysterical crier."
SHARING THE TOOTHBRUSH: She's sleeping over for the first time and wants to use your toothbrush. This is a big leap in a relationship …my wife and I still don't do it! Don't be afraid to be a man and just say "ewww that's gross!" Hopefully, she'll appreciate your honesty.
THE ABSENT-MINDED PRESENTER: Nobody likes to give a presentation, especially when your mind goes blank. It's kind of like when I forget my lines … which I do all the time. Reschedule the meeting, or fake evidence of a natural disaster – I tend to go for earthquake – and lead an evacuation. Use the evacuation time to brush up on the subject.
Join the discussion and share your HANDLE IT moments by tweeting to @SpeedStick, using the hash tag #HANDLEIT.
For more information about Speed Stick Power or the Twitter contest, please visit www.speedstick.com or www.YouTube.com/SpeedStick.