DiGiorno Brings First-Ever Customizable Pizza To Frozen Food Aisle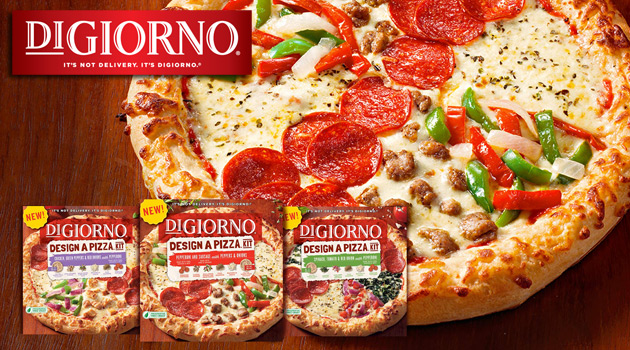 How's this for a personal touch? DIGIORNO, the leader in premium frozen pizza, is giving everyone the chance to come together, and for the first time ever, create a truly customizable and delicious DIGIORNO pizza with its new DESIGN A PIZZA kit. Regardless of your pizza-eating personality – hold the veggies, pile on the meat or kick up the spice – the DIGIORNO DESIGN A PIZZA kit lets you customize a pizza with a personal touch based on each person's individual tastes.
"Whether it's through fashion, finger painting or building craft-stick houses, everyone is looking for ways to express themselves, and food is no different," said Todd Macsuga, Director of Marketing for Nestlé Pizza. "With the new DIGIORNO DESIGN A PIZZA kit, everyone's an artist. We are making it easier than ever to show off your personality in a creative way, while customizing mealtime to fit specific tastes and to please everyone around the table."
Each DESIGN A PIZZA kit includes a full-size DIGIORNO cheese pizza with individually wrapped premium meats, veggies, shredded cheese and seasoning packet. Everyone can create their own perfect slice with these three flavorful varieties:
Pepperoni and Sausage with Peppers & Onions: features pepperoni, sausage, red and green peppers and onion strips
Spinach, Tomato & Red Onion with Pepperoni: features pepperoni, chopped spinach, diced Roma tomato and red onion
Chicken, Green Peppers & Red Onions with Pepperoni: features herb-seasoned chicken, pepperoni, green pepper and red onion
Need some creative inspiration before creating your DIGIORNO pizza? You can build your own masterpiece virtually in one of two ways.
DIGIORNO has partnered with eight influential bloggers to create their very own original pizza masterpieces that express their unique personalities and taste preferences. Check out their DESIGN A PIZZA kit masterpieces through a collection of Vine and Instagram videos at www.Digiorno.tumblr.com.
Or visit www.DiGiorno.com to create your own masterpiece using the DESIGN A PIZZA app. You can virtually design and name your masterpiece to get a $1.50-off coupon.
DIGIORNO's DESIGN A PIZZA kits are available in your grocer's freezer aisle and retail for $6.79–$8.99.
For more information about the entire line of DIGIORNO brand products, visit www.DIGIORNO.com.