Pizza Hut Reunites With Ninja Turtles to Bring Back Cheesy Bites Pizza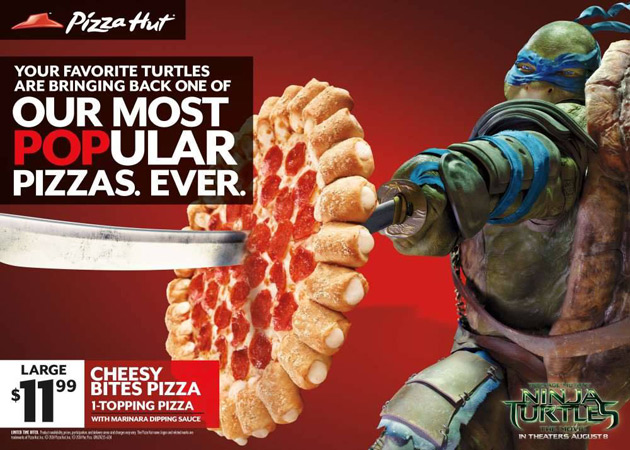 Pizza Hut and the Teenage Mutant Ninja Turtles will join forces on a summer-long promotion celebrating the return of an all-time favorite Pizza Hut pizza: Cheesy Bites AND the arrival of the new TMNT movie featuring the pizza loving Turtle brothers, appearing in theaters nationwide on August 8th from Paramount Pictures.
The pizza/movie pact revives a long standing connection between the world's largest pizza company and the Turtles brand, going back decades to the previous animated films, live concerts and packaging promotions.
One thing that hasn't changed over time though is the Turtles' love of pizza, which is why Pizza Hut will offer a large one-topping Cheesy Bites pizza for $11.99 as the featured product during the promotion.
"There's no denying the Teenage Mutant Ninja Turtles' love of pizza, which is one of the many reasons it fits having our brand fuel their hunger in the upcoming film," said Carrie Walsh, Chief Marketing Officer, Pizza Hut. "Coupling the popularity of the Ninja Turtles to our pizza innovation, we're thrilled to be bringing back a fan favorite in Cheesy Bites Pizza that combines the great pizza taste with a little 'food fun' for fans to enjoy."
The 2014 partnership with the Pizza Hut and the Ninja Turtles live action film delivers a high tech offering to engage customers  including augmented reality, digital videos, hidden menus, custom pizza boxes and even a throwback to a super fan favorite- the Pizza Thrower vehicle at live events.
The Pizza Hut campaign around the big screen return of the Turtles will be supported with a custom national television spot featuring the famous Turtles invading a Pizza Hut test kitchen, which you can see below:
"We just couldn't seem to keep the Turtles from devouring all the Pizza Hut pizza on set", commented LeeAnne Stables, Executive Vice President of Marketing Partnerships at Paramount Pictures. "This national partnership delivers so many cool and innovative ways for Ninja Turtle fans to take part in the excitement around the film release".
There are many opportunities for fans to experience and engage throughout the campaign, including:
Pizza Hut and Ninja Turtles Go Digital
To kick off the promotion, Pizza Hut will host a #TBTMNT (Throwback Teenage Mutant Ninja Turtles) promotion on its Twitter and Instagram channels where fans are encouraged to post their old turtle swag or turtle costumes for chances to win gift cards and other prizes. More information can be found on the Pizza Hut Twitter channel.
Leading up to the premiere of the Ninja Turtles movie, fans can learn the "turtle way" to cut a pizza "Katana Style" via a "Katana Cut" training video. Fans will then be able to order a pizza cut this way – in four Ninja Turtle-size slices instead of eight – to draw a closer experience to the film.
In addition, the box topper for Cheesy Bites pizzas will feature an augmented reality experience for customers at home. Fans will have a chance to unlock extended footage from the movie and additional content through an interactive AR experience.
All digital assets will also be housed on a new Tumblr page hosted by Pizza Hut. The page will provide an arena for fans of pizza and the Ninja Turtles to showcase memories and stories related to the Turtles and Pizza Hut for other enthusiasts around the world to enjoy.
Ninja Turtles Hidden Menu
While all the Turtles have a love of pizza, they each have their own favorite. To highlight this, Pizza Hut will include an exclusive online only "hidden menu" that features unique Cheesy Bites Pizza recipes inspired by the personality of each Ninja Turtle. The recipes are as follows and are available for $13.99.
Donatello's Favorite Pizza: chicken, mushroom, green pepper and tomatoes
Leonardo's Favorite Pizza onions, black olives, green pepper and mushrooms
Michelangelo's Favorite Pizza: pepperoni, ham, pineapple and jalapeño
Raphael's Favorite Pizza pepperoni, Italian sausage, bacon and beef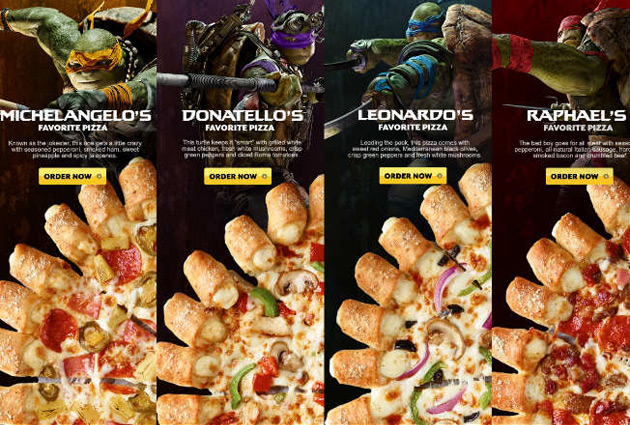 Pizza Thrower Makes Comeback in Life Size Form
Pizza Hut will reprise a legendary toy figure and fan favorite by unveiling a life size version of the "Pizza Hut Pizza Thrower" which will make appearances at live events. Fans will be able to take charge of the iconic vehicle and fire Cheesy Bites Pizza props at targets, including movie bad guys like Shredder and the Foot Clan, and also enjoy a sampling of real Cheesy Bites Pizza.
The Return of Cheesy Bites
Introduced in 2006, Cheesy Bites pizza has 28 cheese-filled bites that take the place of a traditional crust edge. During the Teenage Mutant Ninja Turtles partnership, a large 1-topping Cheesy Bites Pizza is available for $11.99.
To order Cheesy Bites Pizza visit PizzaHut.com or any of our more than 6,300 locations nationwide. Pizza Hut also has the largest suite of ordering channels of any national pizza chain, including apps for iPhone, Windows, Android and Xbox 360 as well as iPad and a mobile site.
More information about the brand can be found on the company's Facebook and Twitter pages.