Enter To Win This 800HP 2015 Mustang GT Designed By Chip Foose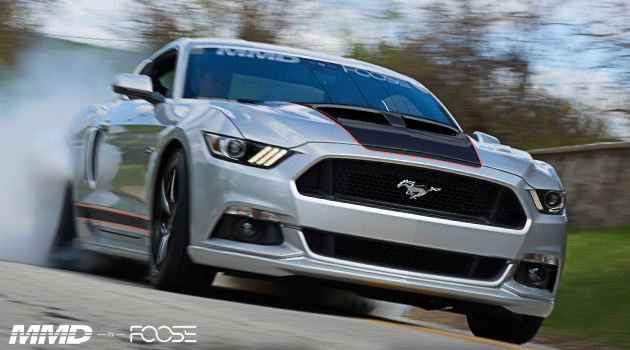 In the ultimate collaborative effort, Modern Muscle Design paired up with legendary designer and hot rod icon Chip Foose to create a one-of-a-kind 2015 Mustang: MMD By Foose, and they're giving the car away to one lucky winner! Chip Foose and the MMD Team worked to create a 2015 Mustang that embodied its heritage while also highlighting the prowess of the new S550 platform. The end result is the MMD By Foose Mustang which features a mix of performance and styling parts in one stunningly beautiful package.
Chip Foose and the MMD Team worked to create a collection of brand new parts for the 2015 Mustang that accentuate and enhance the new body style. With a pronounced chin spoiler and large hood scoop, to the side scoops and rear spoiler, all of the new parts on the MMD By Foose Mustang create an aggressive and sleek appearance. Backing up the styling, is the improved performance of the MMD By Foose Mustang. A Bama Performance Supercharger Kit bumps the power output to over 800 HP at the crank, which means smoking the tires in style has never been so easy.
Imagine showing up at the next Cars and Coffee meet in this bad boy, how sweet would that be? Then what are you waiting for, enter the contest now for your chance to win!
Good luck!