2015 Mazda CX-5 Has Family-Sized Zoom Zoom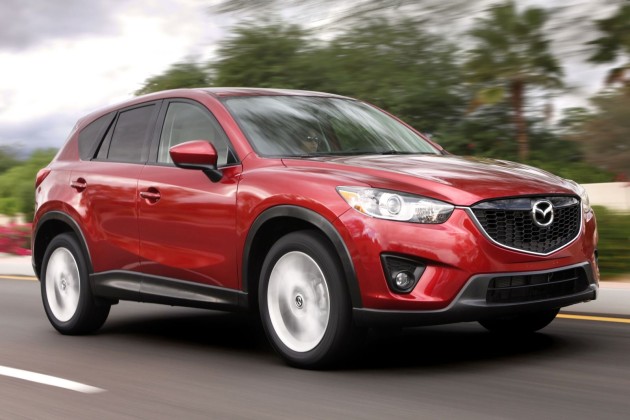 It's rare for a crossover to be called "sporty" and have it be a serious description. Though in the case of the 2015 Mazda CX-5, it's apt. What this little crossover might lack in interior bling is made up for in behind the wheel zing.
The 2015 CX-5 offers a good mix of family friendliness, fun driving, and stylish looks. Mazda's KODO design language translates well to the little crossover, giving it an almost European look of sportiness. Safety ratings are also top notch, worth noting if you are a conscientious family hauler. Even if you aren't, it's a great friend-carrier too for those weekends out or nights on the town. Plus it looks good pulling up to the curb, so it's a nice date machine. She'll never guess how frugal it is on gas and insurance either, I bet.
The interior of the 2015 Mazda CX-5 is its least impressive point, though it's not all that weak. It has a good look inside, but there is a decidedly empty "wow" factor here. Nothing jumps out and says "ooohhhh" to you. For the short-term, on first impressions, that's not great, but over the longer term, you begin to appreciate the less blingy interior for its ease on your eyes when driving everyday. It has a kind of maturity to it.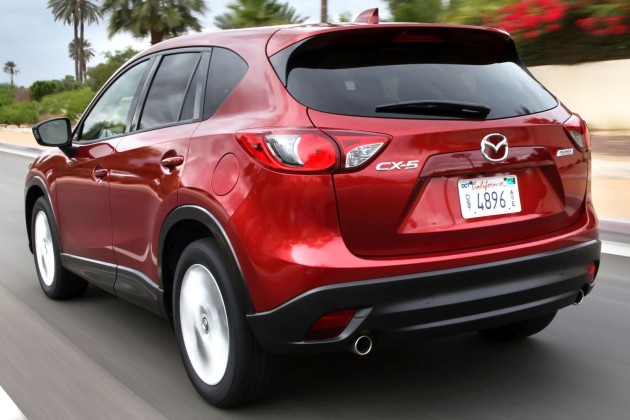 Seating is comfortable and adjustable and suited for both around the block and long road trips. Back seats are a lot bigger than the CX-5's size indicates and are also very comfortable, even for adults. Cargo space is adequate, though not cavernous as it may be in some competitors. The rear seats are split-fold, so much more room can be had when needed.
If you are a technology hound, you will find yourself unhappy in a Mazda. Although the company has a great palette of vehicle designs, fuel efficiency, and driving dynamics, they just don't have a very good handle on infotainment. The low quality graphics and outdated options are a downer, though the system is at least simple and accessible. The small screen, even in the highest CX-5 trim point, means the backup camera is only useful in very close quarters.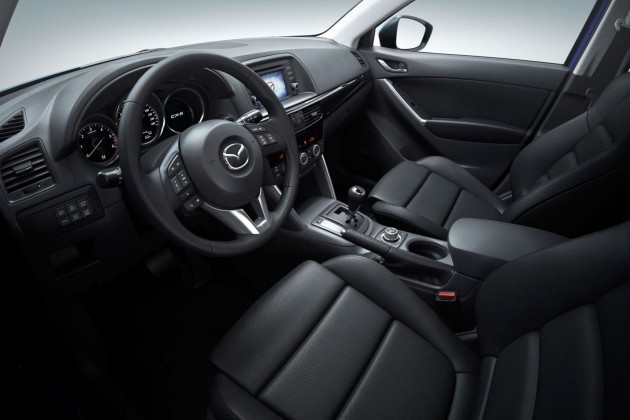 The good news is, the Mazda CX-5 drives like a sports sedan. Its base engine is a 2.0-liter four-cylinder, but the real money is in the 2.5-liter SKYACTIV turbocharged, high-compression four-cylinder engine. This little powerhouse churns at 184HP and 185 lb-ft of torque through a six-speed automatic transmission (standard). You don't lose much on fuel efficiency either, with the EPA rating the CX-5 with that 2.5 at 26 mpg combined in all-wheel drive (27 mpg for front-wheel drive). We easily made 28 mpg in our week of driving in the AWD option, only two ticks under the CX-5's 30 mpg highway rating.
A smart and forgiving suspension, tight steering feel, and great visibility all add up to solid driving in the nimble little 2015 CX-5. It's athletic, for sure, and has great maneuverability in parking lots and side streets. Road noise is minimal on the highway and it cruises along with manners.
In the end, once we got used to the lack of bling factor in the interior, the Mazda CX-5 quickly grew on us and became a favorite. The base model begins at just under $22,000 and we drove it at its Grand Touring AWD trim with some package additions at $34,140, so chances are there's a price point for the CX-5 that matches your pocketbook.