Fandango Offering 'Interstellar' Fans A Trip To Space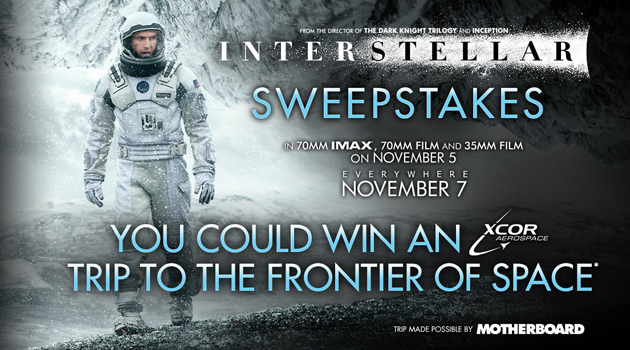 Have you ever wanted to travel into space? Of course, we all have! Well here's your chance to rocket into the frontier of space on XCOR's Lynx Mark II spacecraft!
Starting today on Fandango, fans who buy a Fandango movie ticket to Christopher Nolan's highly anticipated Paramount Pictures and Warner Bros. Pictures' release Interstellar will be entered for a chance to win the ultimate escape: A trip to the frontier of space on the XCOR Lynx Mark II spacecraft. Man, talk about a fitting sweepstakes for Nolan's grand adventure.
The once-in-a-lifetime trip (valued at $100,000) is being made possible through a unique partnership between Fandango, Paramount Pictures, XCOR Aerospace, and Motherboard, VICE's online channel dedicated to the intersection of technology, science and culture. Interstellar, starring Academy Award-winning actors Matthew McConaughey and Anne Hathaway, along with Academy Award-nominee Jessica Chastain, opens with advance screenings in IMAX 70mm film, 70mm film and 35mm film formats on Wednesday, November 5th, two days ahead of its nationwide release on November 7th.
"Frontiers are not opened by the faint-hearted," added XCOR CEO Jeff Greason. "Interstellar offers those of us working to create a hopeful future for humanity in space the chance to stop and enjoy the vistas of that future for a few hours, and this flight makes it possible for one more person to take the journey with us onboard Lynx."
The grand prize-winner will receive a seat aboard the XCOR Lynx Mark II spacecraft, reaching an altitude of 62 miles. Also included in the package are 4g simulator training, and hotel accommodations and round-trip travel to the XCOR spaceport in Mojave, California. The sweepstakes entry period ends on December 1st, 2014 at 10:00am PT, and complete sweepstakes rules, prize information, grand prize-winner options and free alternative method of entry can be found at http://www.fandango.com/sweepstakesrules/interstellar.
"We're always looking for innovative ways to add value to our Fandango movie ticket for consumers, whether it's gifts-with-purchase, bundling packages or high-end sweepstakes," said Fandango's VP Marketing Adam Rockmore. "The Interstellar trip is clearly the coolest prize we've ever given to a moviegoer in the fourteen years of our company. There is certainly no bigger and better way to celebrate a movie event like Interstellar than to send one of our moviegoers on a life-changing journey to space."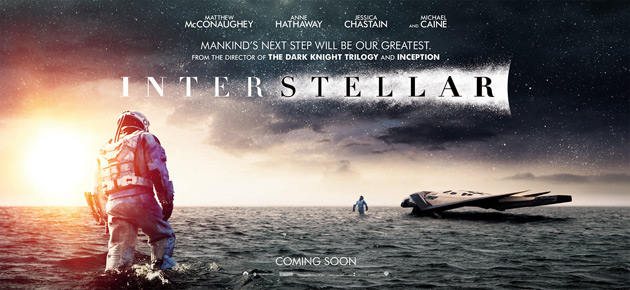 Interstellar stars Matthew McConaughey, Anne Hathaway, Jessica Chastain, Bill Irwin, Ellen Burstyn, John Lithgow and Michael Caine. With our time on Earth coming to an end, a team of explorers undertakes the most important mission in human history; traveling beyond this galaxy to discover whether mankind has a future among the stars. Directed by Christopher Nolan, written by Jonathan Nolan and Christopher Nolan, and produced by Emma Thomas, Christopher Nolan and Lynda Obst.
I was already planning on seeing Interstellar next week when it came out, but now that they've sweetened the deal with the prospect of winning a trip into space, you'd better believe that I'll be purchasing my tickets on Fandango just as soon as I'm finished with this post!