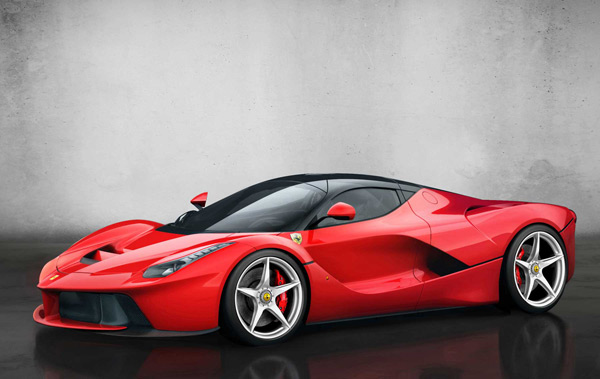 It's been roughly 48-hours since the debut of Ferrari's newest, uber rare model, and within seconds of the unveiling, my newsfeed has been filled with likes, dislikes, and utter confusion.
Ferrari LaFerrari?
The above isn't a typo; but I'm not here to jump on the bandwagon and follow the rest of the automotive journalists and bloggers looking to speak badly about Ferrari's new masterpiece, where quite frankly, there isn't anything bad to say about it.
10-years have come and gone, and Ferrari has succeeded in creating another automotive benchmark. To date, the F40 (1987) is one of the, if not the best, sports cars ever produced. 1995 marked the birth of the Ferrari F50, a return to the mid-engine, naturally aspirated V12 supercar platform. And, in 2002, Ferrari named their 60th anniversary masterpiece after their founder, Enzo. All three were an improvement upon their predecessors, yet each the benchmark of their era.
With a 6.3-Liter V12 producing 790 BHP @ 9,250 RPM, in conjunction with a HY-KERS system that reduces emissions by 40% and increases output by 10% to 950 BHP, LaFerrari is definitely not lacking in the power department. Around Fiorano, Ferrari's private track, LaFerrari surpassed the Enzo by 5-seconds, creating a new lap record of 1 minute 20 seconds.
Interestingly enough, LaFerrari uses 4 different types of carbon fiber in its construction, and has been completely designed in-house; there are no Pininfarina badges to be found. 499 models have already been spoken for, and if you're anything like me, it's going to be quite some time before you physically get to see one of these beauties in person. Maybe we"ll get to see one in the flesh at a Canadian auto show this year!
Ferrari has created a masterpiece, and it's going to be challenging to push the envelope even further. With direct competition coming from Porsche, in the form of their hybrid 918 Spyder, and McLaren, with their insane and out of the box P1, it should make for terrific competition.
Down the road, 10-years from now, we'll be talking about Ferrari's next benchmark. Until then, we can only hope that Ferrari releases an FXX version of the Ferrari LaFerrari.