First Drive: 2017 Fiat 124 Spider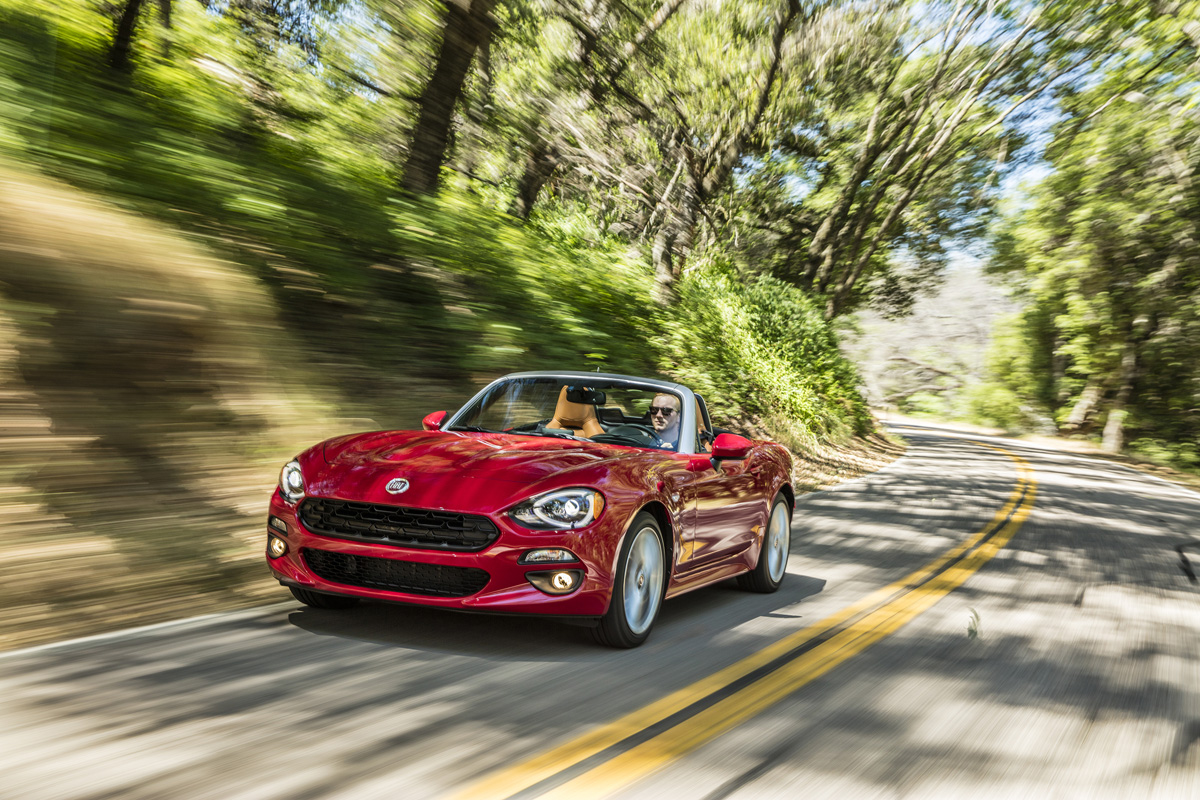 Last year, we were lucky enough to drive the all-new 2016 Mazda MX-5 Miata, and I fell in love with it almost immediately. So when FCA invited me to sunny San Diego to drive the 2017 Fiat 124 Spider, I was really curious to see how the Miata's Italian cousin would compare.
Many have been quick to dismiss the 124 Spider as simply a rebadged Miata (much like the Scion FR-S and Subaru BRZ), but the relationship between these two cars is decidedly more complicated. As you can see in these photos, the Fiat's styling is vastly different from the Miata, taking styling cues from original Spider and reinterpreting them for the 21st century. Ralph Gilles calls the design "100 percent Italian".
But perhaps the biggest difference between the two cars is what's under the hood. The Miata is powered by a naturally aspirated, 2.0-liter inline-four (that puts out 155HP and 148lb-ft of torque), while the 124 Spider is powered by a turbocharged, 1.4-liter engine (the same engine used in the 500 Abarth) that puts out 160HP (164HP in Abarth trim) and 184lb-ft of torque. That's a HUGE difference in torque!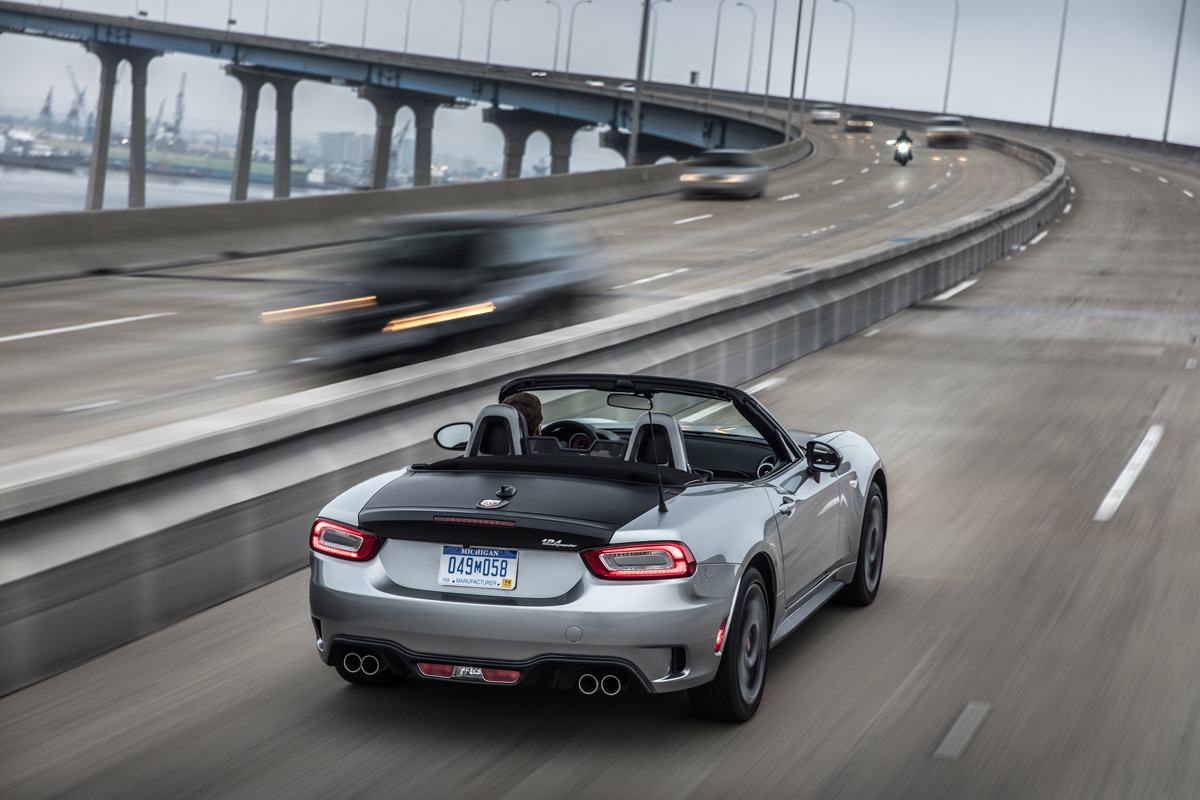 The 124 Spider is available in three trim levels: Classica ($24,995), Lusso ($27,495) and Abarth ($28,195).
The Classica is your base model, and it's a great option for purists who want a no-frills sports car and aren't overly concerned with options. Next up is the Lusso (that's Italian for luxury), and that model comes with 17-inch wheels, leatherette dash material, heated leather seats, and a silver A-pillar, roll bars, and exhaust tips. Inside, there's red stitching throughout, a matte black instrument panel bezel, unique instrument cluster, aluminum-accented sport pedals and unique gear shift knob help to differentiate the Abarth model.
But in my opinion, the model to get is the Abarth, which dials things up to 11. The Fiat 124 Spider Abarth has an aggressive appearance, with unique front and rear fascia, black side sills, 17-inch gun metal wheels, gun metal A-pillar, mirror cover and roll bar, along with a sport-tuned, chrome quad-tip exhaust with a throaty exhaust note. Inside, there's Rosso (red) stitching throughout, a matte black instrument panel bezel, unique instrument cluster, aluminum-accented sport pedals and gear shift knob unique to the Abarth.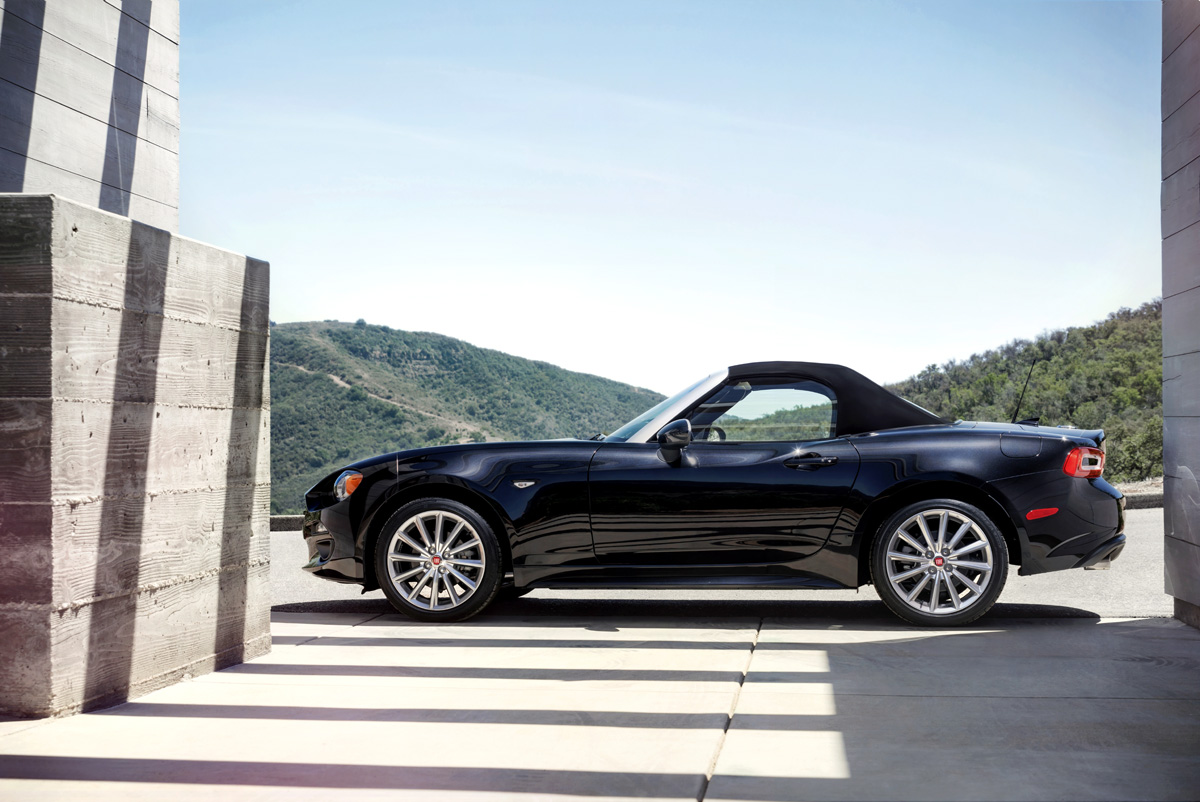 We spent the morning piloting a Fiat 124 Spider Lusso around some canyon roads outside of San Diego, and despite the fact that we got stuck with a slushbox, we had an absolute blast (and got some wicked sunburn). The car's suspension is specifically tuned for greater stability while braking and turning, and steering is light and responsive. The car's handling is really second to none.
After lunch, we drove over to Qualcomm Stadium, where they had an autocross course setup for us to wring out the Abarth. This was the perfect setting for us to really explore the performance characteristics of the Fiat 124 Spider Abarth and see how it differed from the standard model. In a word – WOW!
With it's mechanical limited-slip differential, unique sport suspension, and available Brembo brakes, the car is an absolute beast on the track, carving through corners at speed like it was nothing. Afterwards, I turned off the traction control, switched it to sport mode, and proceeded to drift the car around the track like I was Ken Block. The car's balance is just perfect, allowing you to steer with the throttle if you so desire.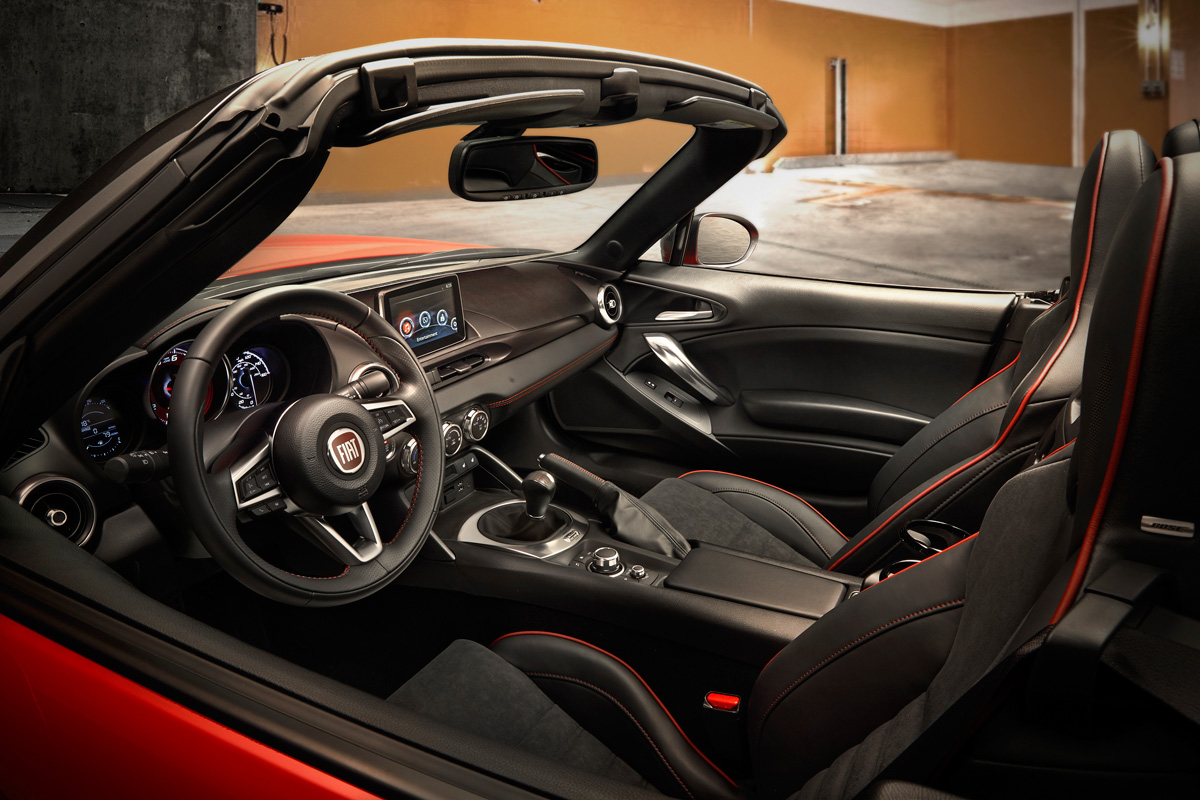 Overall, I think FCA did a tremendous job with the Fiat 124 Spider, and I suspect you're going to be seeing a lot of these on the road once they become available. If I were in the market for a new roadster today, I would seriously consider ordering an Abarth for myself (along with some Mopar Performance Parts to dial things up another notch).
What do you think of the new Fiat 124 Spider?