First Drive: 2017 Ford F-Series Super Duty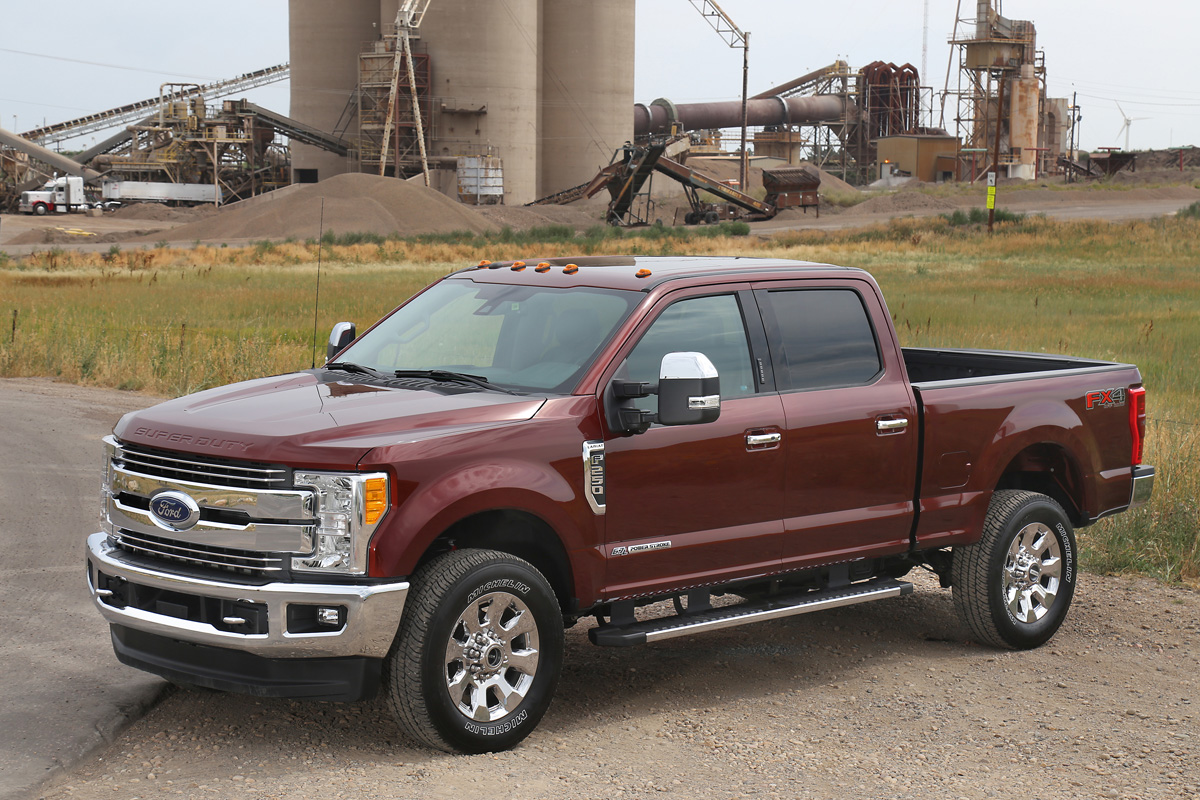 Last week, Ford invited us out to Denver to experience the full line of 2017 Ford F-Series Super Duty trucks, which have been completely redesigned from the ground up for the first time in 18 years. We got to spend a few days putting these trucks to the test as real owners would do (towing, hitching trailers, off-roading, etc), and the new Super Duty was impressive in every way.
Like with the F-150, the Super Duty uses a high-strength, military-grade, aluminum-alloy body and box, which helps reduce weight by up to 350 pounds for improved capability over previous Super Duty models. While the F-150 enjoys a 700-pound weight reduction, Ford reinvested that weight savings in more robust components everywhere it counts to give customers more towing and hauling capability than ever before.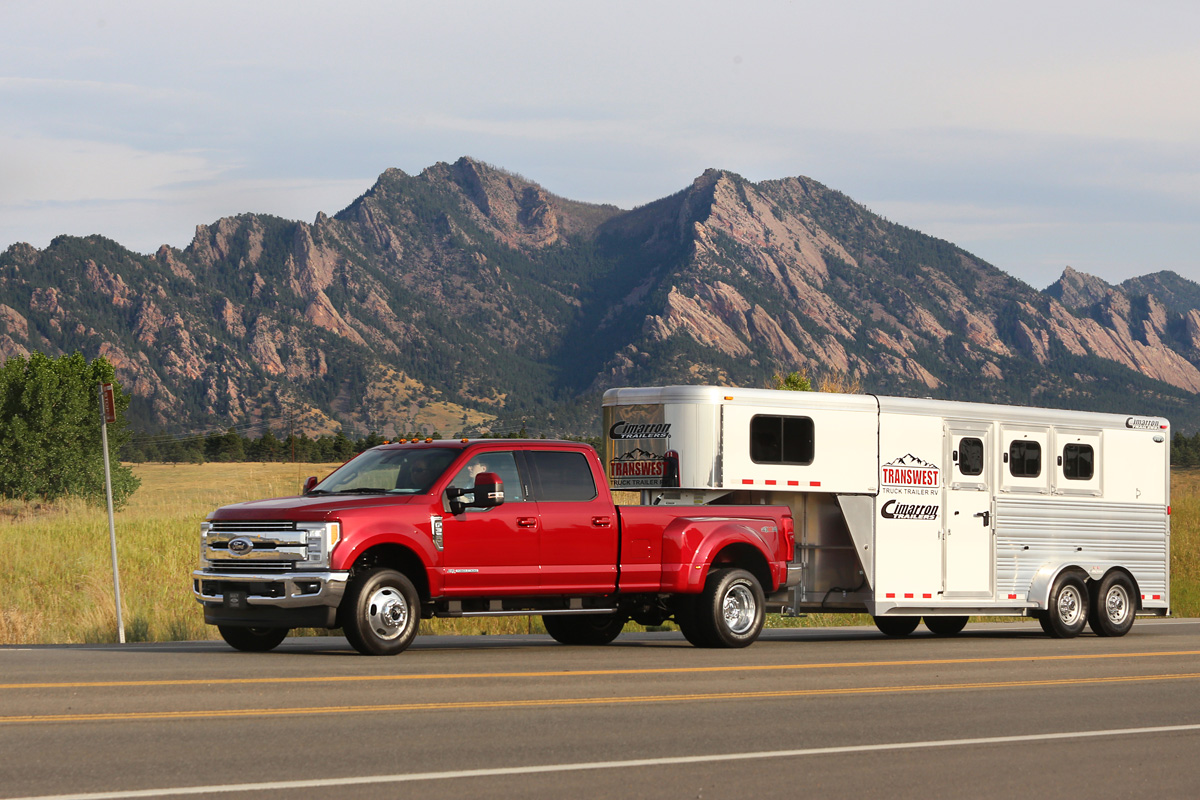 Most notable is the all-new, high-strength steel frame that is 24 times stiffer than the previous generation, is fully boxed from front to rear, has middle frame rails that are 1.5″ taller, has through-welded, closed-section crossmembers to help increase torsional stiffness, and has 2.5″ and 2″ hitch receivers capable of hauling up to 32,500 pounds (in F-450 configuration). Additionally, the upgauged aluminum body is more dent and ding resistant than the previous steel body.
There's no question that the 2017 Super Duty is the undisputed leader in towing, offering available best-in-class performance across all towing categories. The Ford F-450 Super Duty SuperCrew 4×4 now features a maximum gooseneck tow rating of 32,500 pounds, and maximum fifth-wheel towing is increased to 27,500 pounds. Maximum conventional towing is increased to 21,000 pounds and without the need for a weight-distributing hitch. Maximum conventional towing with F-250, with the all-new trailer tow package, and F-350 single-rear wheel are increased to a class-leading 18,000 pounds.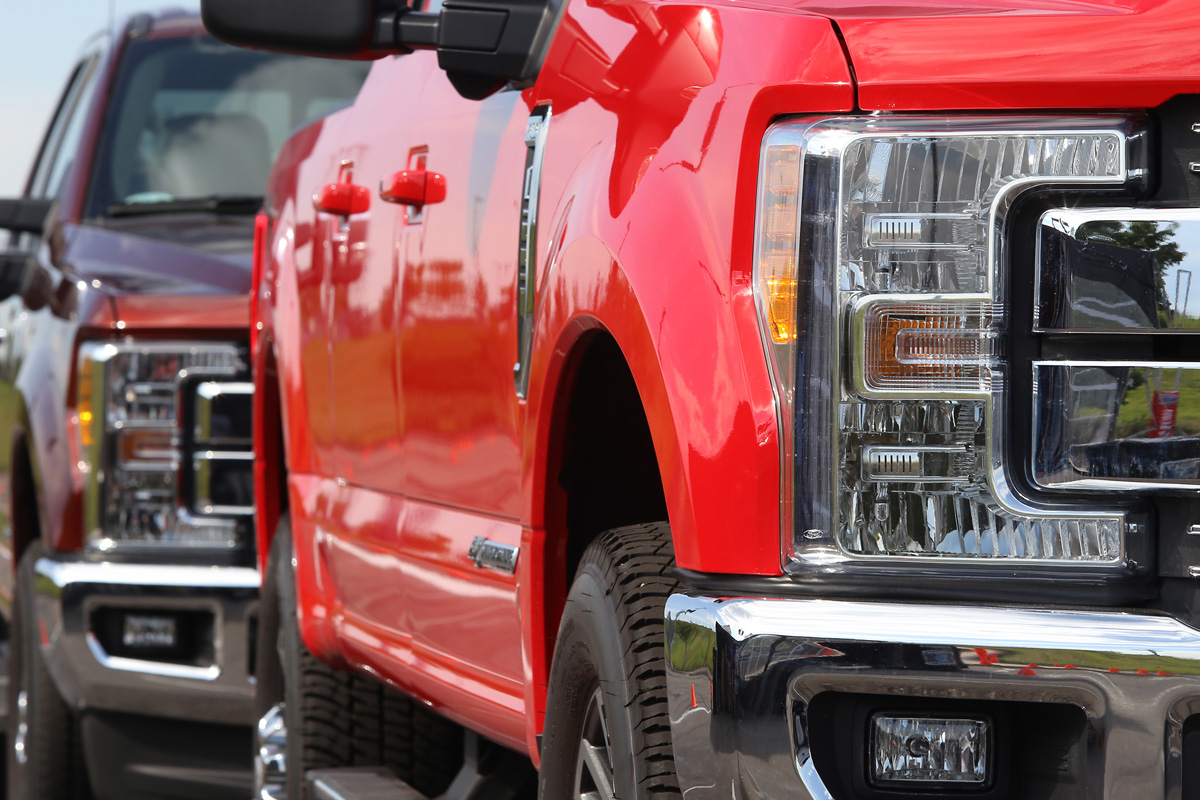 Ford has also equipped the Super Duty with a slew of technology options designed to make life easier for those towing trailers. There's a center high-mounted stop lamp camera that provides visibility into the cargo box, which is especially helpful when hooking up gooseneck and fifth-wheel trailers. The Ultimate Trailer Tow Camera System uses four digital, high-definition cameras to give the driver a 360-degree bird's-eye view surrounding Super Duty. Trailer Reverse Guidance provides visual cues and tips to help ease backing up a trailer. And an optional trailer camera can be custom-placed on a trailer to improve visibility backing up.
Another huge feature that we got to test out was their available adaptive steering system, which reduces the amount of steering input needed at low speeds for easy maneuvering and low-speed agility, and reduces steering sensitivity at highway speeds. The steering ratio continually changes with the vehicle speed, and once you drive a Super Duty with this option, you'll wonder how you ever lived without it.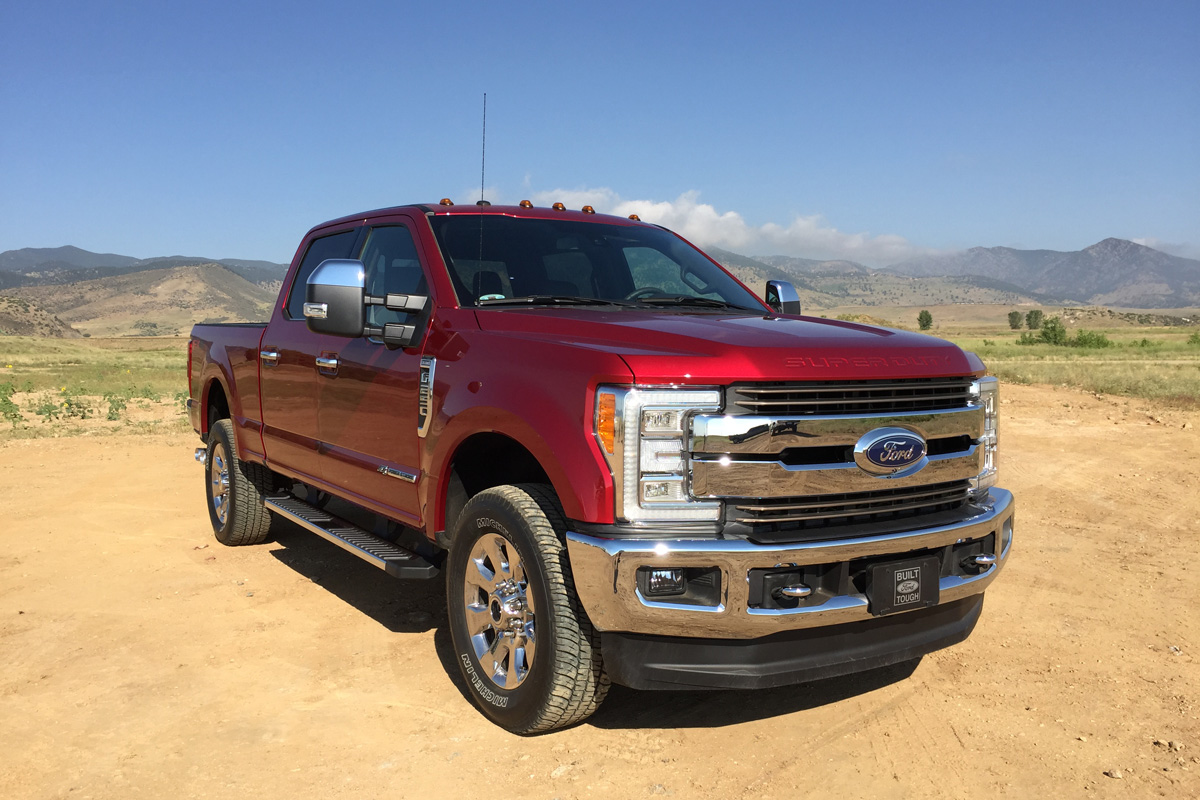 In addition, trailer towing customers will benefit from a number of driver-assist technologies, including a trailer tire pressure monitoring system, Blind Spot Information System with Trailer Coverage (checking not only your blind spot, but taking into account the length of your trailer), adaptive cruise control that can hold speed even when towing, and lane departure warning.
Big trucks need big power, and Ford has that covered with their second-generation 6.7-liter Power Stroke V8 turbo diesel engine, which delivers 440 horsepower and a staggering 925 lb-ft of torque. Ford electronically limits the torque in first-third gears to prevent overloading the traction-control system (or shredding the tires), but there's still plenty of power off the line. We drove an F-350 diesel pulling a 10,000-pound horse trailer as well, and it was so effortless that you almost forgot you were trailering something.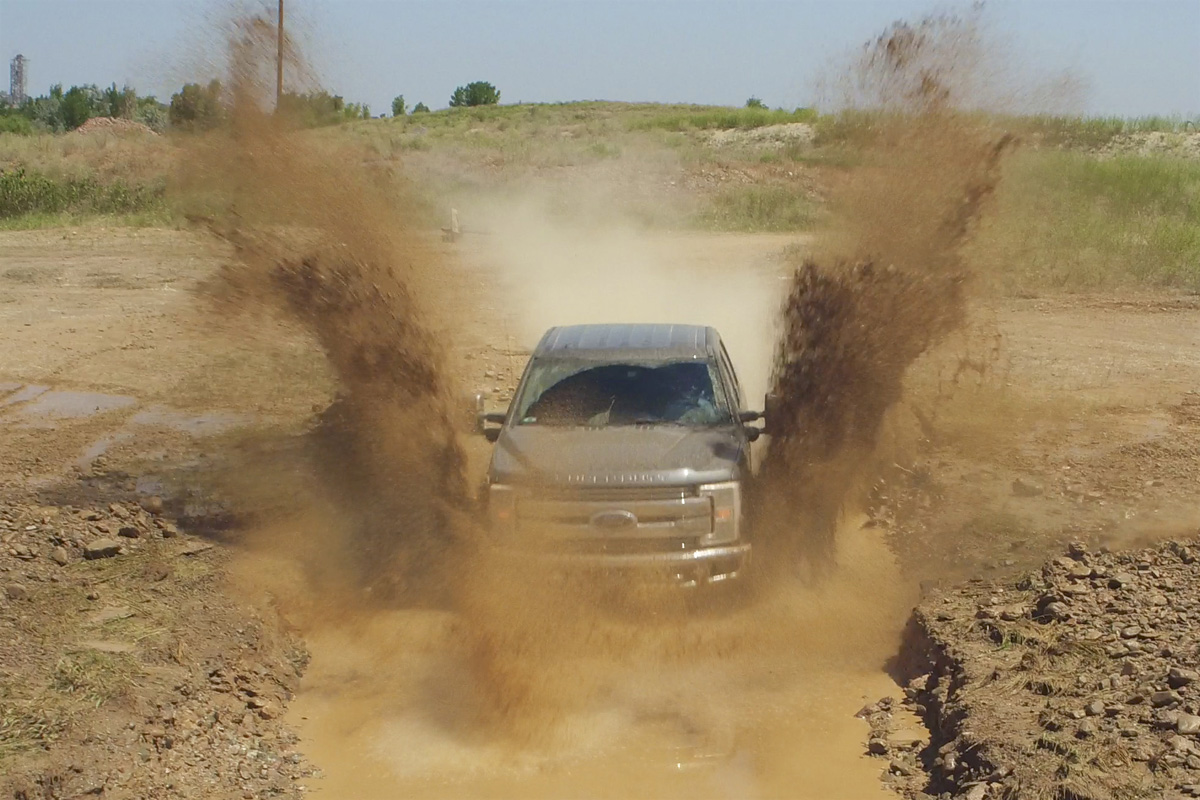 We also had a chance to drive a SuperDuty equipped with the standard 6.2-liter V8 engine, which puts out a respectable 385 horsepower and 430 lb-ft of torque, and it was more than capable of handling the off-road course we took it through, powering through whatever we threw its way.
If the interior looks familiar, that's because all three cabs (regular, SuperCab and Crew Cab) are shared with the recently redesigned F-150, giving customers even more room to spread out, along with increased storage space and lots of rear legroom for the backseat passengers. There's a standard flat load floor on SuperCab and Crew Cab models, along with a lockable under-seat storage compartment on Crew Cab models that's insanely slick.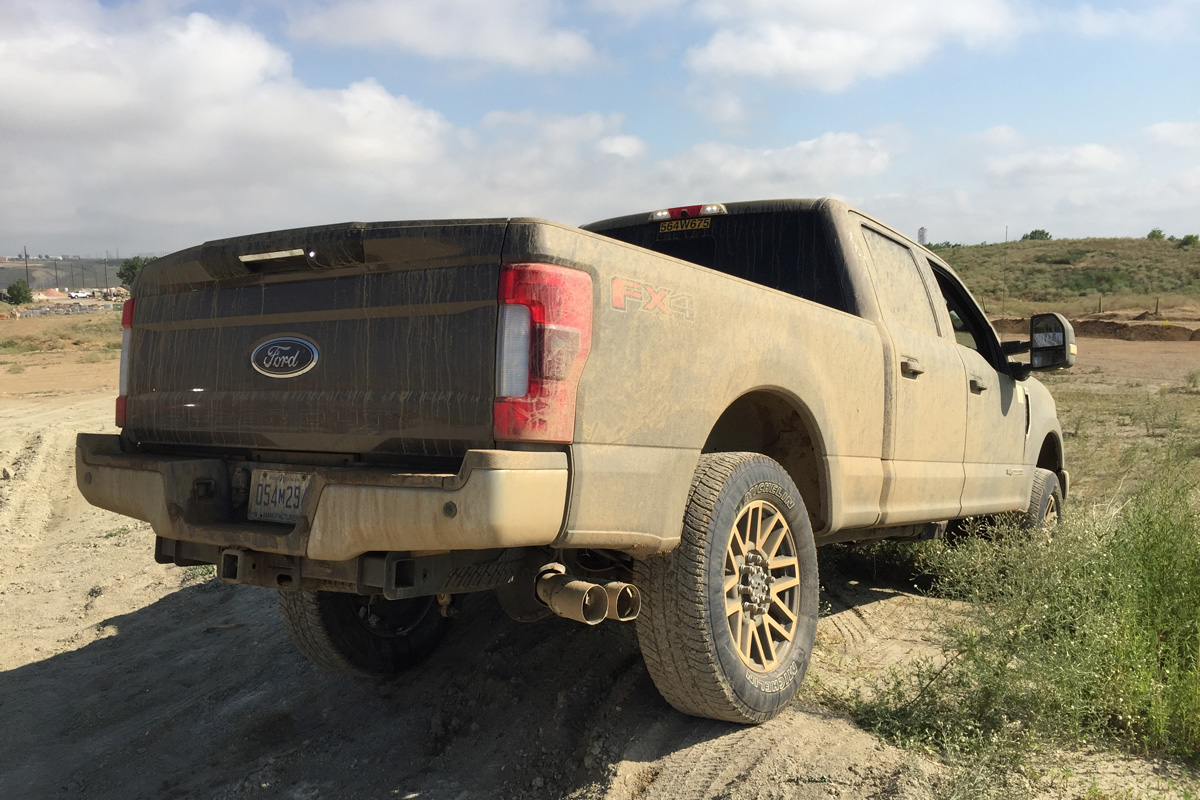 Like the F-150, the Ford Super Duty is available in a variety of trim levels, from your basic workhorse to ultra-luxurious Platinum and King Ranch models that are clad in leather and have heated, cooled, and massaging seats. A basic, rear-wheel drive, gasoline F-250 starts at $33,730, while a F-450 diesel Crew Cab 4×4 starts at $55,140. But as we saw, if go crazy on the options and it's possible to get the price up to nearly $90K!
There's no question that the 2017 F-series Super Duty lives up to it's claim as the "toughest, smartest and most capable Super Duty ever", edging out their rivals in pretty much every way. If Ram or GM want to stay competitive, they've clearly got their work cut out for them.