First Drive: 2021 Chevrolet Trailblazer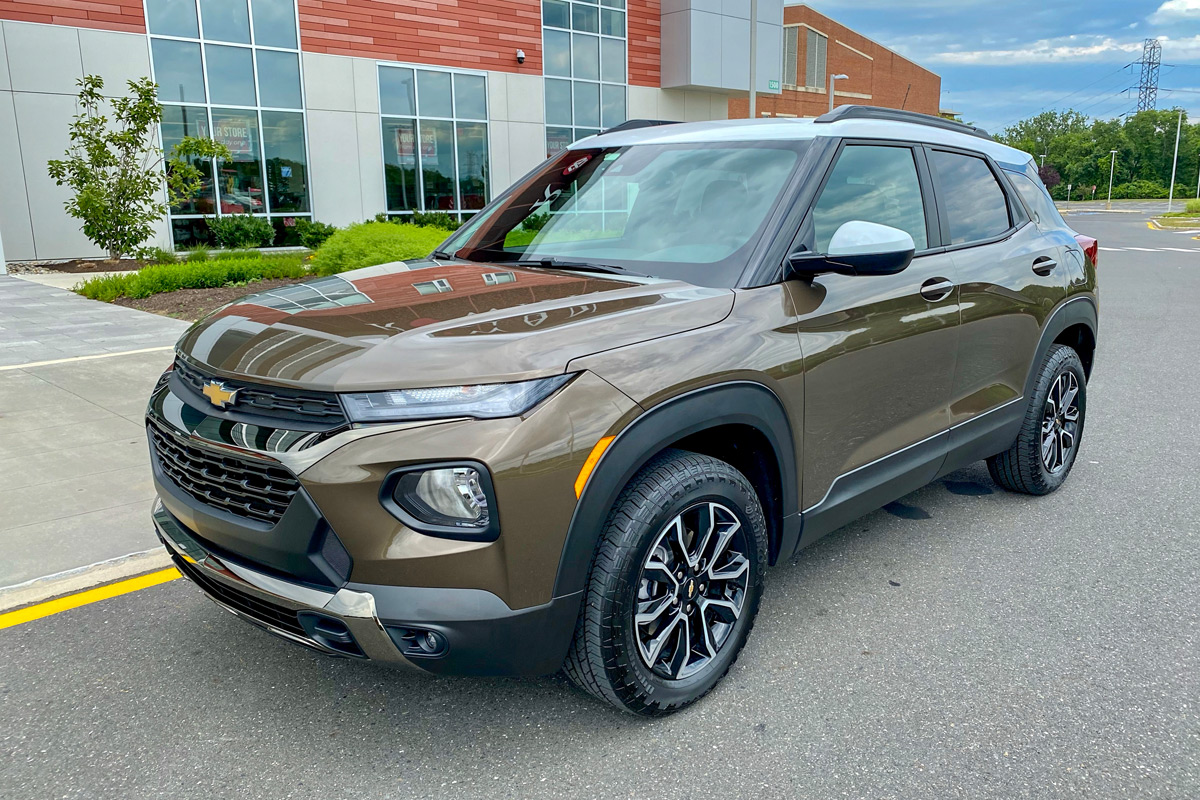 As you've probably noticed, SUVs have become a mainstay, with more and more people trading in their four-door sedans for a sports utility vehicle that gives them that high seating position, additional cargo room (perfect for kayaks, camping gear, or whatever big haul you just scored at Ikea), towing capabilities, and more.
In the beginning, most automakers only offered a couple of SUVs, as they were still considered niche vehicles. In the case of Chevrolet, in the mid-90s, your choices were limited to a Blazer, Tahoe or Suburban. But as the SUV market grew, the car companies expanded their offerings to ensure that potential buyers could find a vehicle perfectly suited to their needs.
Today, Chevrolet has *7* different SUVs to choose from, with the 2021 Chevrolet Trailblazer the latest addition to their SUV lineup. But unlike the 2002-09 Trailblazer, which was a larger SUV slotted between the Blazer and Tahoe, the all-new Trailblazer competes in the small SUV segment, filling the gap between the Trax and Equinox and going up against the likes of the Honda HR-V, Jeep Renegade and Toyota C-HR, among others.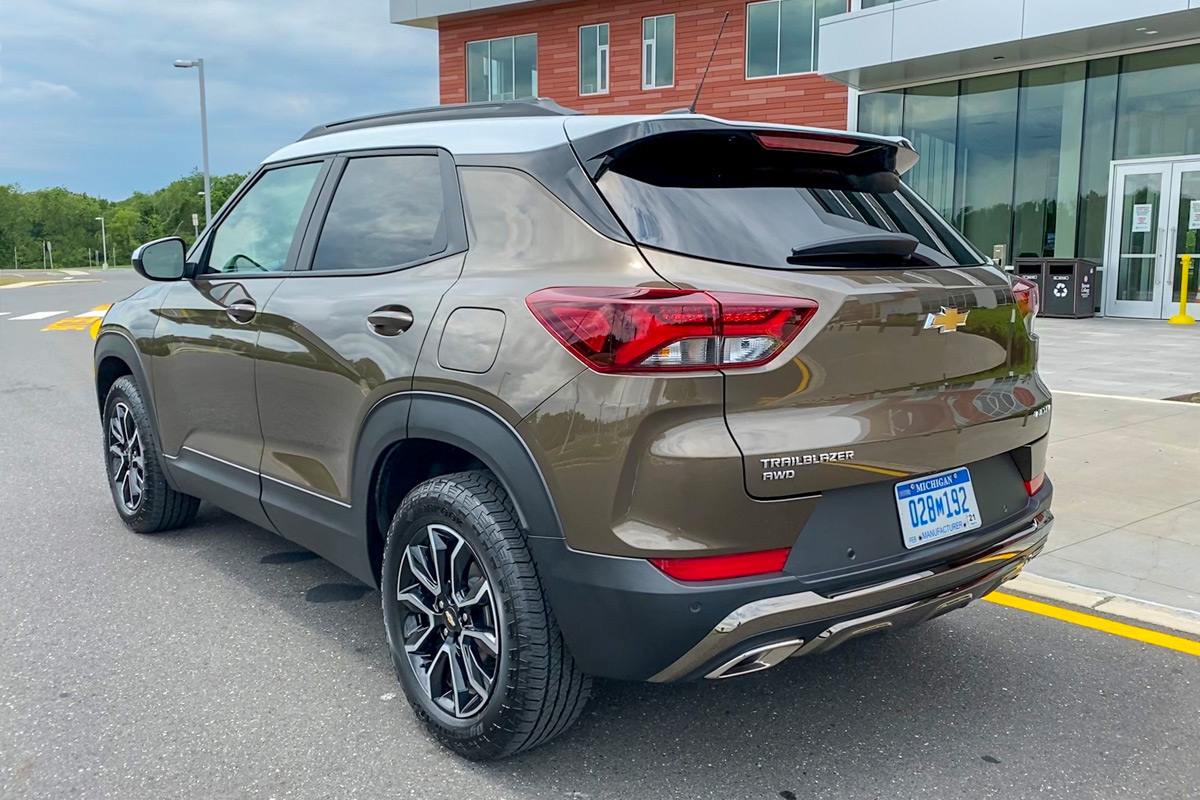 We originally were going to fly out to Arizona to drive the all-new 2021 Chevrolet Trailblazer, but the Coronavirus pandemic put an end to those plans in short order. So Chevy did the next best thing, delivering a Trailblazer to my home for a brief time so that I could review it for you guys, in the typical environment that most people use the car in.. suburbia.
One of the first things you'll notice about the new Trailblazer is its bold and expressive styling, bringing some much-needed character and personalization to an otherwise boring segment (Toyota C-HR excluded). It's like a mini Blazer with its signature dual-port grille, which gives its face a multilayered, dimensional look. The accent bar is integrated with the headlamps, helping to visually widen its stance, while a simulated front skidplate adds a sense of strength.
From the side profile, you can appreciate the Trailblazer's taut bodyside lines, sleek roofline and bold hood shape to accentuate its youthful character. RS and ACTIV trim models boost the visual appeal with standard two-tone roofs. Large, wraparound taillamps seamlessly span the liftgate and bodyside, adding to the visual width and providing a more planted look. The RS (sporty) trim features a performance-inspired mesh grille with black Chevy bowtie and unique front splitter elements to define its sporty demeanor, while the ACTIV (off-road) trim feature a new interpretation of the dual-port grille, with a larger opening for a more rugged look.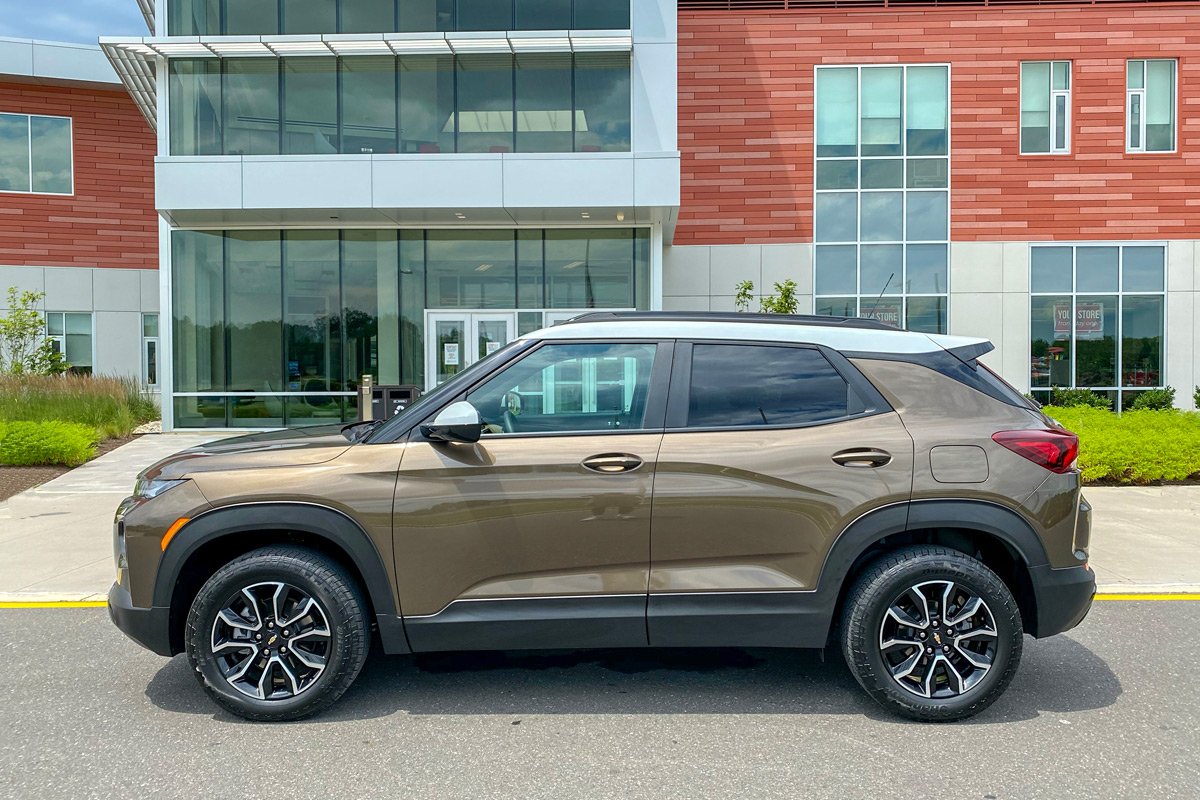 But that's not all for the ACTIV. This trim level is designed for off-roading, with dampers that are tuned to enhance the performance and ride comfort when traveling on gravel roads. Meaty Hankook Sport Terrain 17-inch tires feature an aggressive shoulder design and an all-season tread pattern. And there's a revised front fascia, with the lower section designed for improved ground clearance and underbody shielding. With limited time, I didn't get a chance to take my ACTIV loaner off-roading unfortunately, but it definitely looks the part.
Inside, the 2021 Chevrolet Trailblazer features a driver-focused, dual-cockpit interior design with an integrated center stack. High-quality finishes and stitching are customized to allow for different appearances at each trim level. Everything is smartly placed, controls are easy to find, and it just feels well put together. There's also an impressive amount of space for such a small vehicle, with 40/60 rear seats that fold down to allow for 54.4 cubic feet of cargo volume, along with an available fold-flat front passenger seat that offers room for objects up to 8.5 feet long. Like that kayak, assuming you're planning on going down the river solo.
As you'd expect, the Trailblazer comes with a comprehensive list of standard active safety and driver assistance features, like forward collision alert, automatic emergency braking, front pedestrian braking, lane keep assist, a rear view camera, etc. There's also additional optional features like adaptive cruise control, rear park assist, lane change alert, rear cross traffic alert, and more. On the technology side, you've got a 7-inch infotainment screen, wireless Apple CarPlay and Android Auto, built-in WiFi hotspot, wireless charging, SiriusXM 360L, available Bose premium seven-speaker audio system, and more.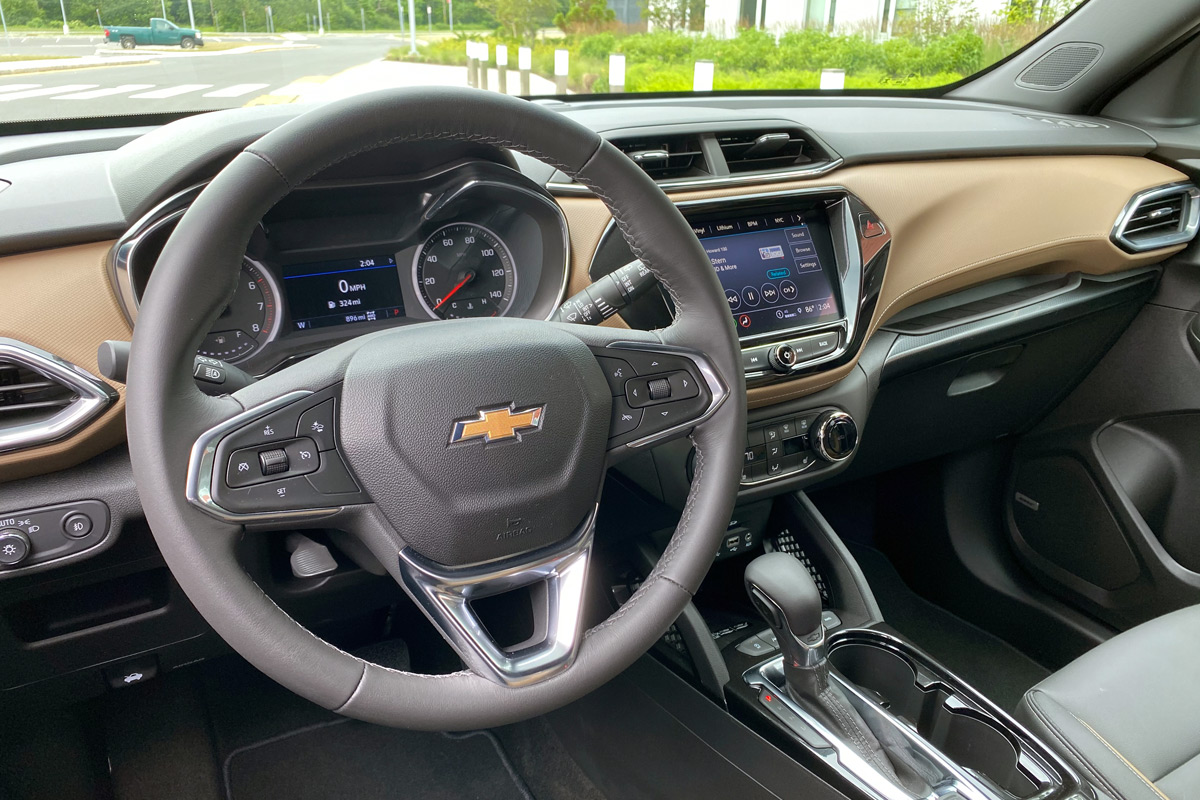 With all of that out of the way, lets talk about the driving experience. The 2021 Trailblazer is available with either a 1.2L turbo (137hp / 166 lb-ft of torque) or 1.3L turbo (155hp / 174 lb-ft of torque) engine. The 1.2L is paired with a CVT and is only available in front-wheel drive. The 1.3L is nearly 2 seconds faster from 0-60 mph, is paired with either a CVT (FWD) or 9-speed auto (AWD), and it surprisingly delivers better gas mileage (+4 mpg combined) to boot. Neither one is going to win any drag races, but still, power delivery is surprisingly strong off the line.
On the road, the 2021 Chevrolet Trailblazer ACTIV AWD that we drove delivered a very smooth and quiet ride, this despite being equipped with "off-road" tires. Never once did I feel it lacking in power (like I did when I drove the Trax), the 1.3L and 9-speed transmission keeping things moving without any drama. And if you want to dial up the excitement, Sport mode modifies steering effort and shifting for a sportier feel and response.
Pricing is the one sticking point I had with the Trailblazer. While the SUV is being advertised as "starting at $19,000", that price can climb in a hurry depending on trim level and options. Step up to an RS or ACTIV, and that price jumps to $25,400. AWD adds another $1500. Our car also had the Technology, Convenience and Driver Confidence packages, bringing the total to a whopping $30,580. It's loaded with features, but not exactly cheap.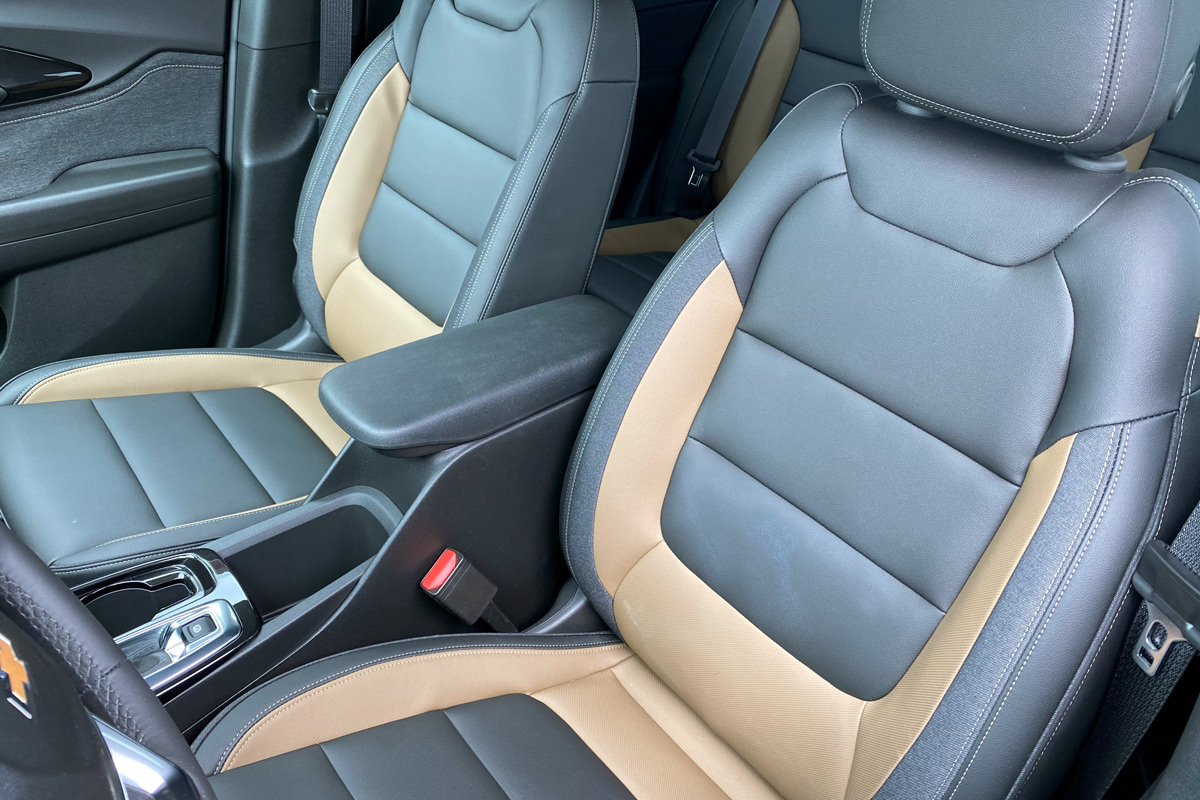 All in all, I think Chevrolet was smart to add another SUV to their lineup, and the Trailblazer brings youthful style and functionality to the fast-growing small SUV segment. These cars are already arriving at dealerships as we speak, so if you're in the market for a small SUV, head on down to your local Chevy dealership and check 'em out!
Visit www.chevrolet.com/trailblazer to learn more about the 2021 Chevrolet Trailblazer.