Introducing The All-New 2021 Ford F-150, Built For Getting Things Done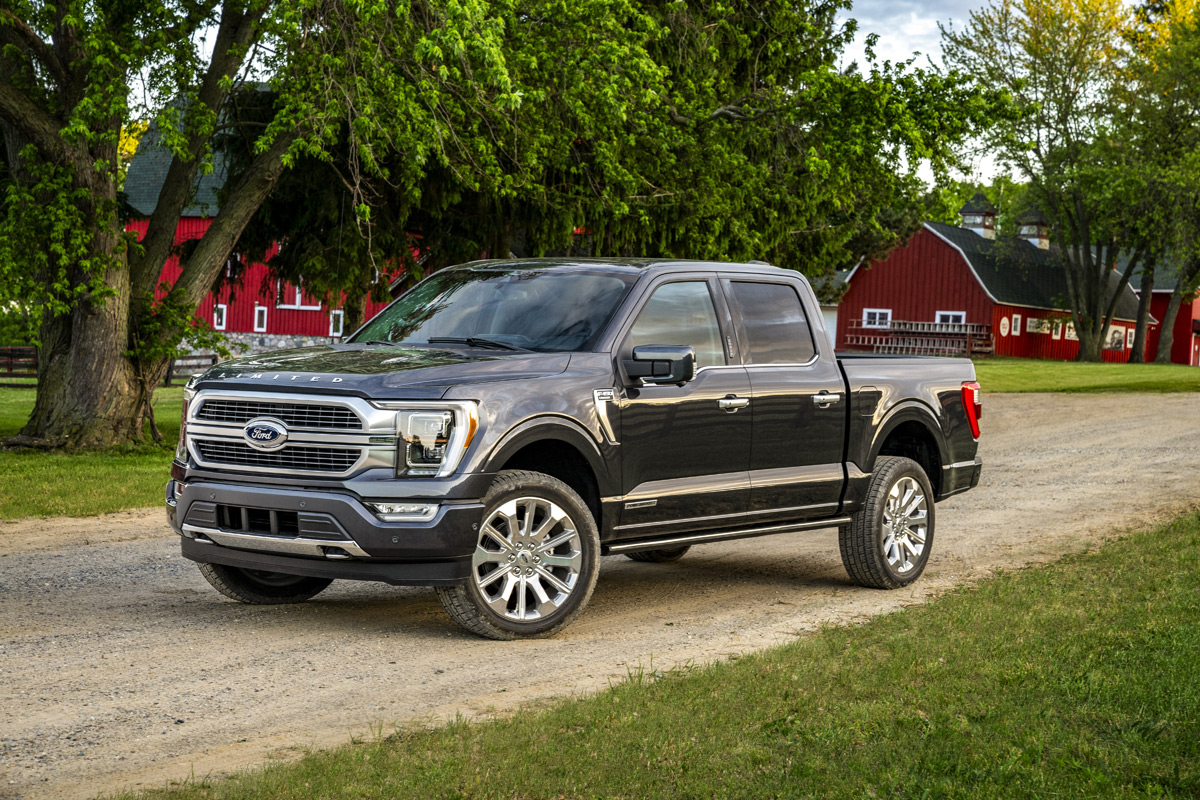 If there ever was a vehicle that Ford couldn't afford to get wrong, it would be the F-150 pickup truck, as the F-Series has been the best-selling pickup truck for 43 consecutive years. Get this wrong, and it could spell disaster for the Blue Oval, giving the competition that opening they have been looking for to convert some Ford Truck customers.
Ford didn't want to put out an edgy, controversial design like the Silverado and risk alienating customers. So they played it safe with the all-new 2021 Ford F-150, keeping the exterior looks very similar to the outgoing model, more of a facelift than a redesign. Personally, I wish they would have pushed the envelope a bit, as it just doesn't stand out.
But go beneath the surface, and you'll see that Ford has taken the 2021 F-150 to the next level, declaring it "the toughest, most productive F-150 ever and most powerful in its class." And based on what we saw on last night's webcast reveal (hosted by Denis Leary), it looks rather promising, with some innovative features that should be a hit with truck customers.
Here are five unique features on the all-new Ford F-150 pickup truck: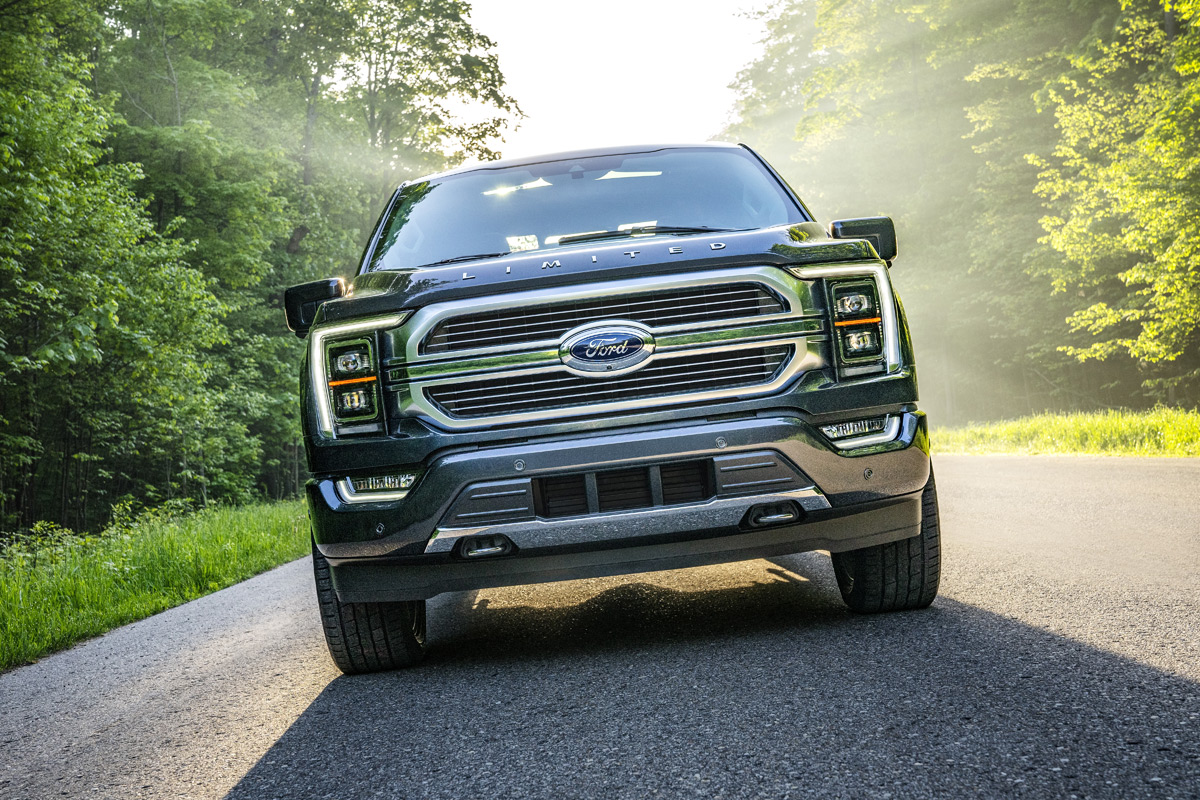 1) An integrated power generator
Ford's available Pro Power Onboard expands F-150's capability by bringing generator levels of power to work sites, camp sites and everyday life. Pro Power Onboard is available with a 2.0-kilowatt output on optional gas engines, while the new hybrid F-150 comes standard with 2.4 kilowatts of output or an optional 7.2 kilowatts of output. Power is accessible through in-cabin outlets and up to four cargo bed-mounted 120-volt 20-amp outlets, with a 240-volt 30-amp outlet on the 7.2-kilowatt version. The system even provides power on the move to charge tool batteries in between jobs.
It's really a genius idea, and it makes you wonder how nobody ever thought of this before. Ford clearly did their homework, talking to people who actually use their truck for work to see what issues they could solve for them.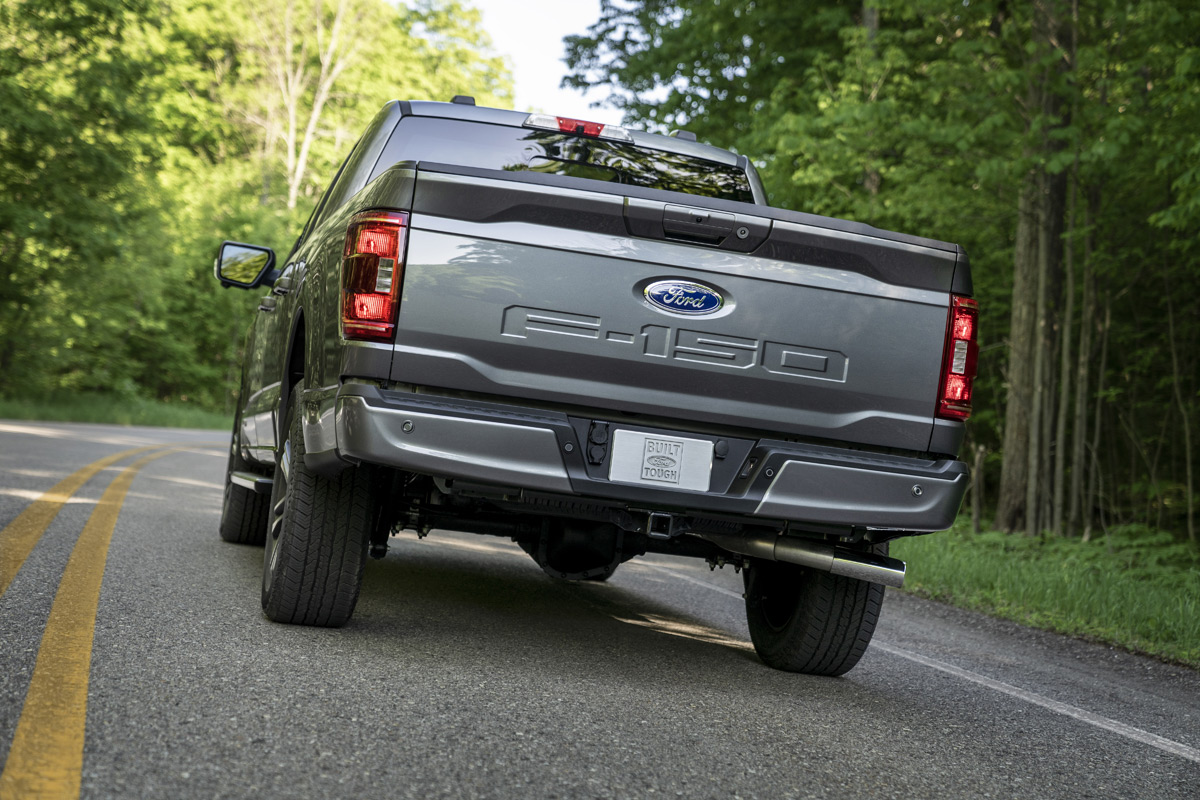 2) Seats that recline flat so you can sleep
Who among us hasn't pulled into a rest stop for a quick nap during a long road trip? The only problem? Most drivers seats don't exactly make for the most comfortable beds. But Ford's Max Recline Seats, available on King Ranch, Platinum and Limited F-150 models, provide ultimate comfort during downtime, folding flat to nearly 180°, with the bottom cushion rising to meet the back cushion and the upper back support rotating forward up to 10° for maximum comfort.
So yeah, the next time you find yourself getting tired after a long haul, pull into the next rest stop (or Walmart parking lot), lock your doors, and get some much-needed shut eye.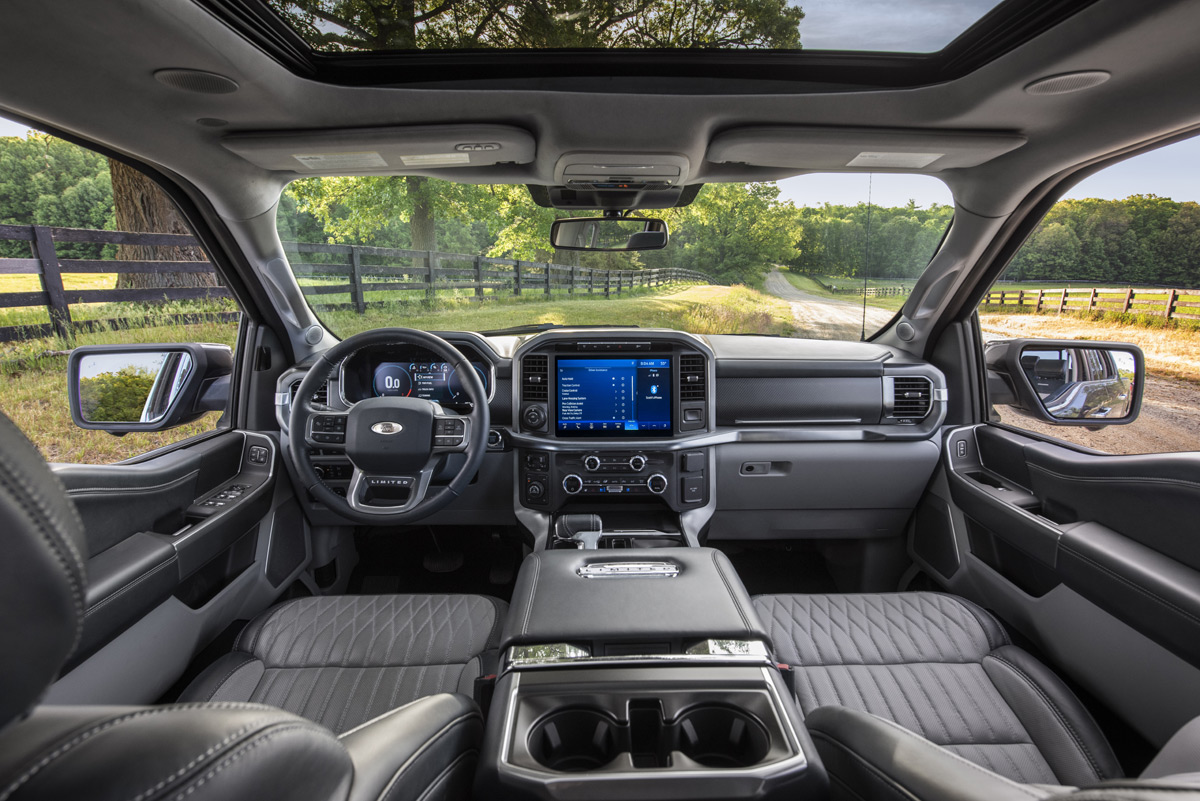 3) Hands-free driving on the highway
Ford is taking a page out of Tesla's playbook by offering Active Drive Assist, which allows for hands-free driving on more than 100,000 miles of divided highways in the U.S. and Canada. Its advanced driver-facing camera tracks head position and driver eye gaze to enable hands-free driving when available. It allows owners on certain sections of pre-mapped, divided highways to drive with their hands off the steering wheel – if they continue to pay attention to the road ahead – granting them an additional level of comfort during long drives.
This feature isn't ready for prime-time just yet, but it's expected in the third quarter of 2021, at which point it will be delivered by over-the-air update or a dealer visit. Much like Tesla, a separate payment will be required to activate full functionality at that time.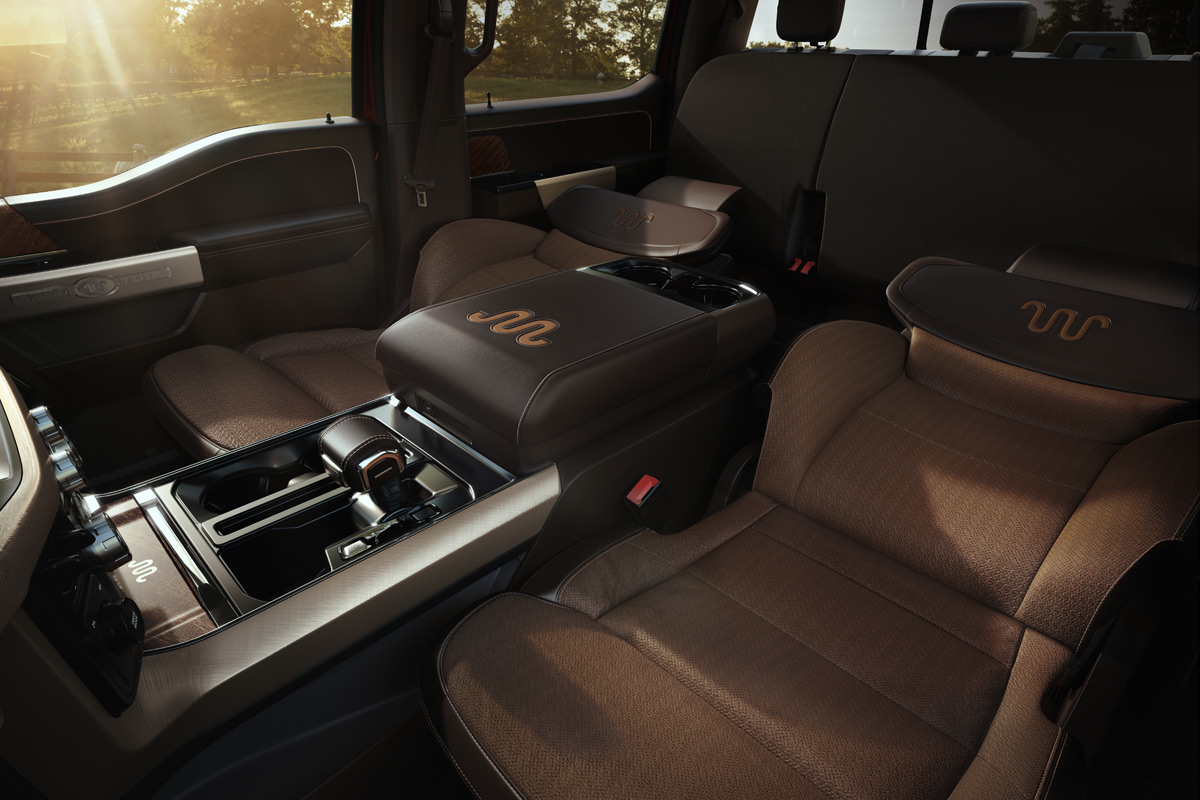 4) A new 3.5-liter PowerBoost hybrid powertrain
Six of the seven available engine options on the 2021 F-150 are carryover with minor updates. But the big news is about Ford's new 3.5-liter "PowerBoost" hybrid V6 engine, which should deliver the most horsepower & torque of any light-duty full-size pickup. PowerBoost combines Ford's EcoBoost engine and 10-speed SelectShift automatic transmission with a 35-kilowatt (47HP) electric motor integrated into the transmission, as well as software calibrated for truck use, including drive modes like tow/haul mode to help customer better manage towing heavy trailers. Official horsepower and torque numbers TBD.
Ford's 3.5-liter EcoBoost V6 is targeting an EPA-estimated range of approximately 700 miles on a single tank of gas and will deliver at least 12,000 pounds of available maximum towing, which is more than enough for most trailers.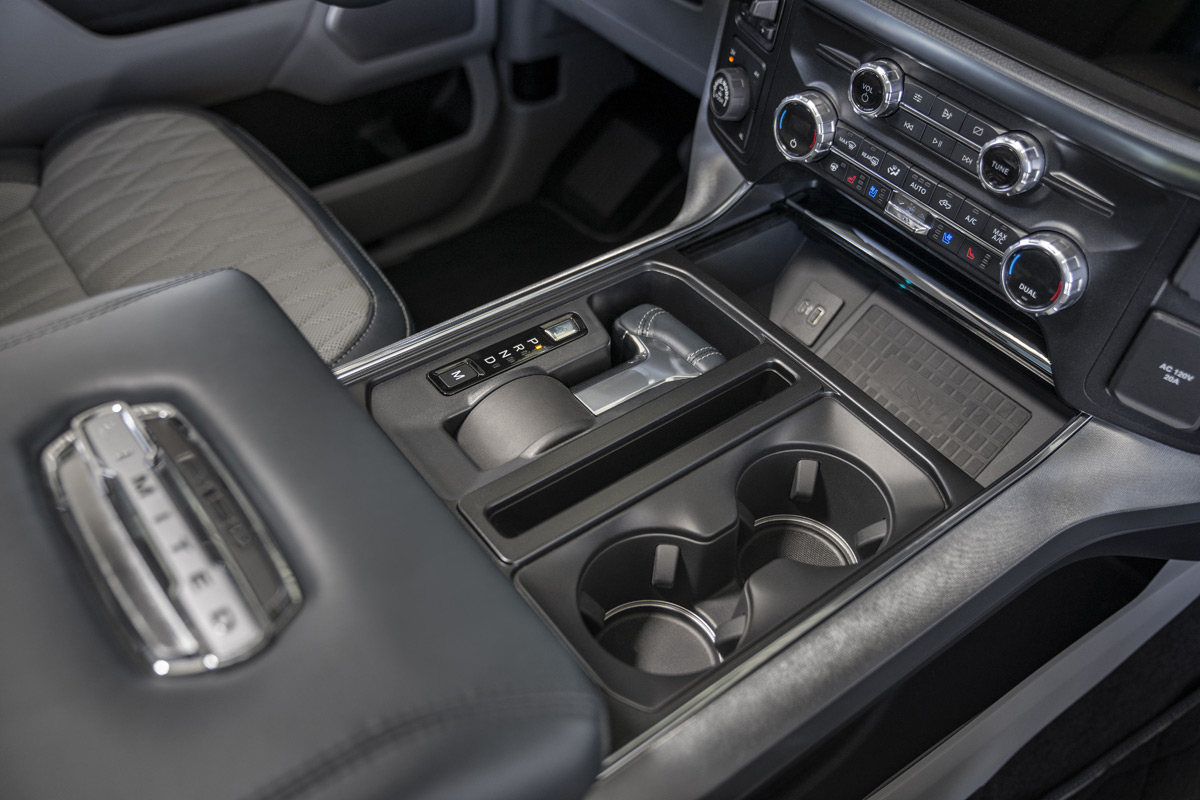 5) Mobile office space to use laptop or sign documents
Creating the ultimate durable, anywhere office, F-150's new optional Interior Work Surface gives you a large work surface which can be used for signing documents, working on a 15-inch laptop or enjoying a meal when parked. But what about the shifter that's there? No worry, it easily folds into the center console with the push of a button. (Why they didn't just go with a column shifter, dial shifter, or Lincoln's piano key shifter? It seems like that would have been much easier, even if some customers prefer a console shifter.)
About a third of truck customers regularly use their laptops in their pickups, according to Ford, and even more eat in their trucks. So this is actually a great feature to have.
Overall, it looks like there is a lot to like about the all-new 2021 Ford F-150, and we can't wait to drive one for ourselves once the world opens up to see if it lives up to the hype. Stay tuned!