Have You Tried Cruzan Velvet Cinn?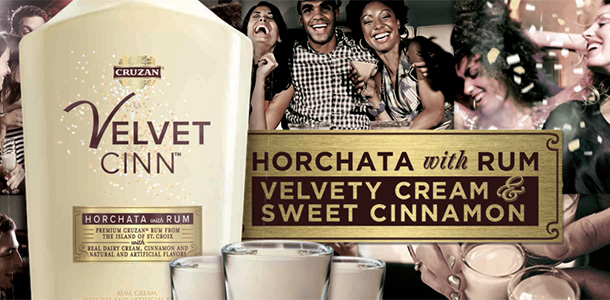 Cruzan Rum recently unveiled their latest innovation, Cruzan Velvet Cinn, to fill the need for a premium rum option in the rapidly growing rum horchata market.
Our first reaction when learning about the new Cruzan Velvet Cinn was "What's Horchata?"
Apparently horchata is a milky drink (typically made of rice or other grains) that originates from Mexico and is especially popular when mixed with rum. Cruzan's Velvet Cinn features fine Cruzan Rum with the addition of rich, sweet dairy cream and a smooth cinnamon flavor. The resulting spirit is reminiscent of cinnamon toast.
This might seem like an odd turn for a company that's known for premium flavored rums, but Beam thought it was the perfect opportunity to develop a premium rum horchata option, filling a need in the marketplace for a premium cream rum liqueur.
Cruzan Velvet Cinn can be enjoyed on its own, mixed in a shot or in a cocktail. I tried some of the cocktail recipes found below, and I really enjoyed it like that. But some friends who sampled this with me enjoyed it straight up, so it really depends on your tastes.
Either way, we think it's a unique addition for your liquor cabinet, and at only $19.99 for a 750ml bottle, it won't break the bank.
Jesse Card, Cruzan's Master Mixologist, created the following recipes to introduce the new flavor:
Cruzan Cinnful Cherry
3/4 parts Cruzan Velvet Cinn Horchata with Rum
1/2 parts Cruzan Black Cherry Rum
Method: Combine all over ice, stir, pour into shot glass.
Cruzan Cinnful Martini
1 1/2 parts Cruzan Velvet Cinn Horchata with Rum
1 parts Cruzan Aged Dark Rum
1/2 parts DeKuyper Blood Orange Liqueur
Float DeKuyper Hot Damn! Liqueur
Flamed Orange zest
Method: Combine Cruzan Velvet Cinn, Cruzan Aged Dark Rum & Blood Orange Liqueur in a tumbler over ice & stir for 15 seconds. Strain into a chilled martini glass. Float a small amount of DeKuyper Hot Damn! Liqueur on top & finish with a flamed orange zest.
Enjoy!