Cruzan Rum Introduces Fresh New Flavor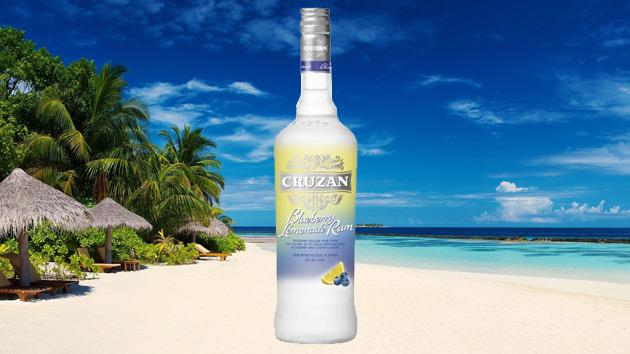 Just in time for the warmer months ahead, Cruzan Rum has added Cruzan Blueberry Lemonade Rum to its impressive portfolio of premium, flavored rums. As the name suggests, this refreshing new flavor blends fine Cruzan Rum with the essence of ripe blueberries and vibrant citrus to create a well-rounded spirit bursting with the taste of fresh fruit.
Cruzan Blueberry Lemonade Rum takes lemonade, a classic summertime staple, to the next level by infusing it with the bright flavor of freshly picked blueberries. Like all Cruzan rums, Cruzan Blueberry Lemonade Rum is crafted by Cruzan Master Distiller Gary Nelthropp, whose family has been making rum on the island of St. Croix for generations. It is made from natural ingredients including cane molasses and tropical rainwater, using a unique five-column distillation process, staying true to Cruzan's dedication to creating the cleanest-tasting, highest-quality rum on the market.
"Cruzan continues to be a leader in the rum category and we see the demand for refreshing rum drinks continue to grow. This year, we created a new rum that would appeal to our loyal fans and new rum drinkers looking for a fun flavor option," said Brendan Lynch, Senior Director of Rum & Cordials at Beam Suntory. "The combination of Cruzan Rum with sweet blueberries and fresh lemonade makes this perfect for anyone looking to create a refreshing cocktail that captures the spirit of the season."
Cruzan Rum recommends enjoying its newest flavor in an ice cold cocktail while embracing Cruzan's "Don't Hurry" mindset, which encourages rum fans to take the time to sit back, relax and savor every sip. In addition to these featured signature cocktails created by Cruzan Mixologist Jesse Card, Cruzan Blueberry Lemonade Rum also mixes perfectly with fruit juices, iced tea and more.
Cruzan Blueberry Lemonade Cooler
Ingredients:
2 parts Cruzan Blueberry Lemonade Rum
3/4 part Fresh Grapefruit Juice
1 small pinch Sea Salt
Club Soda
Method: Combine rum, grapefruit juice and salt over ice in a shaker. Shake vigorously for 10 seconds. Double strain into a glass over ice and top with club soda. Garnish with a twist of lemon peel.
Cruzan Caribbean Dream
Ingredients:
1 1/2 parts Cruzan Blueberry Lemonade Rum
1/2 part Fresh Lime Juice
1/2 part Cream
Method: Combine all ingredients over ice in a cocktail shaker. Shake vigorously for 10 seconds and double strain into a fluted shot glass. Garnish with freshly grated cinnamon and a speared Maraschino cherry.
Cruzan Blueberry Lemonade Rum is now available with a suggested retail price of $14.99 per 750 mL bottle. For more information, please visit www.CruzanRum.com.