Like Burgers? Then Try This Burger with Knob Creek Caramelized Onions
Throughout the summer, Knob Creek and Celebrity Chef Michael Symon have been showing us how to step up our grilling skills through a series of web videos. The last video we posted had Chef Symon showing us how to prepare and grill a skirt steak, and in his latest video, he focuses on meat grilling, namely how to grill up an amazing burger with Knob Creek caramelized onions, gruyere & horseradish.
Ready to make this burger for yourself? Here's Chef Michael Symon's recipe, have at it.
Burger with Knob Creek Caramelized Onions, Gruyere & Horseradish
Recipe Serves 4
Burger:
INGREDIENTS
4, 6 oz. Beef Patties
4 slices of Gruyere Cheese
4 tablespoons Freshly Grated Horseradish
Salt & pepper to taste
PREPARATION
Season burgers liberally with salt and pepper
Place burger on grill and cook to the preferred doneness
Top with onions then cheese
Once cheese is melted place on toasted bun and top with fresh horseradish and serve
Knob Creek Bourbon Caramelized Onions:
INGREDIENTS
1 Yellow Onion Thinly Sliced
2 tablespoons Whole Unsalted Butter
4 oz. Knob Creek® Bourbon
PREPARATION
In a 12 inch sauté pan heat 2 tablespoons butter until melted over medium heat
Add onions and a pinch of salt and slowly cook for 10-15 minutes until onions become golden
Turn up heat to medium high and add Knob Creek Bourbon
Simmer for 2-3 minutes and set aside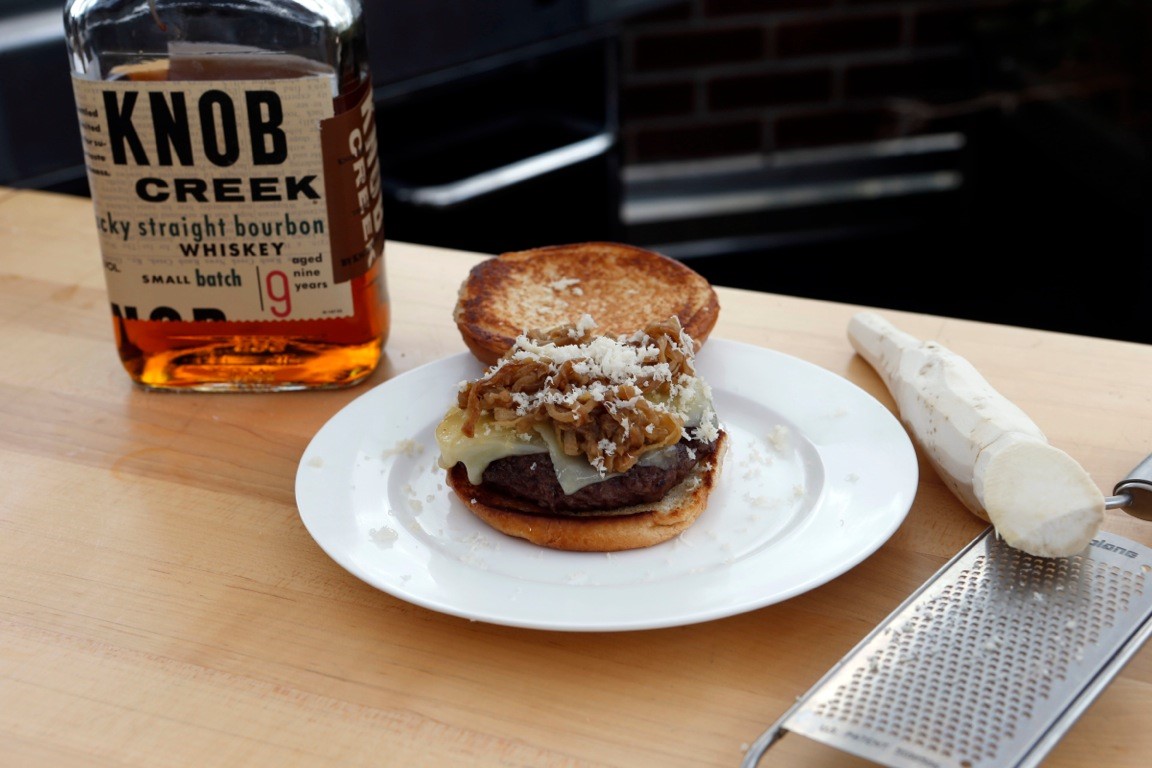 Let us know how it turned out for you!