If Dad Likes To Grill With Charcoal, Get Him The BBQ Dragon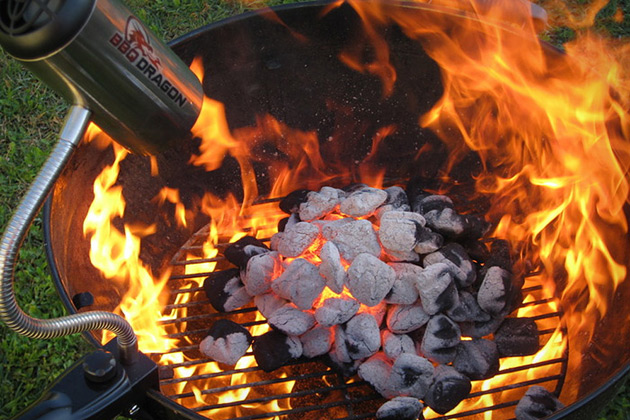 If Dad prefers grilling with charcoal over gas (as he should, since charcoal imparts more flavor), get him the BBQ Dragon for Father's Day. The BBQ Dragon is a fire-starting tool so simple and yet revolutionary that it is literally changing the entire barbecue industry. It reduces the start time of charcoal grills to less than ten minutes and supercharges the starting of all kinds of other fires.
It works by blowing large amounts of low-velocity, cool air at the fire. The BBQ Dragon's sophisticated, high-tech design is the perfect compliment to any grill or outdoor kitchen. It's battery-powered, hands-free, micro-USB rechargeable, and looks fantastic. It works on anything: charcoal grills, fire pits, fireplaces, wood stoves, smokers, even campfires.
Never before has there been a product that so substantially improves barbecuing. The variable speed motor allows you to infinitely control the amount of air, and thus oxygen, delivered to a fire. This amazing control enables fast fire starting, as well as perfect temperature control for grilling. Set it high for big fires at the beach or camping, or dial it down to perfectly control the temperature in your smoker, or light your fireplace.
The BBQ Dragon blends contemporary design and advanced technology. It's powerful, durable, easy-to-use, and looks great. The sleek stainless steel body stays cool and stands up to tough use. The long, adjustable stainless steel neck allows you position the BBQ Dragon to provide air wherever and whenever you need it. The amazingly versatile heavy-duty spring-loaded clamp opens wide and attaches to anything – grills, fire pits, fireplaces, and smokers.
The BBQ Dragon will change the way you barbecue forever. Their patent pending charcoal tool can start charcoal grills in under 10 minutes! No more fanning your fire with a plate. No more waiting 45 minutes for the grill to be ready. Starts a charcoal grill faster than chimneys, electric starters, or even chemical starters! Allows you to enjoy the superior flavor and aroma of a real charcoal fire every time – in no time!
Don't believe us? Watch this video and see for yourself:

The BBQ Dragon retails for $59.99 and can be purchased from Amazon.com.