Imagine Working As An Alligator Wrangler For A Living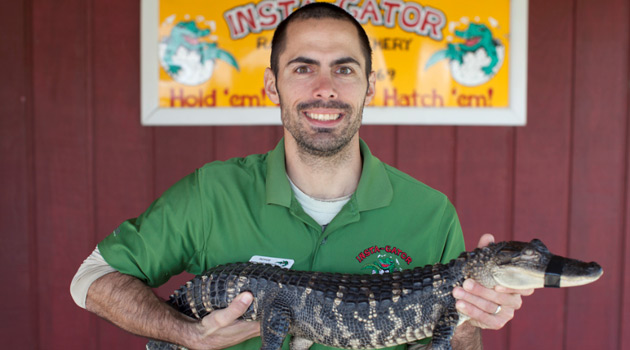 If you're like me, you spend most of your days at work staring at a computer screen in a cubicle, about as far removed from manual labor as you can get. But there are still plenty of blue collar workers out there that are an integral part of our world today. Kronos, the leader in workforce management solutions, is celebrating their importance with their 1 in one hundred million web series, which shares the personal stories of people who do the many important and too-often unrecognized jobs upon which we all take for granted.
Each month, the web series profiles ordinary people in the workforce, telling the stories of firefighters, trauma nurses, union electricians, restaurant servers, teachers and more. Awhile back, we shared a story about Brett Laxton, a former MLB pitcher who now makes hand crafted wood baseball bats for Marucci.
Kronos's latest episode features 31-year old Royce McMullen, a freaking alligator wrangler/conservationist who works with one of the world's most powerful predators – it's a shot of adrenaline, to say the least. Royce works at the Insta-Gator Ranch and Hatchery in Covington, LA, a working alligator ranch that was developed to conserve the American Alligator species and preserve the Louisiana wetlands. During the hatching season Royce ventures by air boat out into the marshes to harvest alligator eggs. Royce and his team collect around 1,500 eggs throughout July, carefully removing them from their nests to be hatched and protected at the farm.
While it might sound incredibly dangerous to you and me, for Royce, a family man and National Guardsman who's served in both Iraq and Afghanistan, it's just another day at the "office". As he puts it, "It totally beats working for a living." For him, it's a role that challenges him to break out of his comfort zone and it's rewarding in unexpected ways: "Seeing kids' faces light up at what amazing creatures these guys are" makes his work all the more fulfilling.
Make sure you watch Royce's story on the 1 in one hundred million website, along with any of the other ones on there that catch your eye. It's free to subscribe, and it's well worth the time to watch. These web videos highlight the best of the best of our blue collar workers, and they'll definitely make you take a step back and think about the impact of their work.
Disclosure: This post brought to you by Kronos. All opinions are 100% mine.