LeBron's Mom Assaults Valet in Miami!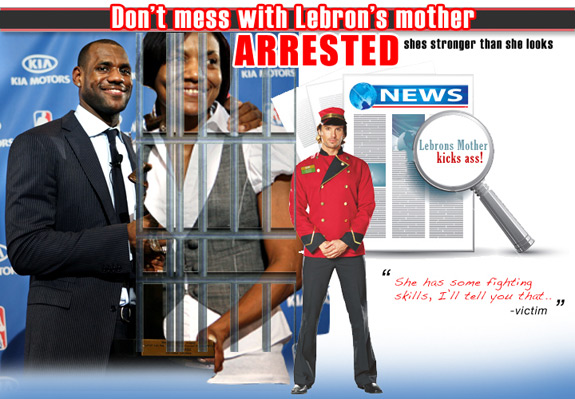 TMZ is reporting that LeBron James' mom, Gloria, was arrested in Miami Beach early this morning for allegedly assaulting a parking valet at the famous Fontainebleau Hotel.
Hotel sources tell TMZ that Gloria was partying at LIV nightclub with some of her girlfriends earlier in the evening. But when she tried to leave the hotel, she got into an altercation with one of the valet parking attendants.
Gloria allegedly assaulted the valet. Cops received a call about the incident at 4:47AM. Gloria was eventually arrested on suspicion of misdemeanor assault. The valet was not arrested.
This isn't the first time Gloria has been in trouble with the law – She was arrested back in 2006 for DUI in Ohio.
More news coming in about this incident:
LeBron James' mother slapped a Miami Beach valet so hard in the face, she lost her balance and fell to the ground. She then told a police officer, "I don't trust your kind".
The arresting officer tried to question Gloria James about the alleged incident at the scene early this morning, but got "no response just a stare." After a while, she eventually admitted to having a "minor verbal altercation" with the valet.
We're told the valet went straight to the hospital last night after the alleged incident occurred, but it's unclear if he suffered any injuries. The valet attendant is already meeting with a lawyer to discuss his legal options.