Lexus Unveils All-New RC Coupe At Tokyo Motor Show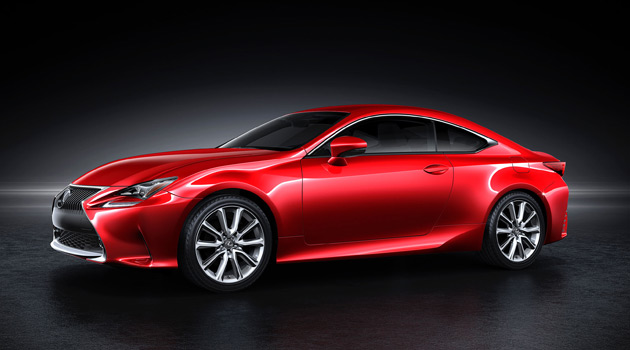 A few weeks ago, we told you about the all-new Lexus RC Coupe slated to debut at the Tokyo Motor Show. The RC Coupe was indeed revealed at the show in production-ready form, and we've got some more photos and information about Lexus' upcoming sports coupe.
Lexus has gone for an even more aggressive look with the RC Coupe. The RC has been infused with deeply contoured lines, integrating the widest and lowest application yet of the Lexus spindle grille. It is unique in the Lexus range – 1.2-inches wider, 1.4-inches lower and 2.8-inches shorter in wheelbase than the new 2014 IS sedan, providing a road stance that emphasizes the attraction of a luxury two-door vehicle.
You'll also notice unique headlamp designs that adopts the symbolic Lexus L-shaped motif front and rear. I'm honestly at a loss for word on these, as they are SO bizarre looking.. Maybe they'll look better in person, but they just look tacked on in photos.
Inside, you're greeted by an interior that makes maximum use of contrasting colors, materials and lighting. And the frustrating mouse/joystick Remote Touch Interface appears to have been redesigned with a more user-friendly touchpad of sorts. Thank god for that!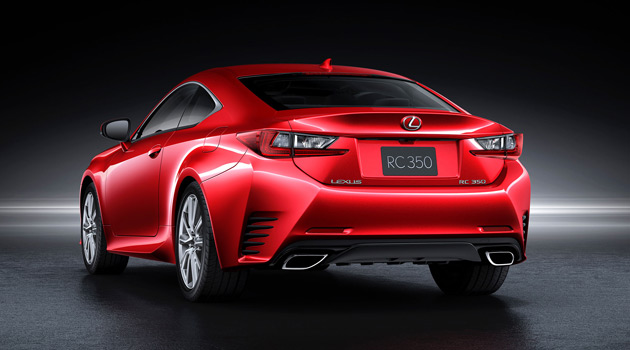 The RC's strong and purpose-built chassis is the latest evolution of Lexus' objective to achieve a world class driving experience, epitomized by the improved performance of the GS and IS lines. Extra thick underbody rocker panels greatly increase the two-door's rigidity to support driving performance. New manufacturing techniques pioneered in the LS and IS models, including the use of body adhesives, have strengthened the chassis. Aerodynamic aids, especially on the underbody, contribute to the handling package.
Specs for the two engines have been released as well. The RC 350 will be powered by a 3.5-liter V6 engine that puts out 314HP @ 6400 rpm and 280lb-ft @ 4800 rpm, and it's mated to an eight-speed Sport Direct Shift with paddle shift transmission.
The RC 300h is a hybrid that's powered by a 2.5-liter four cylinder engine with a 105kW electric motor driven through an electronic continuously variable transmission (CVT) with six step gears in a sequential shift-matic feature. It puts out 176HP @ 6000 rpm and 163lb-ft @ 4800 rpm. Total system output is 217HP.
No word on pricing just yet, but we'll be sure to update you as we find out this information. The RC Coupe is slated to launch in 2014, so stay tuned!
What are your thoughts on the all-new Lexus RC Coupe?