Madden NFL 15 Officially Launches Today!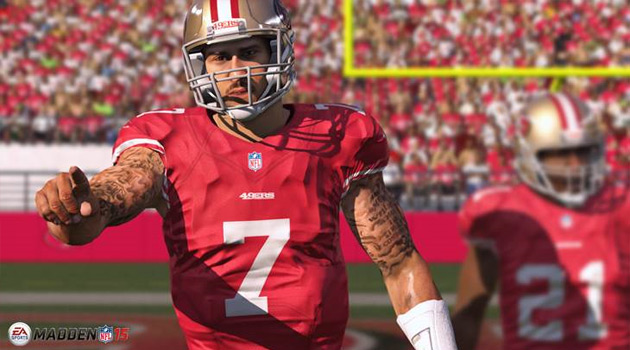 Madden season officially begins today! That's right, EA SPORTS highly anticipated game Madden NFL 15 makes it's retail debut today for the Xbox One and PlayStation 4 consoles. Madden NFL 15 allows fans to own their rival with a new arsenal of defensive pass rush moves and tackling mechanics, as well as a new and improved playcalling system. The game also showcases the most impressive visuals in franchise history, and a comprehensive Skills Trainer that teaches not only game skills, but football strategy as well.
Madden NFL 15 delivers on defense, providing a variety of new pass rush moves to help players disrupt the backfield, as well as new tackling mechanics that make it easier than ever to wrap up your opponent or make the big hit in the hopes of making him cough up the football. Furthermore, the revamped playcalling system presents suggested plays in a whole new way, providing context for each recommended play as well as a snapshot of its historical success. You can also utilize the wisdom of the Madden Community, with constantly updated community-suggested plays that are pulled from actual Madden NFL 15 matchups from around the world.
The improvements extend beyond gameplay as well, with new gameday presentation that tells the story of your matchup, including new pregame and halftime shows with highlights, commentary and analysis. Fans can also utilize the enhanced Skills Trainer mode to not only improve their mastery of Madden NFL 15, but also learn basic football concepts. Once you feel confident head over into the brand-new Gauntlet to put your skills to the ultimate test.
Madden NFL 15 allows players to transform into their rival's worst nightmare with a new breed of defense, built to challenge the best offenses in the NFL. A new arsenal of pass rush moves, an intuitive tackling system, improved coverage logic, and immersive new camera angles make defense more exciting and fun than ever. Fans can call plays with confidence thanks to an all-new crowd-sourced recommendation engine built from millions of online games played by the Madden NFL community. Add in all-new NFL Films inspired presentation and it's not just football, it's Madden Season.
Those looking for a NFL experience on the go can jump into Madden Mobile, available today for free on the App Store and Google Play. This all-new NFL experience will allow fans to build a dominant team composed of the league's best talent from past and present. Players can take their squad into head-to-head matchups against friends, play their favorite team's full NFL season or jump into the always fresh Live Events.
To learn more about Madden NFL 15, visit http://www.easports.com/madden-nfl.