Mongoose Jam 2013 Kicks Off Next Week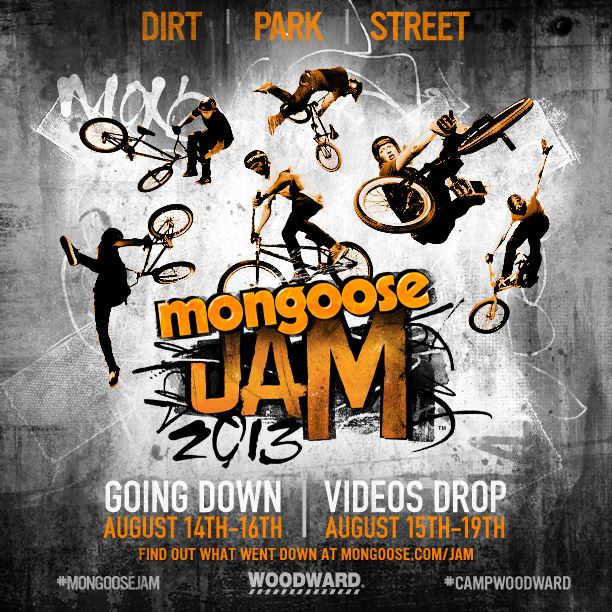 BMX fans, the second annual Mongoose Jam takes place next week, August 14-16, at Camp Woodward in Woodward PA. 30 pros and 6 amateurs will compete over a three-day period, and will push the boundaries of the sport of BMX with an authentic blend of camaraderie and grit.
Mongoose riders Greg Illingworth, Steve McCann, Paul Ryan, Ben Wallace, Cam White and new rider Kevin Peraza will each captain one of six teams at the BMX-only event. The Mongoose team captains have invited four pro BMX athletes to join each of their teams, and will draft one amateur rider from Camp Woodward campers during the Amateur Contest, the first contest to take place during the Mongoose Jam. Teams will earn points according to their placement in each contest – dirt, park and street – and an overall Mongoose Jam first place team will be crowned after the last event.
Alongside the Mongoose team captains will be their friends and fellow professionals. Confirmed riders for the Mongoose Jam include: Dennis Enarson, Chad Kerley, Connor Lodes, Christian Rigal, Kyle Baldock, Rob Darden, Jack Fahey, Josh Clemens, Brian Kachinsky, Chris Doyle, Tammy McCarley, Mike "Hucker" Clark, Pat Casey, Ryan Guettler, Tyler Fernengel, David Peraza, Matt Priest, Ben Lewis, Alex Coleborn, Alistair Whitton, Stevie Churchill, Jeremiah Smith, Brandon Dosch and Daniel Sandoval.
Fans will be able to watch edits from all three contests and other Jam events on Mongoose.com/Jam, and live event updates will be posted on Twitter via @Mongoose.
For more information on Mongoose and their collection of BMX bikes, go to Mongoose.com.