Movie Review: End Of Watch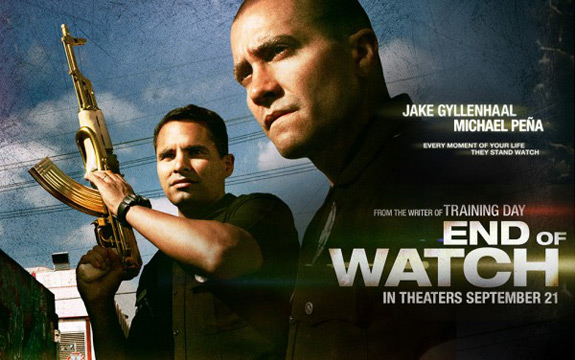 We were invited to attend an advanced screening of End Of Watch last night, and based on the commercials I'd seen for it, I was really excited to screen the movie. Since the movie was written and directed by David Ayer (Training Day, Street Kings), the bar was set high going in.
In case you missed it, here's the trailer:

And here's the official synopsis:
End of Watch stars Jake Gyllenhaal and Michael Peña as young Los Angeles police officers Taylor and Zavala as they patrol the city's meanest streets of South Central Los Angeles. Giving the story a gripping, first-person immediacy, the action unfolds through footage from the handheld HD cameras of the police officers, gang members, surveillance cameras, and citizens caught in the line of fire to create a riveting portrait of the city's most dangerous corners, the cops who risk their lives there every day, and the price they and their families are forced to pay.
As the story unfolds, we ride along with two beat cops in South Central who spend their days looking for drugs, guns, and money. They deal with gangs daily, and encounter the absolute worst the job has to offer. While they sometimes make questionable decisions, deep down we know that they're good people. The plot revolves around escalating gang tension and a rising Mexican cartel in South Central.
Unfortunately, the audience never really connects with the characters, and as such it's hard to feel much of anything for them. On the flip side, the friendship between Taylor and Zavala is undeniable, you have no doubt that they'd take a bullet for one-another.
The main problem with the movie is that it's boring. And that not to say there's a lack of action, because that's definitely not the case. It just doesn't get your blood pumping, even during some of the more violent scenes. And the rest of the calls, meant to show that police work isn't all about shootouts and dead bodies, were completely pointless and unnecessary.
The ending was fairly predictable, and I left the theatre feeling disappointed. Disappointed that a movie with such potential ended up being a dud.
I'll be curious to see how the movie does this weekend, and how the audiences reacts to it.
My Rating: C-