'The Cabin In The Woods' Was Just Terrible
I planned on seeing The Cabin In The Woods when it first came out, but somehow that never happened. So when it came out on DVD yesterday, I headed down to Redbox and rented it.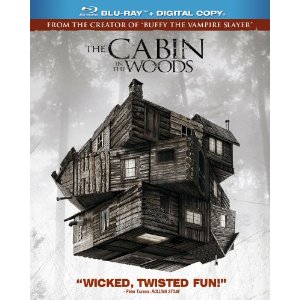 Before renting the movie, I checked on sites like Rotten Tomatoes and IMDB and saw that the movie received extremely high ratings. All I can say is, "What the hell were they smoking?"
In all honestly, this was one of the WORST movies I've seen, and it took everything I had just to finish it. The best part of the movie was seeing Anna Hutchison's tits for a brief 20 seconds.
Had I dug a little deeper, I would have seen comments like this:
This movie is an over-rated and over-hyped piece of crap!
At very best this is the worst movie I've seen all year, possibly the entire decade. ********* any time from your precious life to watch this garbage. Everything is predictable, terrible acting, sh**ty attempts at humor and the dumbest plot in horror history
If I new any cajon, I sure would have gotten some Voodoo to cast a spell on this turkey. Where is Freddie Kruger when you need him?
This movie was so bad, the plot was stupid. It was like the trailer tricked you. I usually like the movies that people say are bad but this was ! Never got scary, it felt like I was watching a high school Adobe After Effects project. Don't waste your money.
This movie sucked! The critics had the get one heck of a payout in order to give this good reviews. Dont waste your money or your time. Just , and IMO I would stay away from this one.
Needless to say, I completely agree with these people. The plot was ridiculous, full of holes, and the execution was just awful! I'll take movies like Friday the 13th, Nightmare on Elm St., Hostel, and Saw over this garbage any day!
Consider yourself warned..