Movie Review: Jupiter Ascending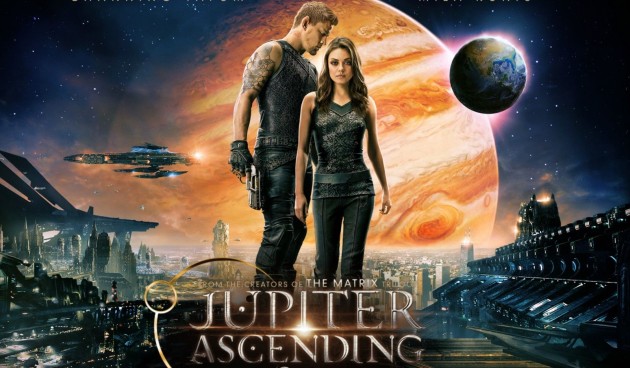 If there's anything that nobody can fault the Wachowski siblings for, it's a lack of ambition. They've gone from breaking the bounds of what we perceive to be reality in The Matrix, to smashing together about eight movies in one with Cloud Atlas. Even when they misfire, it's because they have a genuine appetite for storytelling and ideas. As such, it's hard to fault them, even as they come off a few misfires, going into their latest space opera Jupiter Ascending, because this just might be the one where they finally get it right.
Jupiter Jones (Mila Kunis) has been stuck in a rut for her entire life. Her scientist father (James D'Arcy) was murdered before she was born, so she finds herself working day after day as a janitor with her mother. Little does she know that events are being set in motion that will ultimately make her the most important person in the universe. Intergalactic mercenary Caine Wise (Channing Tatum) has been sent by one of the patriarchs of a powerful alien family named Titus (Douglas Booth) to retrieve her, because as fate would have it, Jupiter is the rightful heir to the entire planet Earth. Titus is in competition with his manic brother Balem (Eddie Redmayne), who has even more nefarious intentions in controlling her.
Storywise, Jupiter Ascending is about as generic as it gets, taking the basic formula from pretty much any hero's journey sci-fi film, and just copy pasting it into it's world. As such, even though the movie goes to great lengths to really build it's world, particularly in establishing the apathy and omnipotence of it's alien races, it ultimately boils down to a generic good vs evil fairy tale. With that said, the attempt to establish a mythos here does not go unappreciated, and trying to figure out exactly what all of these wacky celestials are up to makes for some convoluted fun. It also certainly helps that visually, the worlds in this movie are stunning. Everything from the weapons, to the creatures, to the various worlds feel ripped right out of a 70s sci-fi novel, and since we never really get to see these kinds of worlds anymore outside of Star Wars or Star Trek, that is certainly a treat.
Where the movie really starts to falter is in it's fairly flat characters. Coming off best by far is Tatum, who's biggest sin is his fairly stilted line delivery, which seems to be more of a directorial choice to capture his Vulcan like conflict between commitment to his duty, and his growing feelings for Jupiter. However, while he may not always work in the quiet moments, he excels in the action sequences, putting his incredible physical talents on display to give even the most CGI fueled stunts a sense of weight and choreography than another actor might have. Meanwhile Kunis is given an extremely generic character with next to no personality other than to be an audience avatar, and unlike Tatum, she brings none of her own natural talents to the table to compensate. We never really grow to care about Jupiter, as she seems so unimpressed with absolutely every single one of these incredible circumstances around her. Then there's Eddie Redmayne…oh boy. Plenty of people have gone off on just how awful he is in this role, but really, nobody can do his strange, off-putting impression of Sir Richard Harris as Dumbledore justice, it just has to be seen. Once again, this has to be a matter of direction, as Redmayne has proven that he's as talented as any actor in the business right now, but he's going to have a whole lot to prove once again when people see this.
However, when all else fails the action starts, and these sequences are an absolute shot in the heart. In terms of sheer spectacle, physicality (again, mostly thanks to Tatum), and scale, these are some of the most impressive combat sequences I've seen in quite some time. The Wachowski's turn into two really imaginative kids playing with their favorite toys here, weaving and bobbing the camera around as we fly and flip along with the action. It's immersive, exciting, constantly changing, and despite everything wrong with the movie, makes it worth seeing just to take in all the coolness.
If I had to answer a simple yes or no question of whether or not this film works, I would say "no." However, I can also say that I admire it a great deal more than most seem to, simply based on the ambition that comes so very close to being fully realized here. If Andy and Lana had just paid a little more attention to the people we follow through this world, and aided the performances more, this could have been their next massive smash. As it stands, it's an enjoyable feast for the eyes, and a guilty pleasure for me if there ever was one.
Rating: B-