21 Reasons Why You Should Go See 21 Jump Street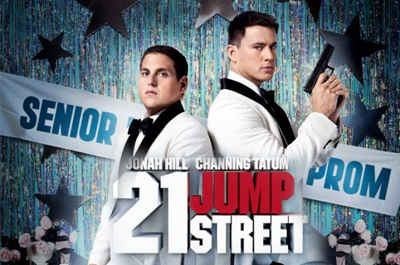 Jonah Hill – He's still funny, like Superbad funny.
Channing Tatum – He's funny, very funny. Who would have thought.
Ice Cube – Everybody likes Ice Cube.
It's a remake of something from the 80s that I never saw. The 80s is the best decade ever. Period.
Explosions!
Guns!
A synthetic drug ring that needs to be brought down.
Rob Riggle – Rob Riggle is just funny, what more needs to be said.
An undercover cop who gets in way too deep and forgets who he is. (Think Donnie Brasco)
High speed car chases.
Peter Pan. Who doesn't love Peter Pan?
More explosions!
More guns!
Did I say high school girls?
Nerds. Nerds are fun.
High speed limo chases.
Action. Laughter. More action. Lots of laughter.
Even more explosions!
Someone gets shot in the dick. Seriously, who gets shot in the dick?
They left room for a sequel, and hopefully that happens.
Johnny Depp – Johnny Depp doesn't star in bad movies, so go see 21 Jump Street.