TED Is One Of The Funniest Movies You'll See This Year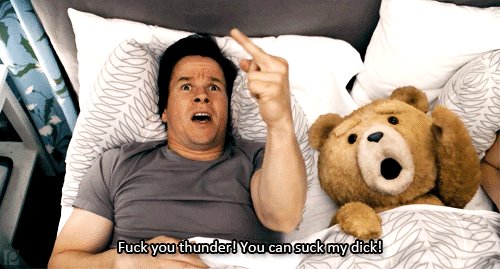 Seth MacFarlane knocked it out of the park with Ted, grossing over $135 Million worldwide in just 10 days! Originally slated for release this Friday, the early release of the movie proved to be a smart move, as Ted cashed in over the July 4th holiday.
Many critics complained that Ted is basically Family Guy with a teddy bear. I don't regularly watch the show, so I can't really speak to that. But I will say this – The movie is hysterical!
If you haven't seen the 3-minute red band trailer we posted a few months back, it's probably best if you skip it. Two of the funniest scenes are shown in that trailer, and seeing it ahead of time will spoil it for you. But even if you've already seen the trailers, don't worry, as there are TONS of funny clips throughout the movie.
I enjoyed the movie so much that I already pre-ordered Ted on Amazon. I'm sure the DVD will have a bunch of deleted scenes and stuff, which makes it a worthwhile purchase in my eyes.
So if you're looking for a movie that will make you laugh out loud, go see Ted!