Norwegian's Newest Cruise Ship Will Have A Ferrari Branded Race Track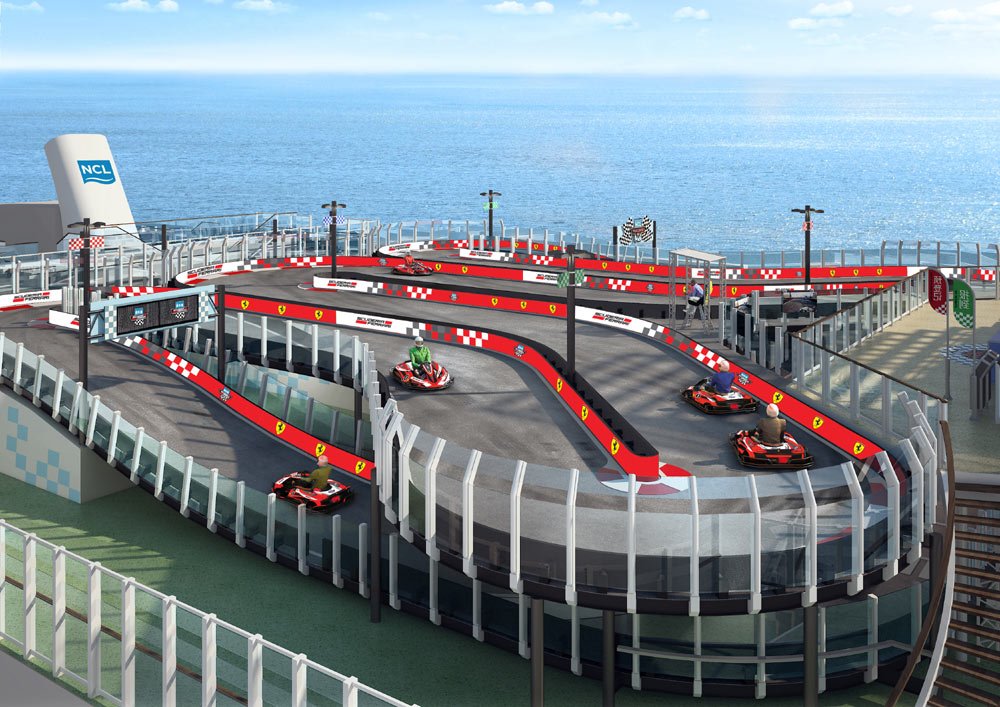 Last year, we told you that Norwegian Cruise Lines was debuting the first-ever racetrack at sea on their latest ship, the Norwegian Joy, allowing passengers to drive go-karts on a two-level competitive racetrack.
As if that news wasn't good enough, we've learned that Scuderia Ferrari Watches has joined forces with NCL to build its first branded race track. The two-level Ferrari branded competitive racetrack will be located on the top deck of the ship and and up to ten drivers at a time will be able to race each other in electric go-karts and have photos taken at the finish line to share with friends and family back home.
Guests of Norwegian Joy's higher-end The Haven and Concierge class will enjoy a number of complimentary rides as part of the amenities and benefits of their suites and staterooms. We're guessing that everyone else will have to pay if they want to go for a ride.
Ferrari represents fun, passion, and competitive spirit, and this partnership will bring the spirit of the brand to Norwegian Joy's guests. This is the first time Ferrari Watches has partnered on a branded go-kart track and Scuderia Ferrari Watches will be featured in a retail store adjacent to the racetrack.
The 3,850-passenger Norwegian Joy also offers other engaging and innovative activities, including an open-air laser tag course, thrilling simulator rides and interactive video walls at the Galaxy Pavilion as well as hover craft bumper cars, a state-of-the-art racing simulator and two multi-story waterslides.
Sadly, if you're interested in cruising on the Norwegian Joy, you will have to travel to Shanghai or Tianjin, as the Joy is NCL's first purpose-built ship for the Chinese market. Now if you'll excuse me, I've got to go check Expedia and see how much flights to China are!