Playboy Spirits Debuts Canned PLAY HARD Vodka Seltzer
Playboy, best known for their adult magazine, is now branching out into the alcohol beverages business with the launch of PLAY HARD, a premium line of vodka seltzers.
PLAY HARD Seltzers is a refreshing new entrant to the ready-to-drink category, with a focus on unique flavors, natural ingredients, low calories and stand out packaging featuring iconic artwork by Andy Warhol.
Under the Playboy Spirits brand (a joint venture between PLBY Group and Spirits Investment Partners), PLAY HARD looks to connect with Playboy's fashion-forward Gen Z and Millennial following, and they're opening the vault to their expansive collection of original art.
The inaugural lineup debuts with Andy Warhol's iconic "Bunny Head" pop-art painting from 1989, prominently featured on the 12-ounce slim cans with other notable artists set to be featured on subsequent releases.
Crafted with gluten-free vodka, sparkling water and all-natural flavors, PLAY HARD is a standout product with a playful spirit. PLAY HARD seeks to fill the void in premium RTDs and invites consumers to indulge in life's pleasures.
"Playboy Spirits welcomes a new generation as we unveil the next chapter in hard seltzers with PLAY HARD—designed for those who seek great flavor, premium quality, and style," said Marc Bushala, CEO of Playboy Spirits and SIP. "PLAY HARD seltzers captures Playboy's legacy as a bon vivant lifestyle brand and modern spirit, inviting everyone to express themselves, live boldly and enjoy themselves. PLAY HARD celebrates self-expression and a nod to those who like to play hard and have fun."
Drawing inspiration from ground-breaking pop culture artists of the 20th Century, including Andy Warhol, Keith Haring and others that painted unique works for Playboy in the 1980's, PLAY HARD elegantly combines the best-in-class product and packaging. Each 12oz slim can has only 3g of carbs, 110 calories, all-natural ingredients and 4.5% ABV.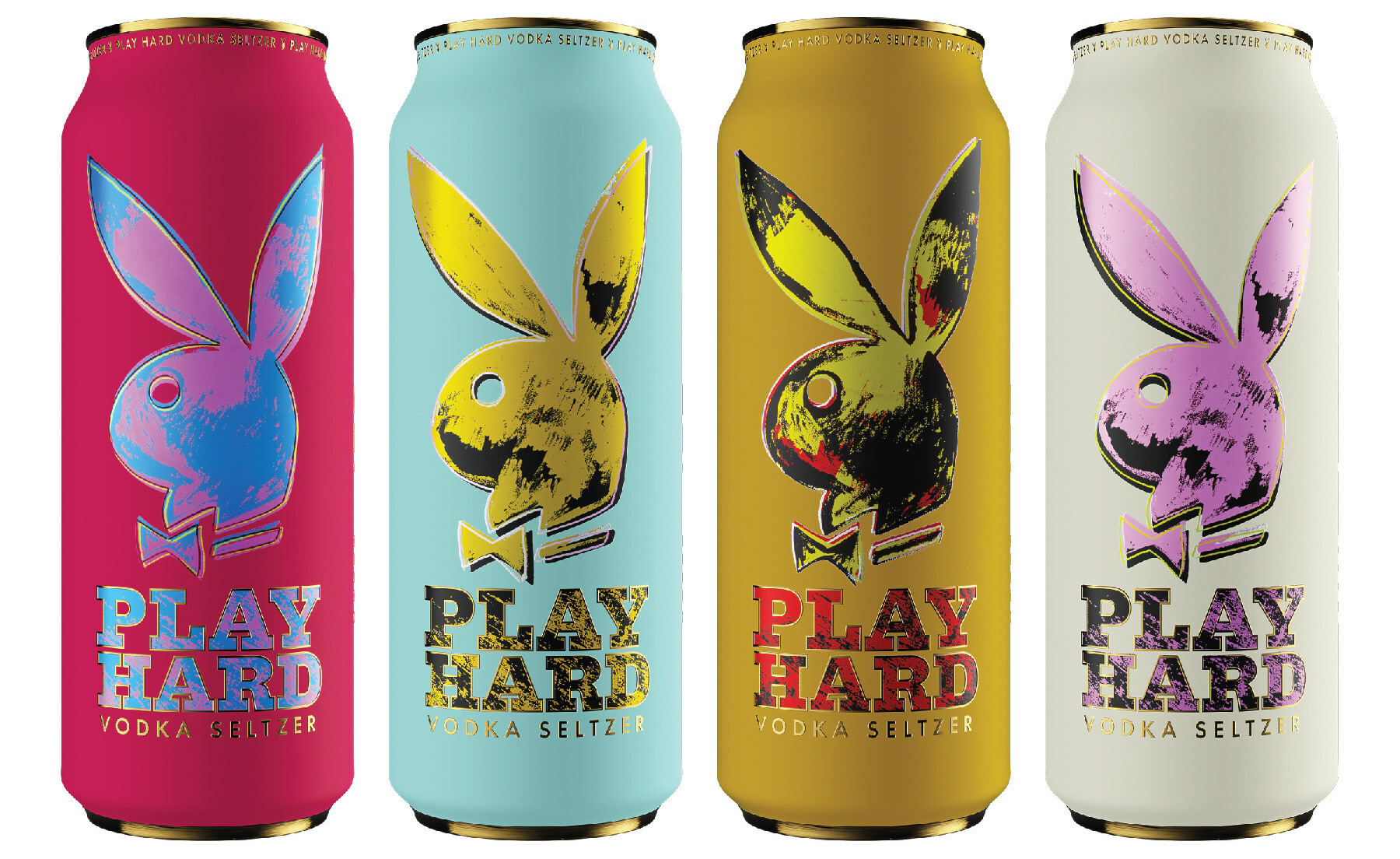 The inaugural release includes the exotic allure of Mango Dragon Fruit, the invigorating zest of Grapefruit Yuzu, the tropical delight of Pineapple Passion Fruit, and refined essence of Apple Prickly Pear. Each of the four flavors reflects PLAY HARD's celebration of uniqueness, creativity and individuality.
"The launch of PLAY HARD is a beautiful intersection of art, culture and content," said Devon Belter, Global Brand Director of PLAY HARD. "Incorporating Andy Warhol's artwork into the PLAY HARD packaging not only pays homage to a cultural icon but also confirms Playboy's legacy of artistic depth, historical significance, and contemporary relevance."
PLAY HARD will be offered in select retailers in Miami and Orlando in September, with plans to expand into additional markets throughout 2024. PLAY HARD will be available on their website starting in September. To learn more about where to purchase PLAY HARD Vodka Seltzer, visit www.playhardseltzer.com.