Razer BlackWidow Ultimate (2014) Review
Back when I first reviewed the Razer BlackWidow keyboard a few years ago, I was smitten with its snappy mechanical keys and good looks. In that first review, we took a look at the lowest end of the BlackWidow lineup, the Tournament Edition. This model had no LED backlighiting, no extra macro buttons and no number pad. It was a no-frills way to get your hands on a solid mechanical keyboard.
Razer has a new BlackWidow complete with all-new exclusive Razer developed switches, and we wanted to give this new model a workout. But we wouldn't settle for the base model this time. Oh no, we wanted the feature-packed BlackWidow Ultimate.
How does it stack up compared to its older sibling? Are the new switches an improvement? Is the Ultimate worth nearly twice the price of the Tournament?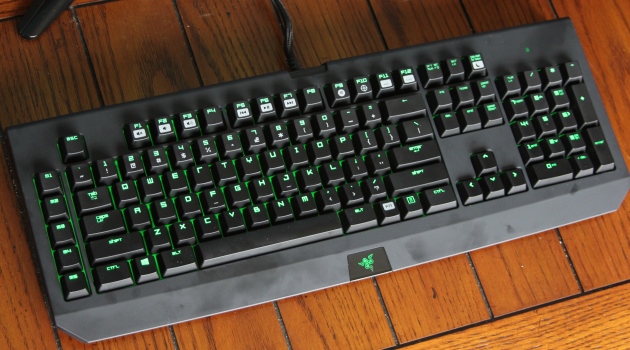 The look of the new BlackWidow Ultimate is nearly identical to all the BW boards over the last few years, but Razer has made a few minor adjustments since I got my Tournament Edition board. The biggest change is the surface material. The new Ultimate is completely covered in a soft touch paint that makes the keyboard feel like a million dollars. It also helps to cut down on visible fingerprints and other grime. The soft finish also seems to help with grip on the keys, even when things get a little sweaty during heavy gameplay.
From a layout standpoint, the Ultimate is quite a bit different from my old model. With a full number pad and a dedicated row of Macro function buttons, the Ultimate is much more versatile and functional.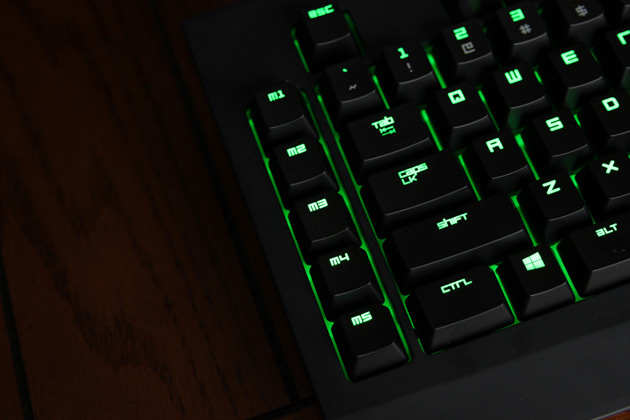 Versatility will never be a weakness for the BlackWidow Ultimate. Thanks to the new Razer SYnapse 2.0 software, you can effectively create a macro out of almost every single key on the keyboard. You can do more than simple macros, too. You can reprogram keys – great for games that lock key mapping – and you can even set the keys to perform multimedia functions or even open programs. You can essentially reprogram the entire keyboard to control anything you want, in any fashion you want. Synapse 2.0 makes this keyboard one of the most powerful PC tools ever created.
What about those new mechanical switches. Razer claims that the new keys take slightly less pressure to actuate and have a shorter reset cycle, ultimately creating a quicker keyboard. I am not sure I can say the keys truly have a shorter stroke from actuation to reset, but they do require a lighter touch from hands. They keys also have a slightly quieter actuation "click." The old Razer TE I use with the Cherry MX Blue switches is nearly loud enough for my neighbors to hear. The new Razer Green switches still exhibit a very recognizable click, and nobody will ever call this keyboard, but the noise is noticeably quieter compared to the old Blues.
Razer does have a "quiet" model that uses a new Orange switch that is comparable to the Chery MX Brown switch, but we were unable to secure a sample.

When not in hardcore gaming mode, the keyboard makes a perfect typists companion. The quick action, rubberized key coating and variable backlighting makes it easy to type with in all lighting conditions and at all speeds. Even when I am banging away at my most furious pace I have almost no issues with missed strokes due to key slippage or unactuated keys. The slightly sprung nature of the mechanical switches also keeps my hands fatigue free after long hours of work.
Along with the new mechanical switch design, each switch comes with its own LED lighting. Have each key with its own backlight helps to provide a very even and legible lighting arrangement. There are also nearly a dozen levels of brightness adjustment, allowing you to dial in the perfect amount of light. You can stay away from the brightest settings though. I am pretty sure that when maxed out, the lighting on this thing can nearly outshine the sun.
One of the best tricks I have seen when it comes to keyboard lighting is actually the under-tray for this keyboard. It is colored in that same signature Razer Acid Green color as the LED lighting. It causes the light to reflect very evenly making the whole keyboard glow with perfect tone from side to side. It is a very nice effect, and I applaud Razer for taking the time to design it.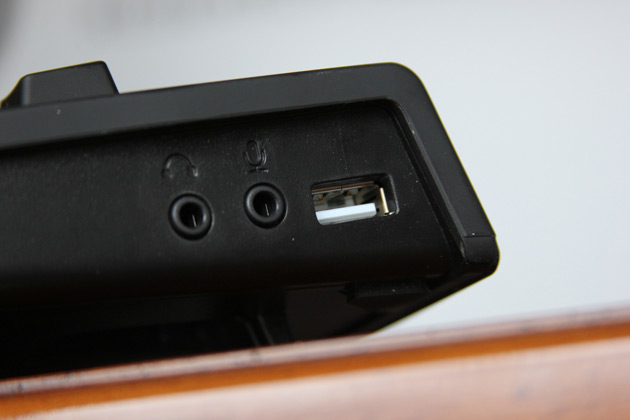 Other thoughtful touches include an onboard microphone, headphone and USB plug. The keyboard has one thick braided cord that exits from the rear, and it terminates into a headphone, mic and two USB plugs (one for the board data and power, one for the inbuilt USB port).
Razer has built a strong legacy by designing uncompromising products that feature thoughtful design touches, bulletproof reliability and impeccable build quality. The 2014 edition of the BlackWidow Ultimate carries that legacy flawlessly. You will not find a better built or designed keyboard anywhere. Period.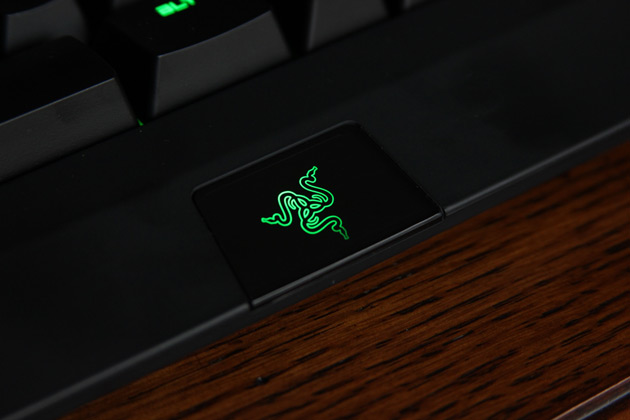 Sadly, that unwavering quality does come with a drawback; price. At $140, the Razer Ultimate is not exactly a bargain, and many competitor boards come in at a lower price. That said, I firmly believe that the Razer is worth the premium.
If you demand the best, there is no better option than the new Razer BlackWidow Ultimate. This thing is essentially perfect.
Pros: New switches, infinite customizability, unsurpassed quality
Cons: Loud keys, expensive price
Score: 9.5/10