Protect Yourself From Identity Theft With A Paper Shredder
This post brought to you by Fellowes, Inc. All opinions are 100% mine.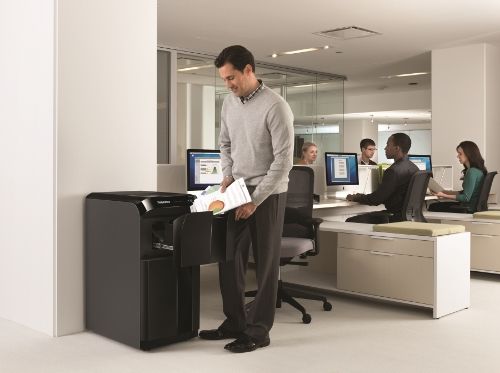 You've seen the headlines. Incidences of data breaches rose a dramatic 30% in 2013 over the previous year. Yet despite what Hollywood wants you to believe, many of these security breaches were the result of low tech criminal methods, like good old-fashioned dumpster diving!
If a bad guy gets your SSN and some personal information, they can go all Melissa McCarthy on you and make the next 6 months of your life a living hell as you try to regain control of your identity. That's why it's so important to shred every sensitive document you're done with, everything from pre-approved credit card offers to old pay stubs to tax forms.
But it's important to understand not all shredders are created equal, and that $20 shredder you got from your local office supply store is no match for a determined criminal. You need a quality shredder that will destroy documents into cross-cut pieces that can't be put back together.
The Fellowes AutoMax is a commercial-quality shredder that can be used in an office or at home. This bad boy can shred up to 500 sheets at once including staples, paper clips, CDs, crumpled paper, glossy paper, double sided color printed paper, DVDs, and junk mail. All without having to manually feed it, thanks to it's patented SureFeed Technology. And paper jams are a thing of the past with Fellowes JamGuard System, which prevents shredding interruptions for jam free operation.
So if you're looking for piece of mind at night, consider investing in a quality shredder like the Fellowes AutoMax. You won't be disappointed!