Fellowes AutoMax Shredder – Revolutionizing The Way You Shred
This post brought to you by Fellowes, Inc. All opinions are 100% mine.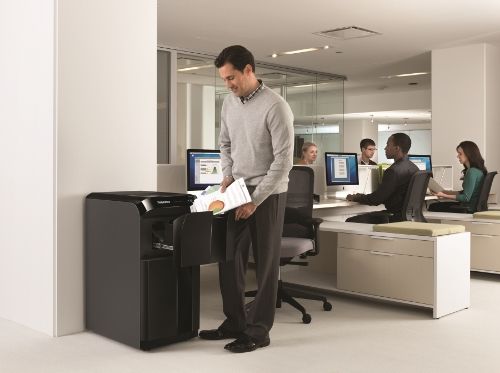 Fellowes, makers of the World's Toughest Shredders, has just introduced another game-changing shredder innovation, the Fellowes AutoMax.
The AutoMax line of truly walk away shredders fills a void in the market for a "true" auto-feed machine. With traditional shredders, you have to manually feed documents into the shredder a few pages at a time to ensure that the machine doesn't jam up. And don't forget to remove staples, paper clips, or other hazards beforehand. Who has time for all of that?
With the AutoMax 300C and 500C models, you shred things such as staples, paper clips, CDs, crumpled paper, glossy paper, DVDs and more without having to manually feed it, giving you time back for a more productive work life. Simply load, lock and walk away.
This video shows you how exactly it works:
As you can see, this hands-free Cross-Cut shredding experience is possible through an exclusive combination of technologies that save you valuable time so you can get back to business. These technologies include:
Patented SureFeed Technology that features a rotating paddle system along with a specially designed ramp that ensures a consistent feed into a robust high capacity cutting block
JamGuard System that prevents shredding interruptions for jam free operation
SmartLock that engages with each shred cycle to prevent the drawer from opening and protect confidential information from prying eyes
And if that's not enough, it's also ultra-quiet and energy efficient. Whether you're looking for a convenient on-site shredding solution for your business, or just looking to keep identity thieves from rooting through your trash, the Fellowes AutoMax has got you covered!
You might not know this, but Fellowes invented the personal shredder in 1990, and they've remained at the forefront of technology development ever since, maintaining a proven track record of customer satisfaction. The launch of the AutoMax took several years of R&D to ensure the technology was perfected and offered consistent and reliable performance every time. Now that day is finally here..
I've been a satisfied Fellowes user for over a decade now, and their products have never let me down. If you're in the market for a quality shredder, be sure to check out Fellowes line of shredders, especially the new Fellowes AutoMax.