Relaxing In Style With Tommy Bahama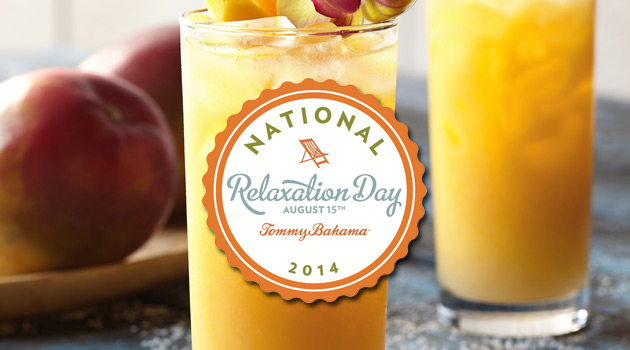 Summer should be a time for relaxation, whether you're lounging by the pool, enjoying a BBQ with friends, or spending a weekend at the beach. But I can't tell you the last time I did any of those things, because we live in a world of constant work.
So I'm taking a cue from Tommy Bahama, an island-inspired lifestyle brand who's mottos are "Relax in Style" and "Make Life One Long Weekend." They've managed to find that perfect balance between work and play, and they're encouraging others to follow suit by celebrating National Relaxation Day on August 15th.
Since we live in a fast paced world that can be stressful, National Relaxation Day is about taking a step back, digging your toes into the sand, and relaxing – The feeling you get from being on vacation.
The beach has been calling my name all season, so that's where I'm headed, for a long weekend of sun, surf, and relaxation. And of course, I'll be rocking some of my favorite Tommy Bahama shirts, shorts, and sandals, so I'm in the proper relaxation mindset. I can already feel the sun on my face!
In addition, Tommy Bahama is paving the way to relaxation through their Summer of Go sweepstakes. From now until 8/18, they will be giving away spectacular travel packages each week. At the end, one lucky Grand Prize winner will receive a Hawaiian vacation for four!

That's right, one lucky Grand Prize winner will receive a Hawaiian vacation for four including air transportation with Alaska Airlines, a 7-night stay in an ocean-view room at The Fairmont Orchid, $200 in Uber credit, and a pile of Tommy Bahama goodies including a $1,000 Gift Card. In total, this Grand Prize is worth over $7,000!
Let me tell you, a free trip to Hawaii would certainly help me relax! In addition, there are also more amazing deals and prizes if you live near a Tommy Bahama retail store or restaurant. When you make a purchase in their store or restaurants between July 21st and August 14th, you'll receive a sealed game pieces, and the prizes range from gift cards to GoPro cameras to $25,000 cash!
So good luck, and don't forget to take it easy on National Relaxation Day! Now tell us, what's your idea of a perfectly relaxing day?
This post is sponsored by Tommy Bahama, but all thoughts are our own.