Tommy Bahama Hybrid of Paradise Swim Trunks – The Best Of Both Worlds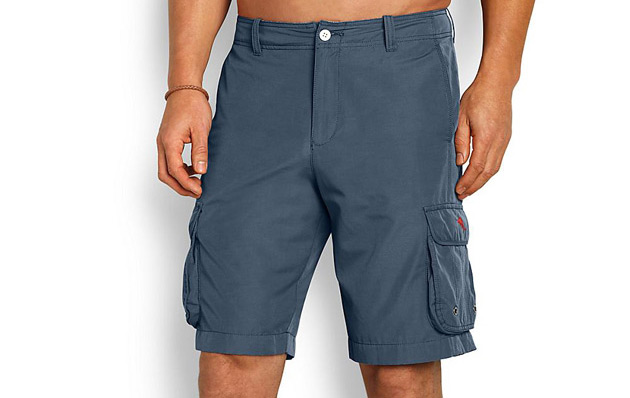 In the market for a new pair of swim trunks? Then you've got to check out this stylish and unique pair of swim trunks that we just got from Tommy Bahama.
They're called the Hybrid of Paradise 11″ Swim Trunks, and the concept is brilliantly simple. Rather than carrying around shorts and swim trunks when hitting the beach, they've combined these two elements into a single garment that's styled for land or sea! Put these on in the morning, and you'll be ready for a day of fun, in or out of the water.
Equal parts "shorts" and "boardshorts," these hybrids have a fixed waistband (with button, zipper and belt loops) as well as cargo pockets on both legs. They're made of a quick dry cotton/polyester blend that is soft, comfortable, and stylish. The inner pockets are mesh, and the cargo pockets have little holes to let water drain from them. Just remember to remove your phone from your pocket before jumping in the water!
What I really like about these swim trunks is that they dry in minutes, so you can easily transition from the beach to the bar with ease. Just throw on a t-shirt and some sandals, and no one will be the wiser.
The Hybrid of Paradise trunks come in a wide variety of colors, though I'm really partial to my Great Sea trunks (seen in the picture above). They retail for $98, and can be purchased from TommyBahama.com.