Review: 2012 Mazda3 4-Door Grand Touring SkyActiv
The 2012 Mazda3 was the first application of Mazda's innovative SKYACTIV fuel-saving and performance-oriented technologies, which allows the Mazda3 to achieve 40mpg (highway), besting the old Mazda3′s mileage by a whopping 7mpg! Of course, the main concern I had when first hearing about SkyActiv […]
The 2012 Mazda3 was the first application of Mazda's innovative SKYACTIV fuel-saving and performance-oriented technologies, which allows the Mazda3 to achieve 40mpg (highway), besting the old Mazda3's mileage by a whopping 7mpg!
Of course, the main concern I had when first hearing about SkyActiv was how it would affect the Mazda3's performance, as Mazdas are well known for their Zoom-Zoom personalities. But over the past week, we drove over 400 miles and didn't have any complaints with SkyActiv. It won't win any drag races with it's little 2.0L 155HP engine, but if you're looking for speed, try out the Mazdaspeed3 instead.

Our tester was a Mazda3 i 4-Door Grand Touring SkyActiv with the technology package, which tipped the scale at an eye-popping $24,970! If that's a little too rich for your blood, you can get into a 3i Touring with SkyActiv for $18,700.
The sticker price took us by surprise at first, but the Grand Touring trim gives you a LOT of standard features – Leather seats, standard Bluetooth, a power-adjustable driver's seat and heated front seats, sporty-feeling leather wrapped steering wheel and shift knob, 265-watt Bose CenterPoint surround-sound 10-speaker audio system, and a tiny navigation screen tucked into the top of the dashboard.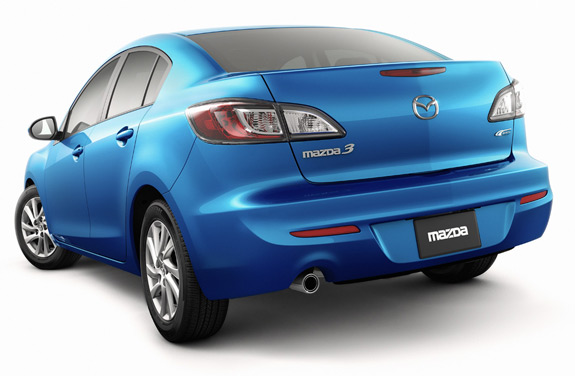 The $1400 technology package adds a blind-spot monitoring system (first seen in the Mazda6), Sirius satellite radio, rain sensing front wipers, and pivoting adaptive bi-xenon headlights with automatic on/off. A backup camera would have been a nice addition, but the car is small enough that you can easily live without it.
The rain sensing wipers might sound more like a novelty feature, but they came in very handy in an odd storm over the weekend where it kept fluctuating between light and heavy rain.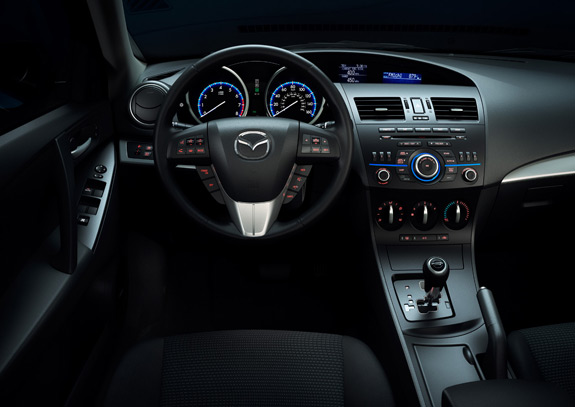 Of course, the real star of the show here is the SkyActiv technology, which delivers impressive fuel economy (we averaged 36.5mpg in mixed driving) without any real downside. The Mazda3 is a great looking car that handles great, has a ton of available features, and returns mileage once reserved for hybrids and the likes.
If I had a long commute and was looking for a fun-to-drive car that wasn't too hard on the wallet at the gas pump, I'd definitely consider the Mazda3 SkyActiv.