Review: 2013 Lexus LS 460 F SPORT AWD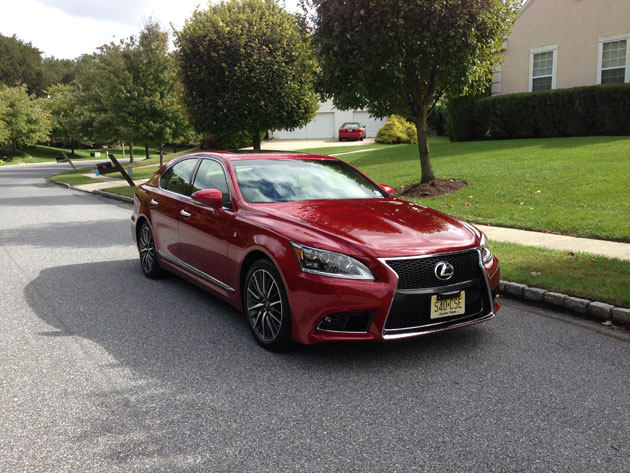 During last month's track day in Las Vegas, we got to drive the 2013 Lexus LS 460 F SPORT AWD, and we were really impressed with how well it performed on the track, given it's considerable size and weight. Since most owners will never track their LS, Lexus let us borrow a 2013 Lexus LS 460 F SPORT AWD for a week so we observe it in it's natural habitat, suburbia.
The 2013 LS underwent a slight makeover for 2013, the update successfully modernizing the car's styling, creature comforts, and character.. But opt for the $7860 F SPORT package, and it takes things to another level. Our Matador Red Mica LS with the F SPORT package got all kinds of attention. While the paint color might have had something to do with that (a stunning color that more people should order), the F SPORT styling cues (19″ forged-alloy wheels, front bumper, and mesh grille inserts) really helps this car stand out.
Of course, as with the other F SPORT models in Lexus' lineup, the changes to the car aren't just skin deep. The F SPORT package adds Sport+ and Comfort modes to the three existing modes (Eco, Normal, Sport), which adjust suspension, steering, and engine/throttle response based on which mode you select. In Sport+ mode (my preferred mode of choice), the car exhibits the characteristics of a sports car, not of a 4500+ lbs sedan that's over 200 inches in length. Isn't technology grand?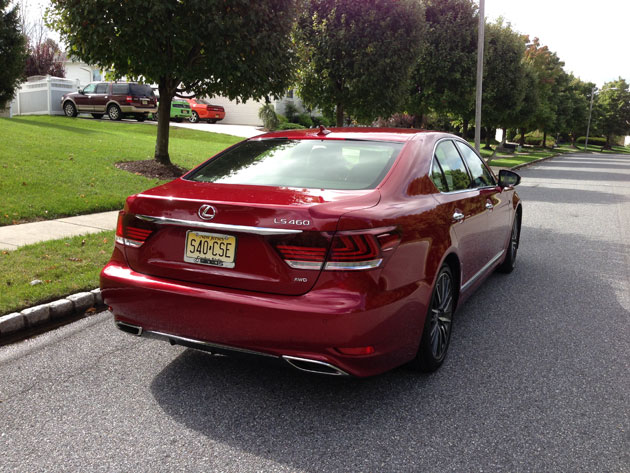 The Lexus LS faces off against a number of competitors in this segment, including the Mercedes-Benz S550, BMW 7-Series, Audi A8/S8, Jaguar XJ, and Porsche Panamera. That's some stiff competition, and many of these cars have underwent recent redesigns that offer more technology (hands-free driving, anyone?) and power, but overall we feel that the Lexus LS offers a nice compromise that appeals to a broader audience.
The biggest selling point for buying an LS is reliability. Other brands are notoriously expensive to fix when things start failing and you're out of warranty. Most people would never dream of buying a used 7-Series with over 100K miles on the odometer (that's why they're so cheap on the used car market), but buyers know that the Lexus will give them that reliability that they've come to expect from the brand.
I personally love the styling of the LS, whether in regular or F SPORT trim. It's classy and sophisticated, and some might even say understated. It's for people who appreciate discretion and don't want to outwardly flaunt their wealth. If you're looking for something flashier, the Lexus GS350 F SPORT might be a better choice.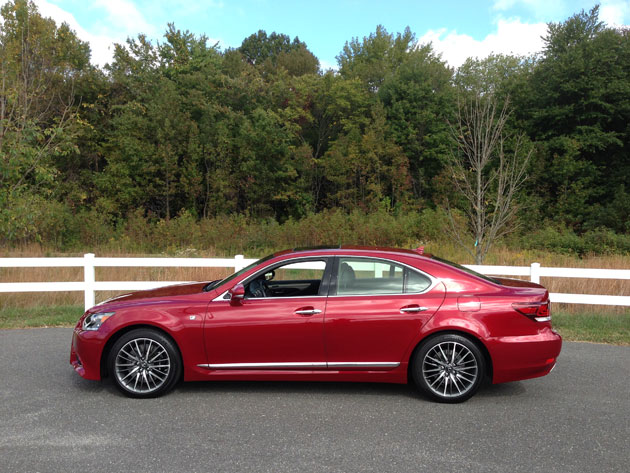 The interior of the car is absolutely gorgeous, with the highest quality materials used throughout. Space is abundant front and rear, and the seats are as comfortable as any you'll find in this class. Our car had virtually every option imaginable, including a 12.3″ flat screen that displays everything from GPS info to smartphone data. Unfortunately, it's all accessed via Lexus's Remote Touch Interface, a mouse-like controller used in place of a touch screen that will surely leaving older drivers cursing it's very existence.
The car came equipped with a suite of nanny tech including blind-spot monitoring, dynamic cruise control, a collision-avoidance system, and driver-attention monitoring. Our car also had the optional Mark Levinson 19-speaker stereo, which offers truly amazing sound and clarity.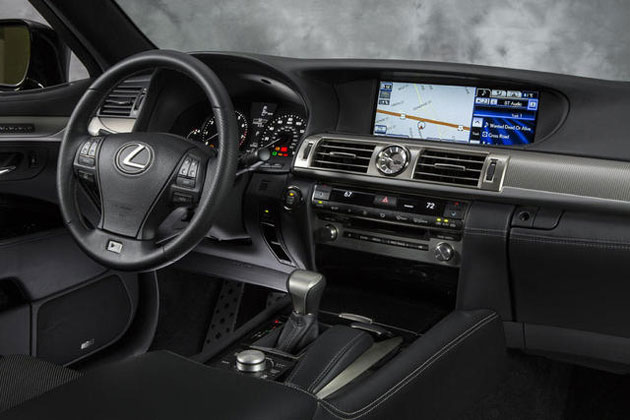 Of course, no car is without it's faults, and the LS is no exception. Lexus needs to give the LS more power to stay competitive in this segment. The LS 460 AWD only puts out 360HP (386HP in RWD models), whereas everyone else is delivering MUCH more horsepower. While you never really feel like you're down on power (thanks to an 8-speed automatic transmission and more aggressive throttle mapping in Sport+ modes), more power never hurts.
The car is also quite thirsty. Lexus claims the car gets 16MPG city / 23MPG highway, but we struggled to get above 14MPG in city driving, and we barely broke 20MPG in highway driving. While people spending $90K on a car probably don't care about gas mileage, it's another area where the competition has them beat.
Overall, I think the 2013 Lexus LS 460 is an outstanding car, and if I ever become a one-percenter, this car will be on my short list for a daily driver. Drive one for yourself, and you'll see why the LS has been such a popular car in this segment for so many years.
2013 Lexus LS 460 F SPORT AWD
Base Price: $74,935
As-Tested Price: $89,479
More Information: http://www.lexus.com/models/LS/