Review: 2014 Kia Sorento SX Limited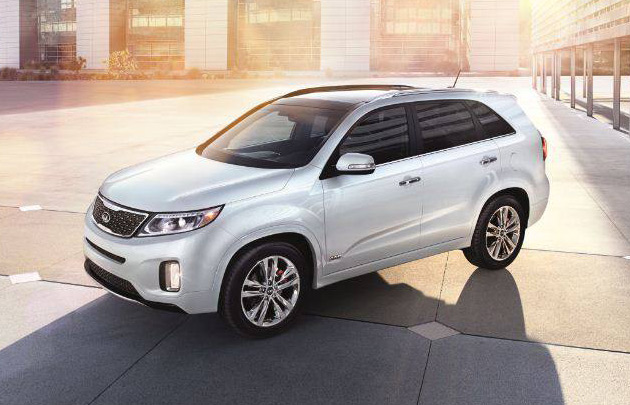 If you're a long-time reader of the site, then you know that we're big fans of Kia. It's ironic, because five years ago, I couldn't imagine making such a statement. But the Korean automaker has come a long way from their humble beginnings, and today they're putting out world-class vehicles that can stand with the best of them.
Case in point, the 2014 Kia Sorento, Kia's 7-passenger SUV. The Sorento is a great looking vehicle that makes a compelling argument to potential minivan drivers who need seating for seven – You don't have to sacrifice style for functionality. The Sorento gives you the best of both worlds, along with pretty decent gas mileage (18/24 MPG) and an attractive starting price (that can grow quickly if you option it out).
The 2014 Kia Sorento is no mere refresh or facelift, it boasts an all-new chassis, a powerful new GDI V6 engine that puts out a smooth 290 horsepower and a stout 252 lb-ft of torque, a substantially restyled interior, a next-generation infotainment system, and a much-appreciated blind spot detection system. The changes are immediately noticeable, really elevating the Sorento to new levels of sophistication.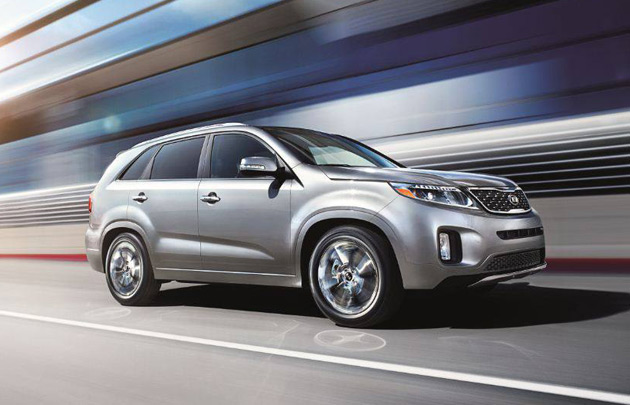 Our loaded-to-the-gills 2014 Kia Sorento SX Limited came in at an eye-popping $41,600. But in it's defense it had every option you could ever ask for. If you're just looking for a no-frills people hauler, you can get into a base Sorento LX 2.4L GDI I4 for $24,100. And if you want AWD, that'll cost you an extra $1800.
That said, after a week with our SX Limited, I wouldn't have it any other way. The 19″ chrome alloy wheels, rear LED tail lights, Xenon HID headlights, and rear spoiler really set off our Kia Sorento, and it got lots of attention from passerbyers, many which we caught checking out our Snow White Pearl beauty. Seriously.
The SX Limited package offers a number of interior upgrades as well. We're talking premium Nappa leather seats, 2nd-row heated seats, a leather & wood heated steering wheel, heated & ventilated front seats, UVO eServices Infotainment System w/ NAV, a 10-speaker Infinity surround sound audio system, and more.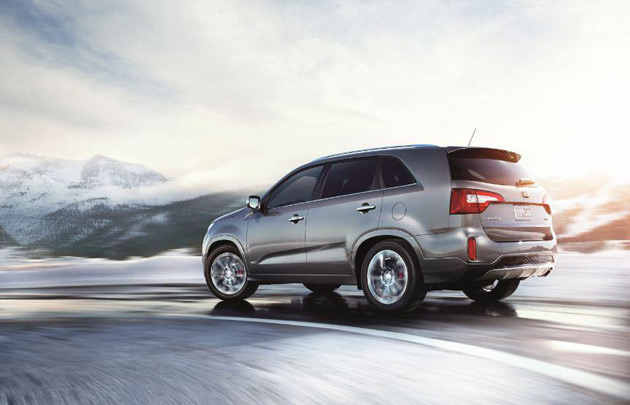 But the changes to the 2014 Sorento aren't just aesthetic. As I mentioned, there's an all-aluminum 3.3L GDI V6 that puts out 290HP at 6,400 rpm and 252 lb-ft of torque at 5,200 rpm, and it hustled our 5500lb Sorento with nary a complaint. The 3.3L engine is available as an option on the LX model, and comes standard in the LX V6, EX V6, SX and SX Limited. Given the 100HP increase over the base engine, this is a no-brainer.
Our car came equipped with an enhanced Torque On Demand all-wheel drive system that seamlessly directs power to the tire with the most traction. The system now includes the benefit of Torque Vectoring Cornering Control, that aids stability under certain driving conditions.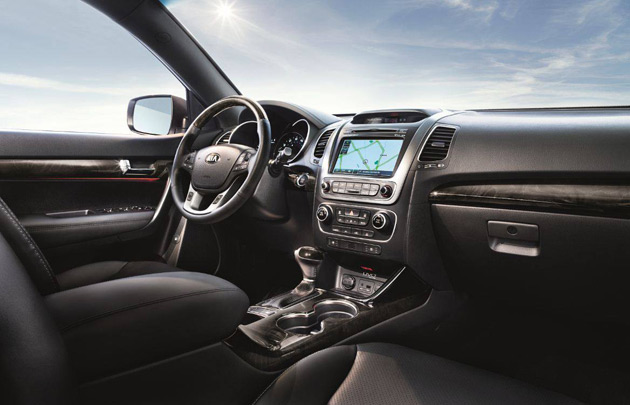 Overall, we were really impressed with the 2014 Kia Sorento. I can't say enough about how luxurious this car looks and feels, both inside and out, and this was a sentiment shared by other passengers who rode with us. It's amazing how far Kia has come in the past few years!
If you're in the market for a new SUV, I highly encourage you to visit your local Kia dealership and test drive the 2014 Kia Sorento. You might just end up driving home with one.