Review: adidas Barricade 7.0 Tennis Shoes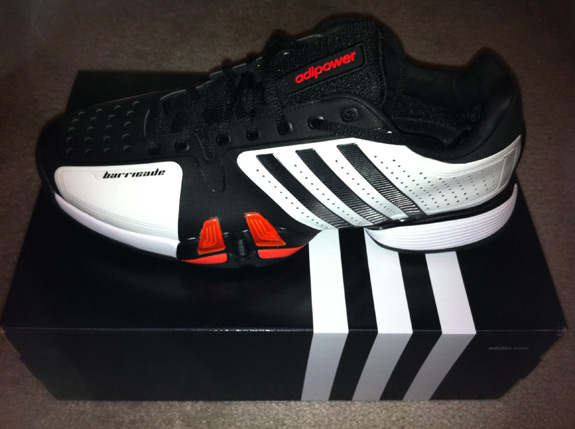 Andy Murray's shoe of choice, the adidas Barricade 7.0 offers the same excellent support and durability its heritage is known for while being introduced in a lighter weight, more comfortable package. Along with a classic 3 stripe look, the Barricade 7.0 offers an all-new seamless upper construction for better comfort and fit, keeping break-in to a minimum.
The lateral outrigger is updated from the 3 claw stability feature to a more flex-friendly system, while the ADIWEAR6 outsole offers the superb combination of traction and durability. The Barricade 7.0 continues to live up to the Barricade's reputation as the ultimate hard court shoe, and comes standard with a 6-month outsole durability guarantee. It's a great choice for the player that is serious about his tennis footwear.
The video below highlights some of the new technology used in the new Barricade:

While I really loved my old Barricade 6.0s, I wasn't too keen with the their looks. Thankfully the 7.0s are MUCH better looking, as you can plainly see. I'm still on the fence about the orange claws, but they're slowly growing on me.
Overall, it's a fantastic update to an already-great tennis shoe. If you found a good fit and feel from the Barricade 6.0s, I think you're really going to enjoy the 7.0s. They feel faster, have a quicker break-in, flex better throughout the upper, and generally give me the feeling of being lighter on my feet. Not only that, but it continues to offer the same great traction and durability that has earned the Barricade the reputation as being the ultimate hard court shoe.
The shoe is available in the following color combos:



White/Black/High Energy
Running White/Iron/Black
Running White/High Energy/Prime Blue
Black/High Energy/Black
The Men's Barricade 7.0 retails for $140, and they're available now!