Review: Adidas FLEX 360 Performance Underwear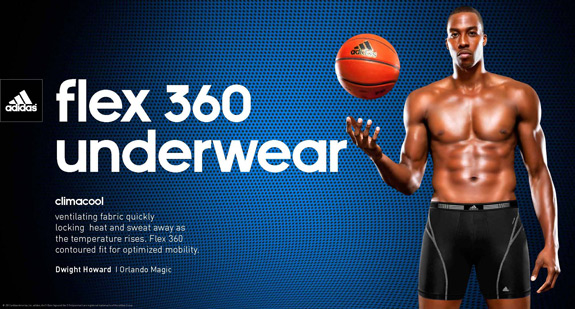 Last month, adidas unveiled the new adidas FLEX 360 performance underwear, with NBA superstar Dwight Howard as it's pitchman.
The adidas FLEX 360 boxer brief features lightweight, moisture wicking ClimaCool fabric designed to keep skin cool and dry, while the contoured fit provides optimal mobility during workouts.
I sweat like a mofo and usually have a bad case of swamp ass after playing basketball, so I figured I'd try out the FLEX 360 and see how they fared. If Dwight Howard swears by them, that's good enough for me.
I normally wear loose boxers, so wearing compression-style boxer briefs was a little confining at first.. Not a lot of room for the boys to breathe.
But once I got used to that, I found that the FLEX 360 delivered as advertised, keeping my nether regions cool and comfortable throughout the entire game! Another benefit was that I didn't have any chafing, which is sometimes a problem when I'm really active.
The FLEX 360 costs $20, which isn't cheap by any means. But it's well worth the money, especially if you're active and looking to keep cool "down there".
You can pick up a pair from adidas.com or Dick's Sporting Goods.