Movie Review: Grudge Match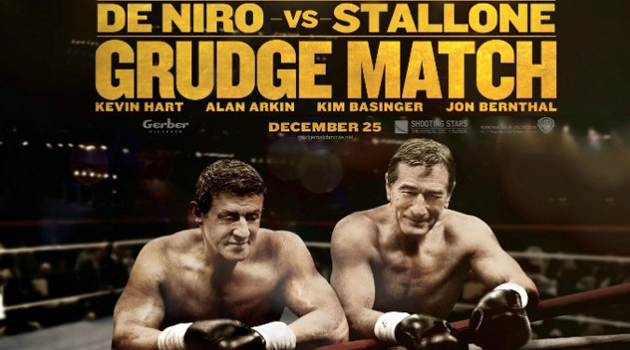 Happy Holiday's everybody! I recently attended an advanced screening of Grudge Match, and even though I was leery at first, I decided to give it a shot since it was free. And despite my misgivings coming into it, I was actually pleasantly surprised.
I'm sure by now you've seen the trailer, pitting Rocky against Raging Bull. If not, you can watch it here:

Grudge Match gives us the fight we've always wanted to see, even if it's about 30 years too late, with both of these old men way out of their acting primes. However the movie was extremely entertaining and heartfelt.
Sylvester Stallone and Robert De Niro play Henry 'Razor' Sharp and Billy 'The Kid' McDonnen, two boxers whose rivalry fueled the boxing scene much like Ali and Frazier. These two men hated each other for reasons that I won't give away, but when their third fight is unexpectedly cancelled, these men never have a chance to settle the score and see who is the better boxer.
They both go on their ways throughout life. One boxer loses much of his money, while the other opens up a car dealership and restaurant; both retired in Pittsburgh, PA. When their old promoter's son Dante Slate Jr. (Kevin Hart) asks them to come out of retirement for one last deciding match, all hell breaks loose, as these two rivals are forced to promote their fight together.
Grudge Match isn't a movie that's going to blow you away, but it's entertaining enough, with lots of funny banter between Sly and Bobby Deniro, and even more hilarious banter between Kevin Hart and Alan Arkin.
I think Grudge Match is the perfect movie for the holidays. and I give the movie a 3.5 out of 5.
The movie comes out on Christmas, so go see it after you're done opening your presents! 🙂