Review: Klondike Chocolate Choco Taco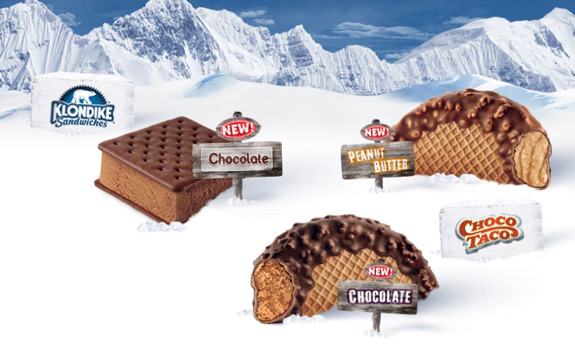 When you think of Klondike, you probably think of those old commercials from the 80s..
"What would you do-o-o for a Klondike bar?"
But the brand continues to expand it's ice cream offering. Last year, I couldn't get enough of the What The Fudge? Brownie Sandwiches and the Oreo Cookie Ice Cream Sandwiches.
Now I've found my new favorite treat – The Klondike Chocolate Choco Taco! It's much like the old Choco Taco (which features ice cream in a sugar taco with a dark-chocolate-flavored coating and crispy rice). But instead of having vanilla ice cream, you get chocolate ice cream.
It's awesome, trust me. I've been eating Choco Tacos since I was a kid, and they're one of the few things that's gotten better with age. The addition of chocolate ice cream takes this treat to the next level!
And if you're a peanut butter fan, they've also got a peanut butter variety that my girl really likes. It's too much peanut butter for my tastes, but to each their own.
The next time I'm at the supermarket, I might have to try Klondike's new chocolate ice cream sandwich, as that looks pretty yummy as well. 🙂