Review: Magnum Double Chocolate Ice Cream Bar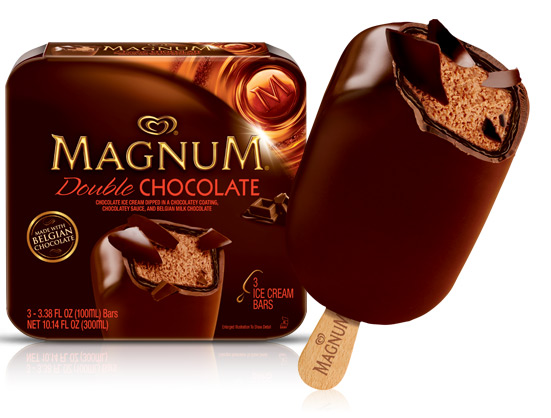 What better way to deal with this ridiculous heat than with a Magnum Double Chocolate Ice Cream Bar? I've been seeing commercials for these (starring the lovely Rachel Bilson) for months now, and I finally decided to see what all the hype was about.
Magnum ice cream bars are quite popular in Europe, but they only came to the US and Canada last year. They come in eight different flavors: Double Caramel, Double Chocolate, Classic, Almond, White, Dark, Mint, and Mochaccino. Since there's no such thing as too much chocolate, I decided to go with Double Chocolate.
"Creamy chocolate ice cream enrobed in a luscious chocolatey coating, rich chocolatey sauce and thick Belgian milk chocolate." Hungry yet?
Magnum's being marketed as a premium brand (much like Haagen-Dazs), but I still had sticker shock when I saw the price: $4.50 for 3 bars. But when you think about it, even a soft-serve ice cream cone from Mister Softee costs $2 or more, so it's really not too bad.
So how does it taste? Amazing! The Belgian chocolate coating is nice and thick, and once you break through it, you're treated to this rich, smokey-sweet dark chocolate sauce that's almost ganache like in flavor and richness. Rounding out the bar is some delicious chocolate ice cream at the center. Chocolate lovers will be in heaven after taking a bite of this.
If you're not looking for quite so much chocolate, definitely try one of the other flavors, as I'm sure they're all delicious..
My only regret? That I didn't try them sooner!