Review: Need For Speed (Blu-Ray)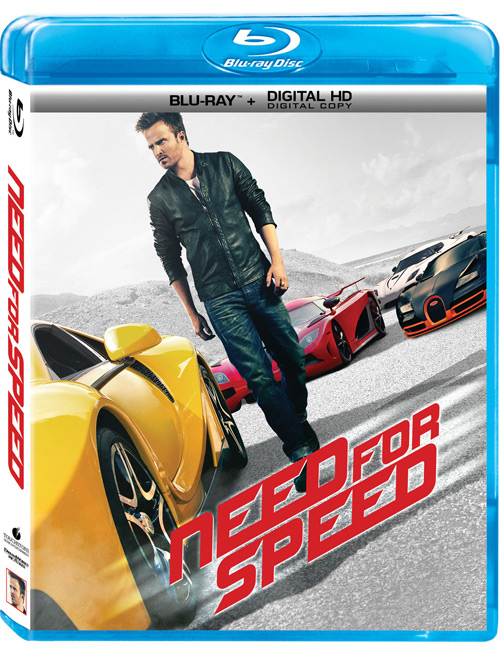 The Need for Speed movie captures the thrills of the most successful racing video game franchise ever in a real-world setting. An exciting return to the great car-culture films of the 1960s and '70s, when authenticity brought a new level of intensity to the action, Need for Speed taps into what makes the American myth of the open road so enticing.
The story chronicles a near-impossible cross-country race against time — one that begins as a mission for revenge, but proves to be one of redemption. In a last-ditch attempt to save his struggling garage, blue-collar mechanic Tobey Marshall (Aaron Paul) — who with his team skillfully builds and races muscle cars on the side — reluctantly partners with wealthy, arrogant ex-NASCAR driver Dino Brewster (Dominic Cooper). Just as a major sale to a car broker Julia Bonet (Imogen Poot) looks like it will save the business, a disastrous, unsanctioned race results in Dino framing Tobey for manslaughter.
Two years later and fresh out of prison, Toby is set on revenge with plans to take down Dino in the elusive high-stakes De Leon race — the Super Bowl of underground racing. To get there in time, Tobey must run a high-octane, action-packed gauntlet, dodging cops coast-to-coast while dealing with a dangerous bounty Dino put on his car. With his loyal crew and the surprisingly resourceful Julia as allies, Tobey defies odds at every turn and proves that even in the flashy world of exotic supercars, the underdog can still finish first.
You can watch the Need For Speed trailer here:

Let me tell you, it's one hell of a journey, one that kept us on the edge of our seats for the whole movie. Need For Speed is the ultimate thrill ride, coupling the sensation of real speed, real danger and real excitement with a story that will have you rooting for Tobey. Will he exact revenge against Dino, or will this all be for naught?
The Blu-ray disc offers unparalleled picture quality and sound, along with some tricked out never-before-seen bonus features, including audio commentary, outtakes, deleted scenes, making-of featurettes, and more. The bonus features are all top-notch, and it was really interesting to see how many of these action-packed scenes were shot. We actually watched ALL of the included bonus footage, that's how good it was!
If you're looking for an action-packed movie that drives non-stop excitement, be sure you pick up a copy of Need For Speed tomorrow, and buckle up for this year's ultimate thrill ride!