Sick And Tired Of Your In-Ear Headphones Falling Out?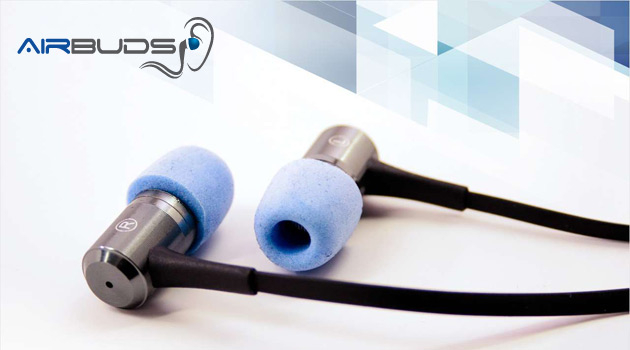 Meet AirBuds, the most comfortable earbuds you'll ever try. What makes AirBuds so comfortable? It's their expandable soft memory foam earbuds that form to any ear, giving you a comfortable fit and superior sound quality. The concept is similar to earplugs, you simply roll the tips of AirBuds before placing them in your ear, and you can immediately feel them expand for a perfect fit in your ear canal, keeping the music in and that unwanted noise out, without any of the ear fatigue that other in-ear headphones tend to give you.
I'll admit, I was skeptical with AirBuds claims at first, especially given their low price point ($40). But with my current earbuds CONSTANTLY falling out while I'm working out, I volunteered to put them to the test. I was surprised at how comfy they were, how they stayed in place throughout my whole workout, and how much better they sounded than my $100 headphones! And because they do such a good job at blocking out ambient sounds at the gym, I don't have to max out the volume on my MP3 player anymore.
The AirBuds come with a tangle-free flat cable, allowing you to stash them in your backpack without worrying about them getting tangled. Another bonus is that the 3.5mm plug on the AirBuds is extra long, meaning if you use a Mophie or other case that requires a jack extender, you won't need it anymore. That's a huge plus in my book, and I don't understand why more headphone companies don't do something like this!
Lastly, the AirBuds has hands-free smart mic technology that lets you answer/end calls, change tracks, and play/pause audio, all in a compact design.
Overall, I was super impressed with AirBuds. They truly back up their claims of being "The most comfortable earbuds", and I couldn't be happier with them. For $39.99, they're an absolute steal, so if you're in the market for new earbuds, give them a shot – You won't be disappointed!