SLXtreme iPhone 5 Case Is Ultra-Rugged, Solar Powered and Waterproof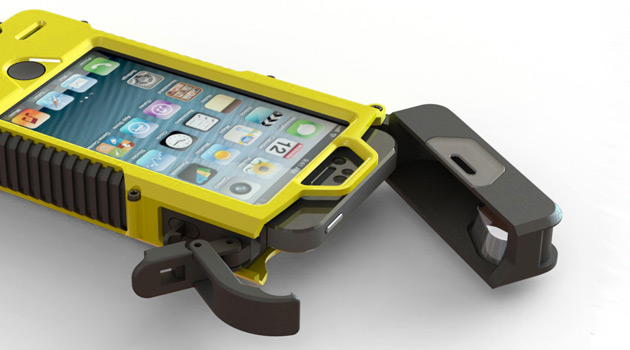 Splash into summer with Snow Lizard Products' new SLXtreme cases for iPhone 5 and iPad. These cases offer ultra-rugged, waterproof protection and battery-boosting technology that make them perfect for the outdoors enthusiasts.
"iOS devices are fantastic, but they're too delicate to withstand outdoor environments," says Steve Calle, CEO and co-founder of Snow Lizard Products. "With SLXtreme products, people can now hike, ski, camp, lounge and play longer with power and protection that outlives their adventures."
Whether you're white water rafting a class IV rapid, fly fishing at your favorite watering hole, snorkeling a stellar reef or kicking it poolside, the SLXtreme lineup provides ultra-protection in any extreme environment. The SLXtreme 5 features a solar power panel that charges an integrated 2550 MaH battery, more than doubling the life of an iPhone. The case is designed to be waterproof down to 6 feet (2 meters) while maintaining full functionality of the iPhone's features. The waterproof case protects the iPhone 5 without losing the ability to take calls, shoot video and photographs, listen to music and connect to the charger.
The following video shows the original SLXtreme Case in action:

It's easy to use and install, simply slide your iPhone into the SLXtreme case with the top loading lid that fully protects the device. With updated features to the SLXtreme 5, users can now connect a 3.5mm audio jack for their listening needs and a quarter turn thumb-screw makes it quick and easy to charge. Made to withstand drops, falls and accidental spills, the case is designed to military specifications rated 810G and IP-68.
The SLXtreme 5 will be available in Night Black, Signal Orange, Safety Yellow, and Coyote Tan starting Fall 2013 for $129.99.
The SLXtreme for iPad offers the ultimate protection for your iPad (Gen 2+). This SLXtreme for iPad is made from a hard polycarbonate-ABS shell, with inner shock absorbing panels, is waterproof for your underwater or splash-prone environments, and is IP-68 certified for depths up to 2m/6 ft and Mil spec 810G to withstand drops from 2m/6 ft. An integrated10200 mAh battery keeps your iPad powered, and USB out enables users to charge other mobile devices while on the go. A standard VESA mounting system secures your iPad just where you need it, always powered and always protected.
The SLXtreme iPad will be available in Fall 2013 for $179.99 (with battery) and $99.99 (without battery).