Taking The Speed Stick GEAR UP Challege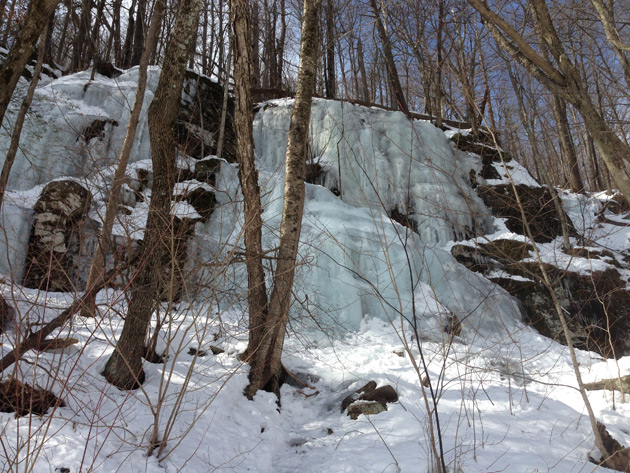 A few months ago, Speed Stick reached out to me to see if I'd be interested in taking part in their GEAR UP ultimate challenge. They wanted to put me in the most heart-pounding, sweat-inducing moments possible, so I could experience firsthand how Speed Stick GEAR's advanced Dry Core absorption technology could keep me dry for up to 48 hours.
Speed Stick put together four different ultimate activities for their Gear Up Challenge: Exotic Car Racing, Ice Climbing, Stuntman Classes, and Flying Lessons. When asked which adventure I wanted to take part in, the adrenaline junky in me had to go with Ice Climbing.
Here's how the experience was described to us:
Discover the thrill of ice climbing as you learn to scale features such as icefalls, frozen waterfalls and cliffs and rock slabs covered with ice refrozen from flows of water. Ascend to an icy perch by anchoring your ice axe above and planting your crampons securely in the ice as you experience New York's frozen wilderness as never before. This unique experience will be even more exhilarating as you learn new climbing skills in the midst of snow drifts and beautiful hanging icicles.

You can change your course over the day, as you gain skills and confidence. You will spend 5-6 hours learning equipment usage, climbing techniques, rappelling and safety steps and you will have ample time to put all your new skills into practice.
Having recently seen teams on The Amazing Race do ice climbing, I was pretty psyched for this adventure.. But there was a small part of me that was nervous as well, as I had no rock climbing experience whatsoever. Still, this is one of those once-in-a-lifetime experiences, so I decided to forge ahead and go for it!
So this past weekend, it was finally time for my Ice Climbing adventure. A van took us from New York City to the Catskill Mountains bright and early on Sunday morning, which took around two hours. When we arrived, we got instructions on how to put on our climbing gear (harness, helmet, boots, crampons), and then we had to hike about 10-15 minutes to the climbing site. I was pretty winded by the time we got to the climb site, as we were hiking on a narrow trail covered in snow and ice. And the higher elevation sure didn't help either.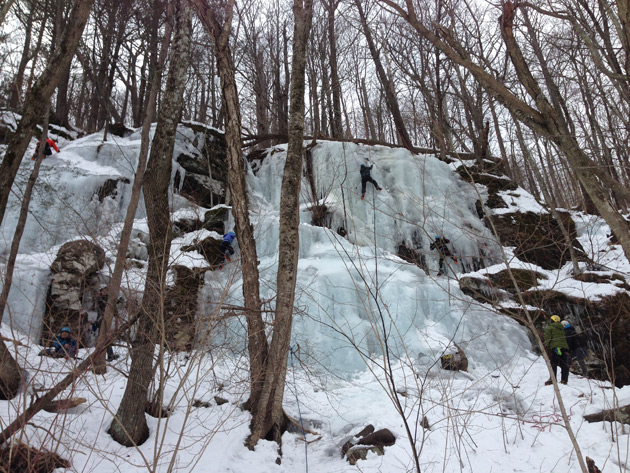 After we arrived at the site, we got some climbing instructions from our guides, and then it was time for us to start climbing. I had an awesome instructor who guided me through the climb step by step, and with his words of encouragement, I was able to make it to the top, as you can see in the video below.
While I've done a LOT of extreme sports in the past, this was probably the hardest thing I've ever done! By the end of the day, my muscles were burning, my face was wind-whipped, and I was freaking exhausted.. Still, the satisfaction of doing something awesome like this made it well worth the effort.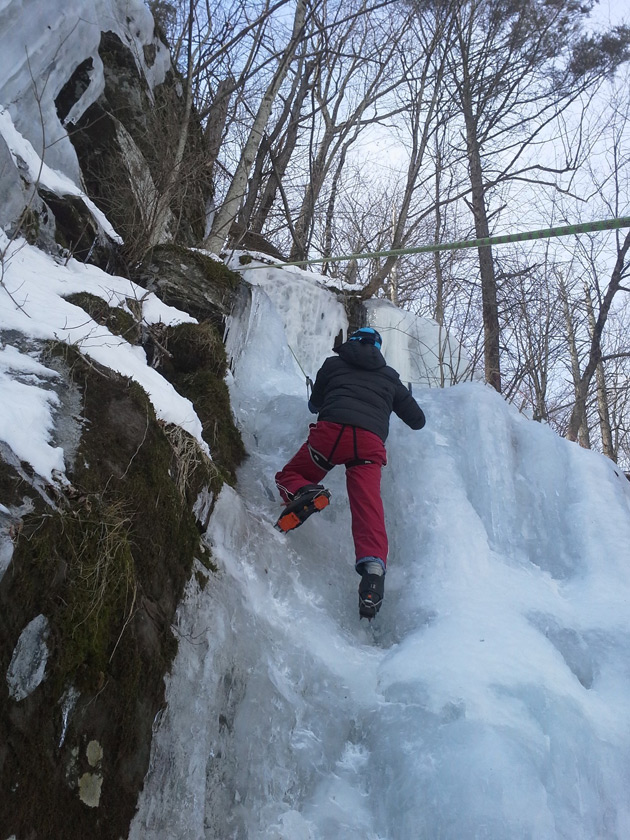 I might not look that high in this photo, but I'm probably a good 25 feet off the ground at this point. The photo below gives you a better perspective of just how high and steep the ice we're climbing is!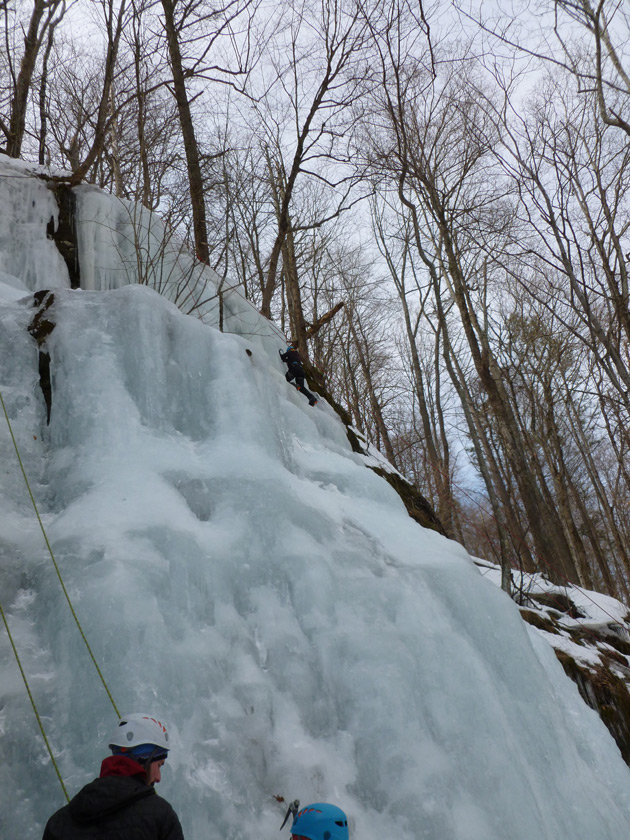 And true to it's claims, the Speed Stick GEAR kept my armpits BONE DRY! I honestly wouldn't have believed it if I didn't experience it firsthand. I don't know how they do it, but it totally works.
I can't thank Speed Stick enough for putting together such an awesome adventure, and to Discover Outdoors for keeping me in one piece! It was an absolute blast, and I can now check ice climbing off of my bucket list.