The 2016 Mazda CX-3 Delivers That Zoom-Zoom With Some Extra Room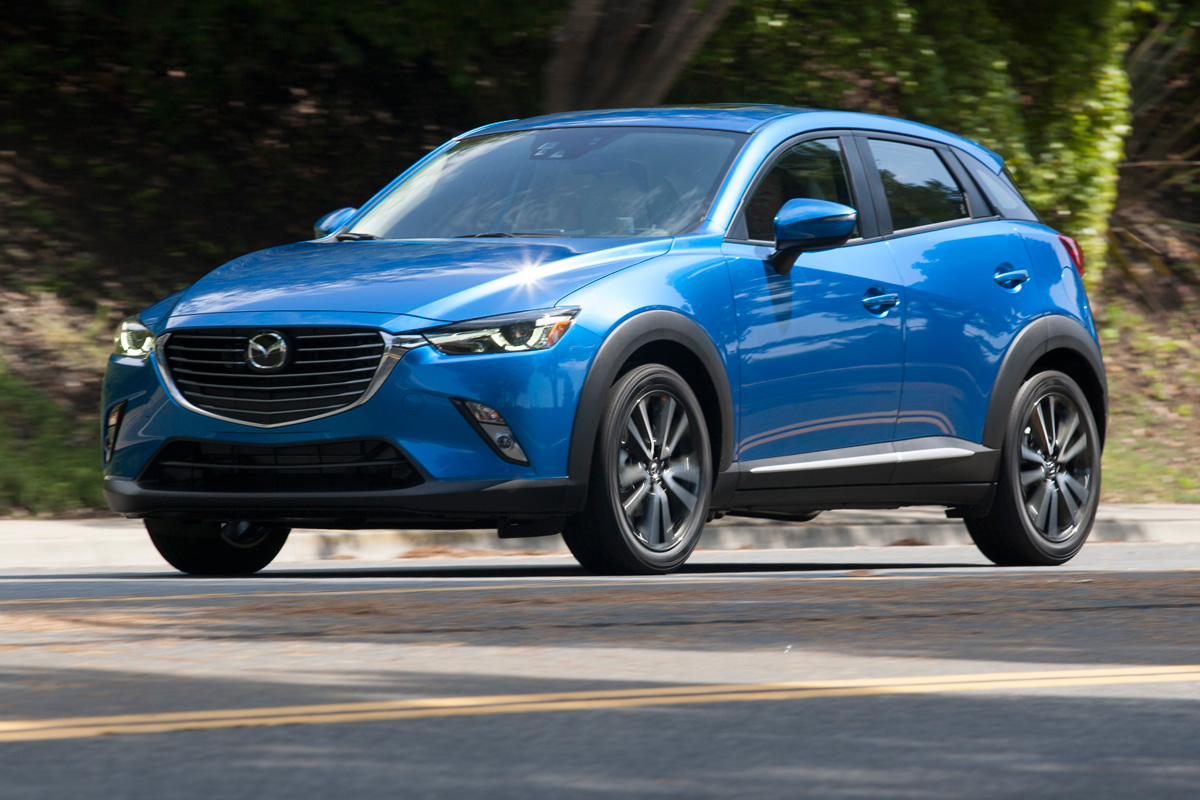 Earlier this month, Mazda invited me out to Southern California to drive the all-new 2016 Mazda MX-5 Miata, along with the 2016 Mazda CX-3, the brand's new subcompact crossover that faces off against the likes of the Honda HR-V, Nissan Juke, Fiat 500X, Jeep Renegade, and Chevrolet Trax.
The above-mentioned competitors are all fine cars in their own right.. But they're not that exciting. Thankfully, Mazda figured out a way to meld style, driving enjoyment and efficiency into the CX-3, offering up a sharp cute-ute that delivers on all fronts without compromise.. and it won't break the bank!
I've been eager to drive the new CX-3 ever since seeing it at the New York Auto Show earlier this year, and I'm happy to report that it didn't disappoint in the least, living up to the iconic Zoom-Zoom ethos and driving more like a sports car than a crossover, despite its slightly larger size.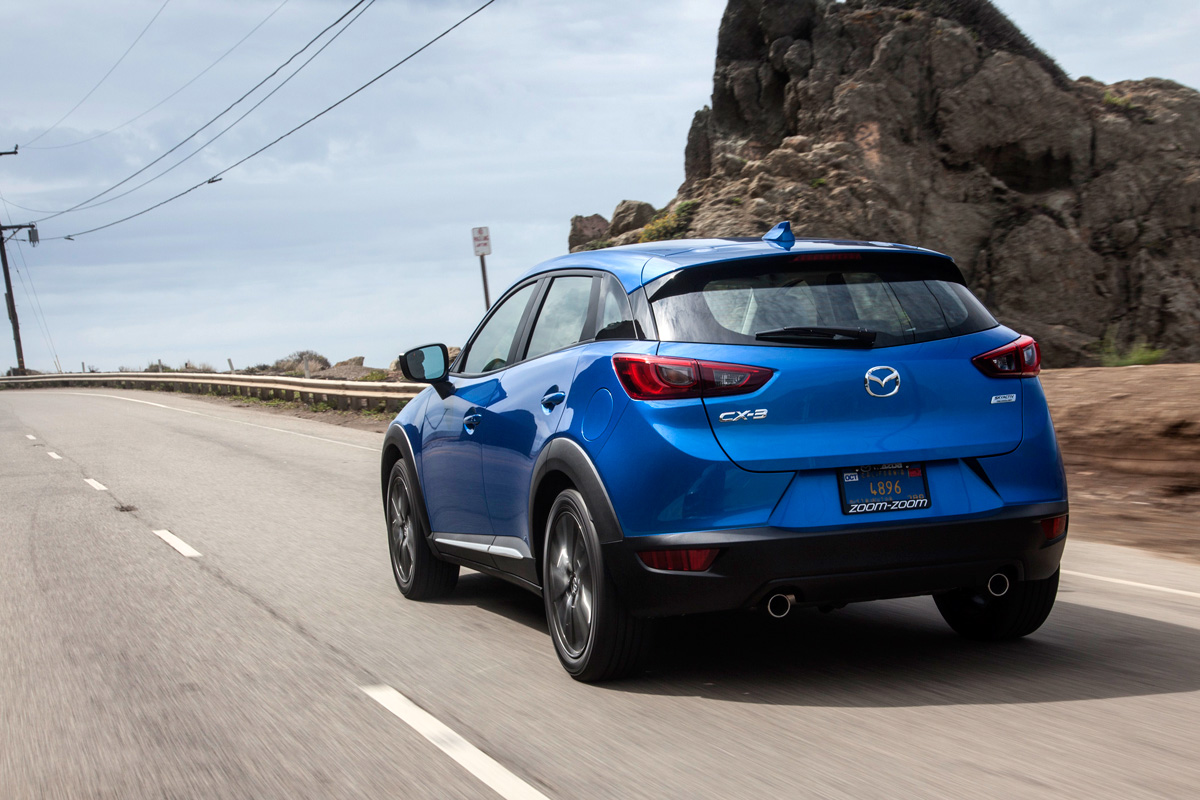 To show us just how capable the Mazda CX-3 is, Mazda plotted a fun route for us that took us through some incredibly twisty, hilly sections of Mulholland Highway. The CX-3 handled more like a sports car than a CUV, with very minimal body roll as I dove into the corners with aplomb.. until my drive partner started looking a little green, at which point I dialed it back a bit.
After a quick pit-stop for lunch, we headed back out in the CX-3, taking the highway back to our hotel. Here, we had a chance to open up the car a bit, and while it won't win any races with it's meager 146HP and 146 lb-ft of torque, it had no problem keeping up with the flow of traffic on the highway.
That said, the CX-3 feels faster than it may look on paper, as it tips the scales at just 2,809 pounds. The six-speed automatic transmission keeps you in the sweet spot at any speed, and the manual-shift Sport mode lets you have a little fun if you so desire.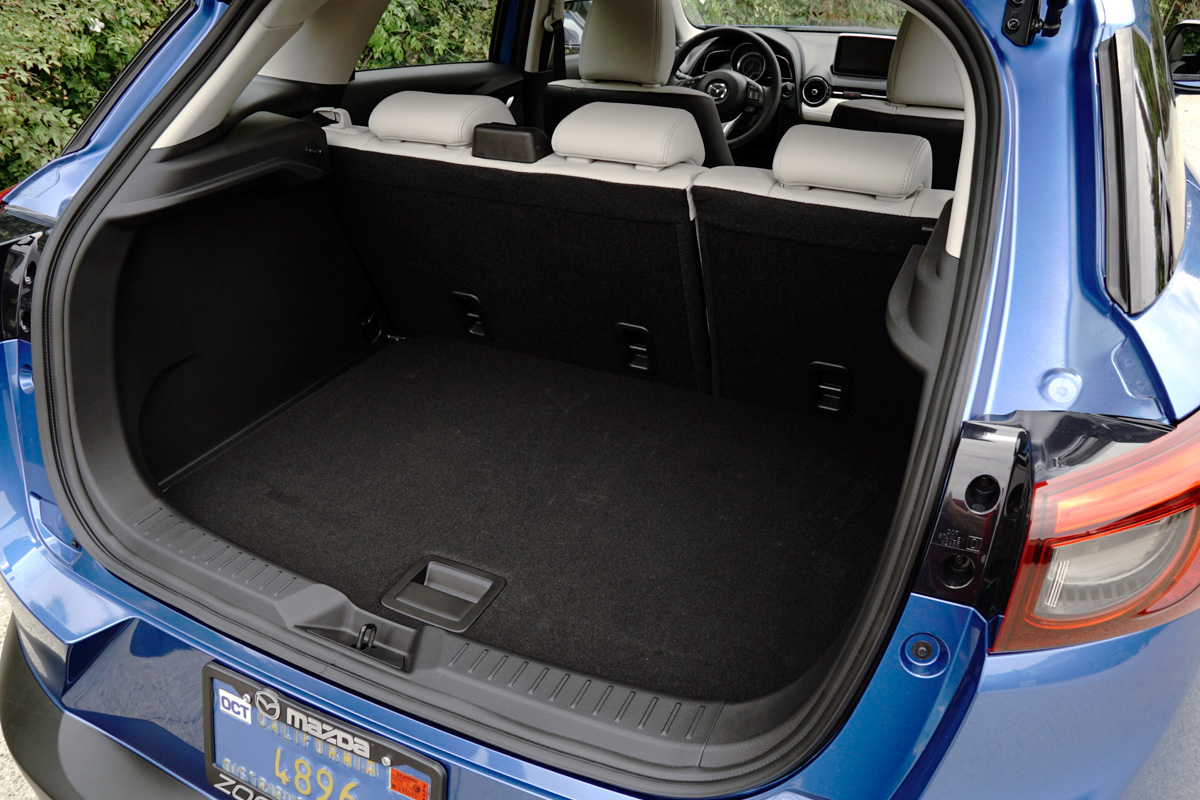 As you can see in the photo above, the CX-3 doesn't offer a ton of cargo space. In fact, it's actually about 7.3 inches shorter than the Mazda3 hatch. So why would someone opt for the CX-3 over the Mazda3 hatch then? All-wheel drive is a big plus, and honestly it just looks more aggressive and adventurous. Styling matters, and in the subcompact crossover segment, the CX-3 is the clear winner here.
Seeing as how the subcompact crossover market is the hottest growing segment in automotive right now, it makes total sense for Mazda to offer a vehicle in this space. And when drivers eventually outgrow the CX-3, they can upsize to a CX-5 and keep it in the Mazda family.
"CX-3 was designed to deliver all of the fun and technology of our larger models but at a price in the market where it'll be a draw for buyers of all backgrounds. It is truly a vehicle that will help set the pace for its newly emerging segment," said Jim O'Sullivan, president and CEO, Mazda North American Operations.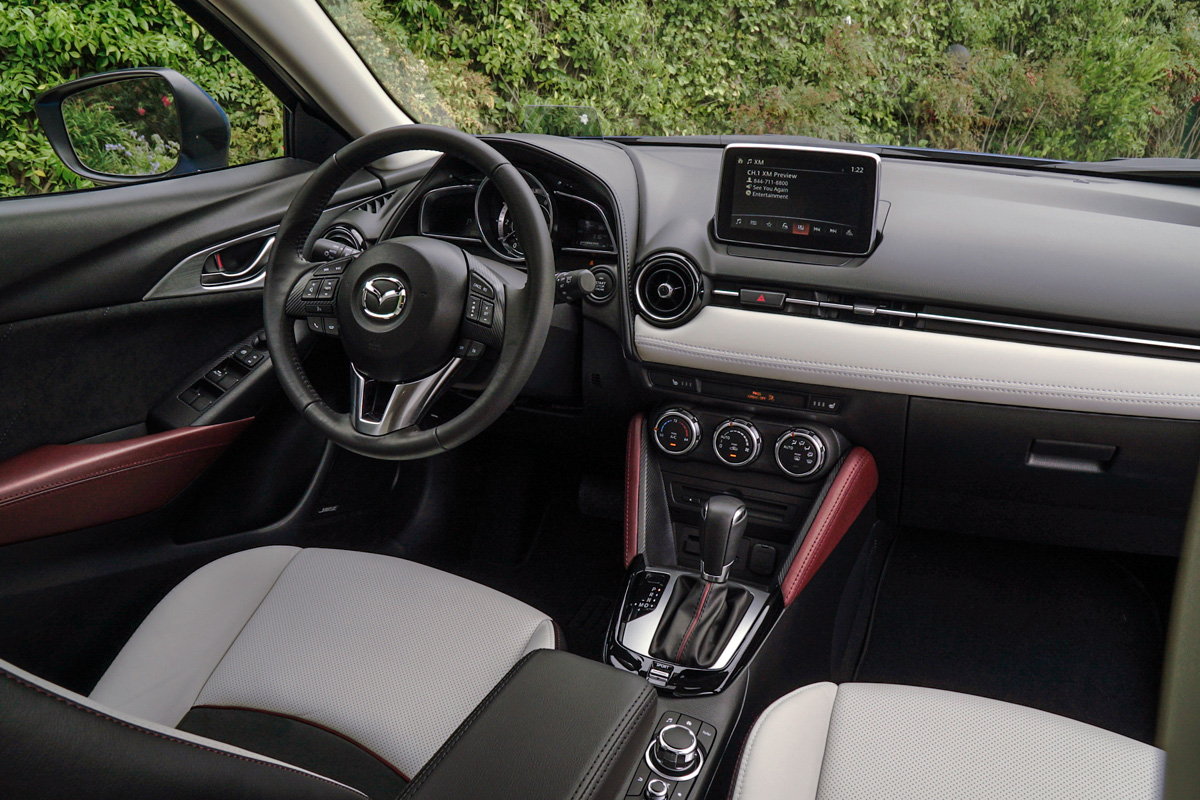 So how much does it cost? The Mazda CX-3 starts from $19,960 (for a Sport FWD), and can get up as high as $28,160 (for the top-of-the-line Grand Touring AWD with the i-ACTIVSENSE package). The GT offers an incredible amount of tech and safety features, a gorgeous tri-tone cabin with leather and Lux Suede seating surfaces, and those stunning 18″ alloy wheels. It's a great option if you can afford it.
Overall, I was really impressed with the 2016 Mazda CX-3, and I would highly recommend checking it out if you're in the market for a new subcompact crossover. It's a gorgeous looking vehicle, it's really fun to drive, and it delivers class-leading fuel economy. And it won't break the bank.
What more could you ask for?