The 2016 Toyota Land Cruiser Lives Up To Its Name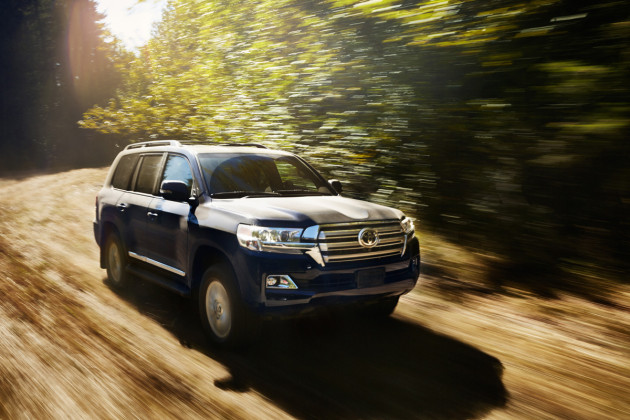 When people hear Land Cruiser, they think of serious off-road reliability and African safaris. And while today's Land Cruiser is far from the square boxed, uber-tough LC of the old days, its capability and reliability are still legendary, as it should be. The 2016 Toyota Land Cruiser gets a new transmission, more safety technology, and an upgraded infotainment system. There's a lot to like about the new Land Cruiser.
That doesn't mean that the Land Cruiser is for everyone. If you don't have need of a seriously off-pavement capable luxury sport utility vehicle, there are many options in crossovers and SUVs on the market that are likely to be a better fit. The 2016 Toyota Land Cruiser, which is functionally similar to the Baja rally winning Lexus LX 570, shares downsides with that Lexus including limited cargo space, low fuel economy, and a high price tag. The 2016 Land Cruiser is, in fact, only a few thousand dollars cheaper than the LX 570, ringing in at around $85,000 compared to the LX's $90,000ish price.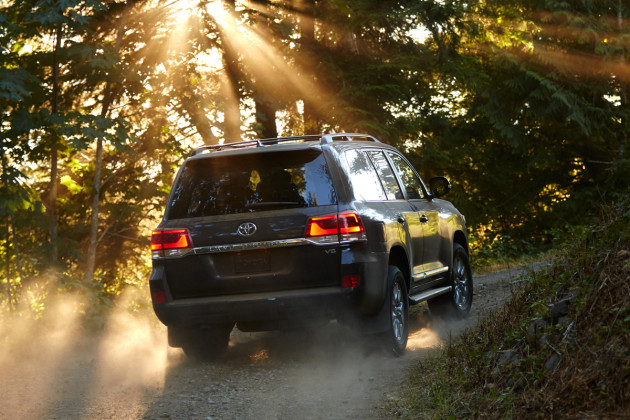 Those caveats aside, though, the 2016 Toyota Land Cruiser is a lot of rig for that money. The Land Cruiser carries the Toyota nameplate more out of tradition than it does as a sign of its fitment quality. Most of the interior equipment found in the big Cruiser are on par with anything found in the Lexus SUV line. The Land Cruiser is and always has been a luxury vehicle.
This is noted immediately upon entering the big SUV. There is only one trim level, so everything available for the Land Cruiser is included in it. The cabin is decidedly luxurious with quality materials everywhere. Seating is well-made in the first and second rows and design and color choices are nicely upscale.
But the third row is mostly for kids and is inconveniently designed, with a fold-up and to the side mechanism that's a match for the LX 570's third row. This eats up cargo space and is done to preserve rear suspension travel and to accommodate a full-sized spare underneath the rear of the vehicle. It means that cargo space in the 2016 Land Cruiser is only 43 cubic feet with those third row chairs stowed and the wide opening of the rear door and tailgate aren't as useful as they could be, since the seats impede on that width.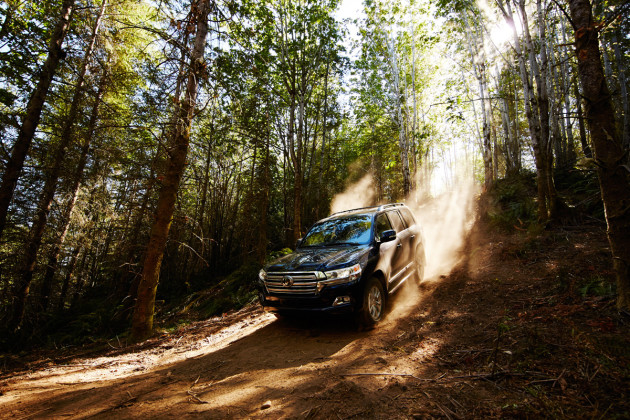 What isn't a disappointment in the Land Cruiser, though, is its performance and capability. Powered by a big 5.7-liter V8 that produces 381 horsepower and 401 pound-feet of torque, the Land Cruiser has solid pick-up-and-go appeal and never feels sluggish or incapable. A new eight-speed automatic transmission runs in full-time 4WD, and although the gearing ups the ante for efficiency, all of that was aimed towards performance and get-up rather than fuel economy. The 2016 Land Cruiser achieves 13 mpg in the city and 18 mpg on the highway for an overall EPA combined rating of 15 mpg.
That full-time 4WD, though, means that the 2016 Land Cruiser is far more all-terrain capable than most of the competition that might make that claim. Standard equipment includes a Kinetic Dynamic Suspension System to improve reach by adjusting stabilizers electronically and the Multi-terrain Select system for tailoring off-road needs. Wheel reach is excellent and suspension travel is phenomenal for an SUV. Rocks the size of cantaloupes are no big deal for the Land Cruiser and mud and snow give the big Toyota little pause.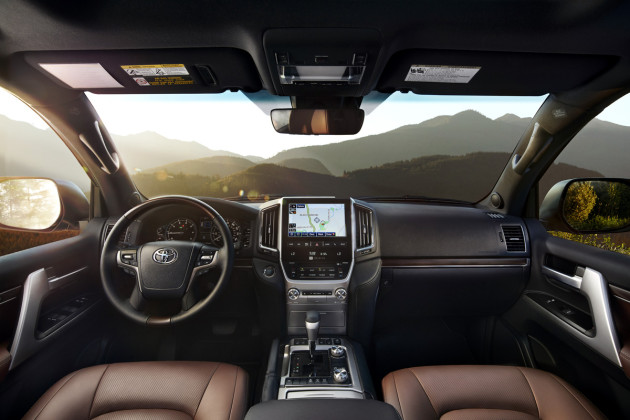 Of particular note is the excellent Off-Road Turn Assist that the Land Cruiser employs, which adds braking to the inside tires on a low-speed turn, giving the SUV a much tighter turning radius than might be expected.
For those people who need a seriously capable off roader but don't want to sacrifice luxury or dependability, the 2016 Toyota Land Cruiser delivers.