The 2020 Toyota Tundra TRD Pro Is An Off-Road Beast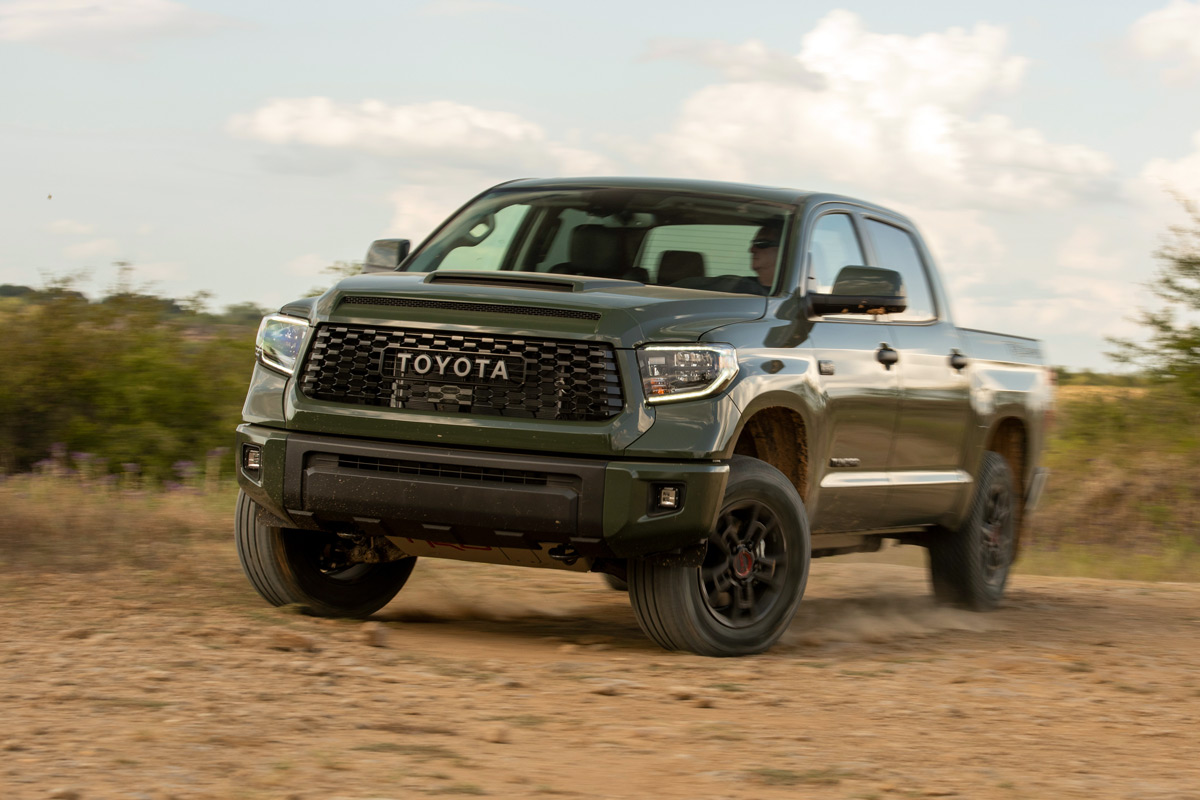 Toyota introduced the second-generation Tundra in 2007. Fast forward thirteen years later and a superficial glance says the truck hasn't really changed much. But it has, and one of the bigger changes is the addition of more goodness to the Tundra's TRD Pro off-road package. For this 2020 model, we got a crew cab with its TRD-tuned intake and exhaust, shocks, and more. Plus the sweet new Army Green color offered only on TRD models, starting this year.
The 2020 Toyota Tundra TRD Pro has the standard 5.7-liter V8 the Tundra comes with in all renditions (the 4.6L has been dropped), but with a TRD-tuned intake and exhaust for better grunt and more power on the feels. The TRD Pro also adds suspension upgrades that include Fox shocks and lightweight BBS forged wheels. Those are in addition to the added front skid plate and TRD markings.
Inside the 2020 Tundra TRD Pro are some trim upgrades, including an 8-inch infotainment system and upholstery trim upgrades that include TRD badging to match the TRD Pro floor mats. Movable cleats for tie-downs in the bed, dual-zone climate, and an upgraded stereo with navigation are also added. The larger 38-gallon fuel tank is standard too.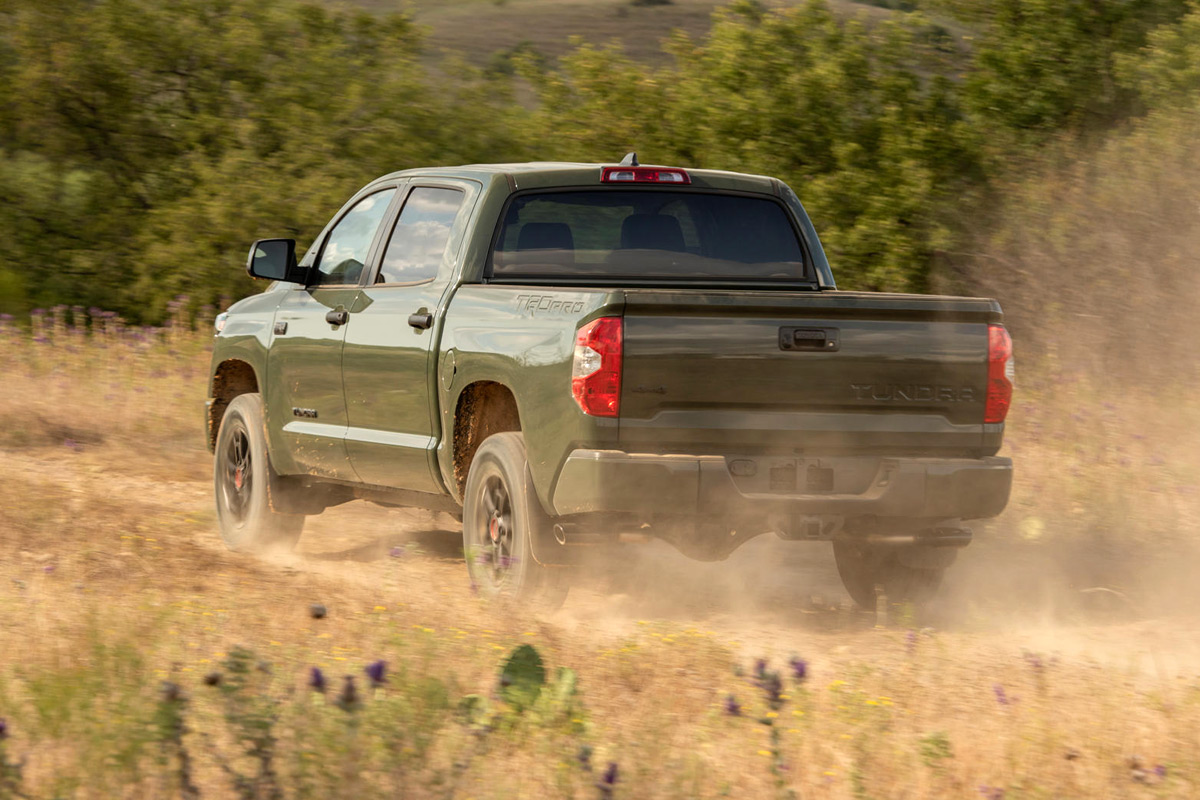 On that last point, you'll need that extra fuel. The big V8 engine puts out 381 horsepower and 401 pound-feet of torque to its six-speed automatic, but it sucks down fuel at a rate of 13 mpg in the city and 18 mpg on the highway. That's the standard Tundra numbers, mind you. We saw even lower numbers in the TRD Pro package, with its added weight and beefier tires, with an average fuel economy (real-world, combined) of 14 mpg overall. That was before going off-road and shifting into 4WD.
Those are some seriously low fuel economy numbers.. But if you're buying an off-road rig like the Tundra TRD Pro, you probably aren't concerned with MPGs. You're more interested in off-pavement performance. And it delivers that in spades!
Toyota's four-wheel drive system is competent and amazingly simple. There's a switch and you turn it to engage rear-wheel, four-wheel, or four-wheel low. The dashboard beeps and a symbol shows you what you've switched to. That's it. On the ground, the 4WD system pushes all four wheels at an even rate while 4Lo adds even more torque and makes the grunt even better.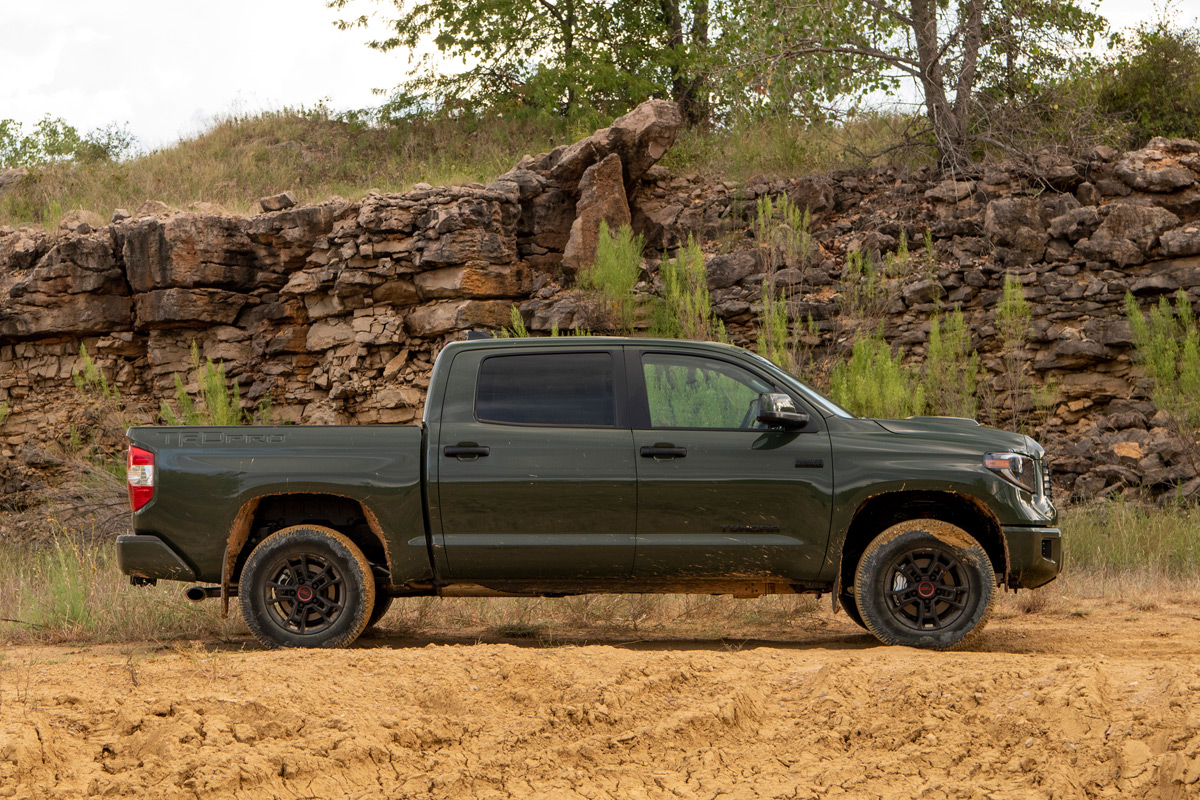 Sadly, we couldn't find any mud on the bright sunny day we took the Tundra TRD Pro out into the wilds of Wyoming for some fun, but we found plenty of dirt, rocks, and hills to play on. Earlier, at an event in Texas, we drove the Tundra TRD Pro in mud and water, so we've had a chance to try it all in this pickup.
The Toyota Tundra TRD Pro is a blast to throw around in the dirt. The engine grunts just right, the exhaust roars at the right times, and the tires dig deep when needed. The shock absorber upgrade in the TRD package adds a lot of impact taking and recovery to the chassis, making for smoother control off the road. The Tundra is now capable of both solid hill climbing and river fording as well as the advertised "desert running" (high speed in the dirt) that it is so often associated with in Toyota commercials.
The big 2020 Toyota Tundra TRD Pro is a great truck. It's very off-road capable, is solidly built, and comes with some great options. Not to mention that swank Army Green. Pricing starts at $48,655, and we think it's a solid buy.