The Alfa Romeo 4C Spider Is A Street Legal Race Car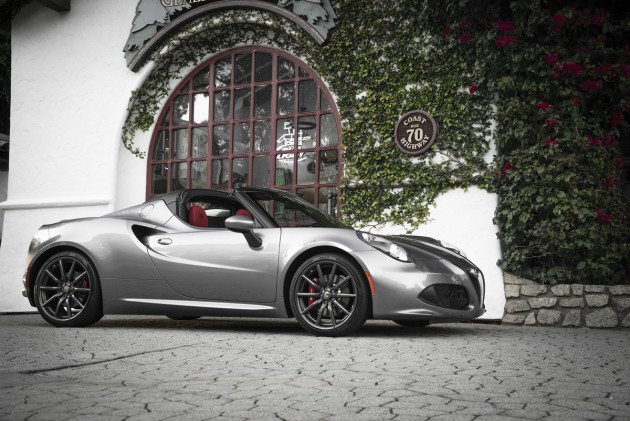 For two and a half days, I got to drive around in a race car. Sure, it was street legal and had a few things that showed a nod towards comfort. But in the end, those were just minimums added to make the drive out to the race track more comfortable. The Alfa Romeo 4C Spider is a race car. Anyone who gets past the exterior beauty and sits in one will have to come to grips with that.
I came to such grips with this after a few days of gripping that non-power assisted steering wheel, after which I had serious forearm cramps and a permanently etched grin of hollow-eyed adrenaline. The Alfa Romeo 4C Spider is a race car. Did I mention that?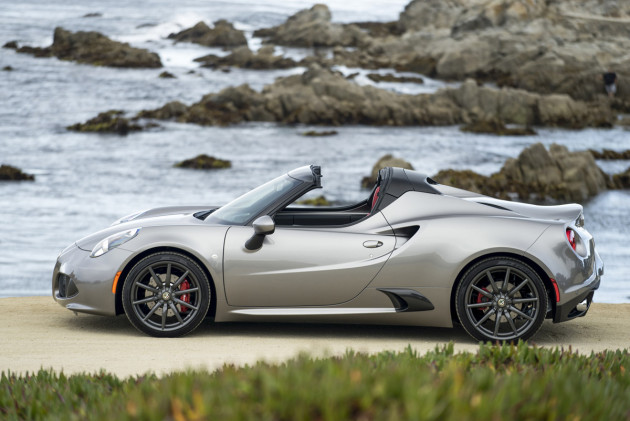 The Alfa 4C Spider is a tiny, tiny car build almost entirely out of carbon fiber. Those parts that aren't carbon fiber, such as the engine, suspension, and crash supports, are made of aluminum. The 4C is small, light, and powerful. It's powered by a 1.7-liter turbocharged four-cylinder engine that outputs 237 horsepower and 258 pound-feet of torque. This connects to an automated clutch transmission that powers the rear wheels. A four-mode drive selector half-heartedly assumes you'll opt for anything but "Sport Awesome Badass" mode. An electronically-controlled rear differential is also standard.
At this point, it's important to do some math. With me sitting in the car, the Alfa Romeo weighs in at around 2,600 pounds. That's an 1:11 horsepower to weight ratio. It's also important to understand that turbocharging means that peak outputs are at a very low RPM range, giving this little car a 0-60 time of 4.2 seconds. Built-in launch control makes this immediately do-able. That beats most of the German competition that might come to mind.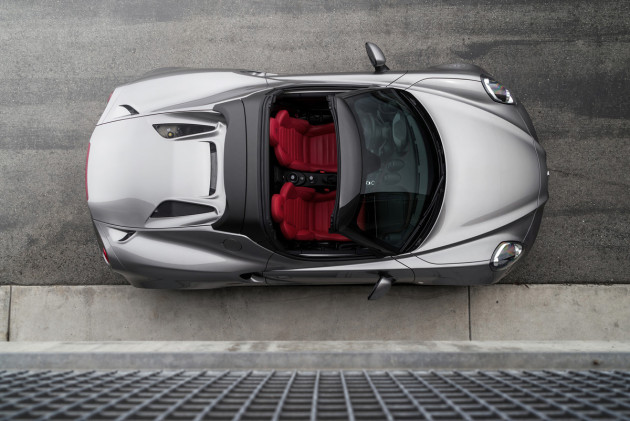 Before you run out and buy one though, thinking that you will be the most awesome guy on the block (which you would), there are some caveats here. The Alfa Romeo 4C is a track car. That's first and foremost. After that, it's a street-legal driving machine. This means that some of the amenities you might think are standard probably aren't. Like I mentioned, the 4C doesn't have power steering, and the interior is largely bare except for the Recaro seating and tiny Alpine stereo. There is no glove box, and heating and air conditioning are entirely secondary. There are only four speakers, which would be plenty if the engine wasn't right behind you and making its own symphony thanks to a sound dampening-free environment. The dual pipes are onerously loud for such a tiny car. The list goes on.
To sum all of that up, if you aren't dedicated to driving a true sports car that's definitely meant for track day more than it is for everyday, then you probably shouldn't buy a 4C Spider. If however, you love the purity of purpose and the ability to drive a completely and totally sport-focused machine that offers superb precision in steering, excellent handling characteristics, and way too much power for such a small package.. the Alfa Romeo 4C Spider is perfection.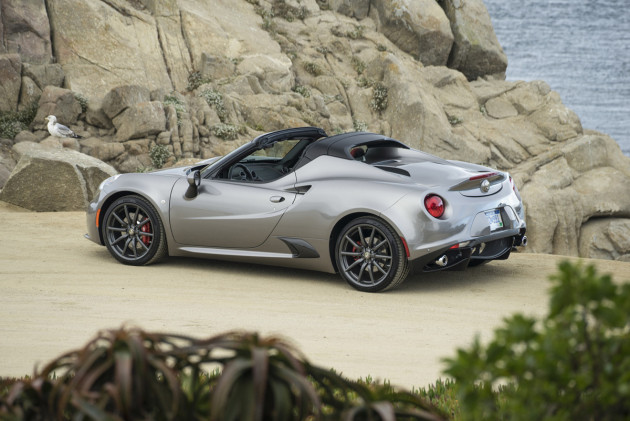 This car will stretch your face into a perma-grin/grimace and scare the pants off of you every time you hit the highway. To drive the 4C Spider, you must truly drive it. There is no leaning back and enjoying the music or hunkering down for a long half-dozing stint through traffic. You must sit upright, you must grip the wheel with both hands, and you must note every nuance and change happening around you. Because this is a true sports car.
The Alfa Romeo 4C Spider requires a lot from its driver. Your back will be sore, your legs might cramp, your arms will go numb, and you are going to feel a lot of fatigue when behind the wheel of this little car for any length of time. But trust me, it will be worth every price paid. Finding an equal to the driving experience in the Alfa Romeo 4C Spider is not likely possible. It's a race car.