Who Else Is Playing Madden NFL 13 Today?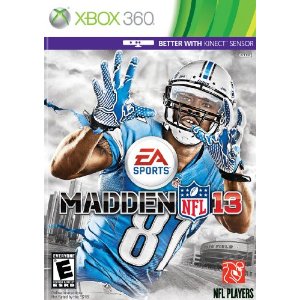 Football fans and video-game junkies everywhere are rejoicing, for Madden NFL 13 has finally arrived! This year's edition has gotten some amazing reviews, and for good reason!
Madden 13 delivers a more engrossing, complete and realistic gridiron experience than any game before it. Key game features include: presentation reminiscent of national television broadcasts, gameplay improvements such as a new pass-ready system, improved play action, and the all-new read and react defensive AI system, optional Kinect sensor support, Madden social/play functionality, multiplayer support online and offline, and the ability to build the ultimate franchise as a coach, an NFL superstar, or yourself.
Just look at the trailer for the game:

Ridiculous, right?! Here are some of the new features that make Madden NFL 13 so special:
Physics You Can Feel – Infinity Engine
With Physics You Can Feel, Madden NFL 13 delivers Next Generation gameplay today. Powered by the all-new Infinity Engine, true player impact and authentic momentum transfer ensure that no two plays ever look or feel the same.
Gameplay
With a completely redesigned passing game including new a new pass-ready system and improved play action, and the all-new read and react defensive AI system that features the most intelligent pass defense to date, Madden NFL 13 achieves greater realism on the virtual gridiron on both sides of the ball.
Presentation
Madden NFL 13 delivers world-class presentation with an all-new living front end, dynamic in-game transitions, a live ticker, and drastically improved usability. Every game has the feel of a nationally televised broadcast with CBS Sports commentators Jim Nantz and Phil Simms calling the action from the virtual 3D booth.
Connected Careers
Live the NFL dream—whenever you want, wherever you want in a fully interactive, social, and connected online experience. Create your personal legacy or relive an all-time legend's as you build the ultimate franchise as a coach, an NFL superstar, or yourself. Manage your team from your console, the web, or mobile phone in a 24/7 world as NFL insiders and experts analyze, praise, and criticize every move along the way.
XBOX 360 Kinect
Control the line of scrimmage using just your voice. Both on defense and offense, Kinect on Xbox 360 gives you full control over all you pre-snap adjustments, audibles, and personnel, immersing you into the NFL like never before!
Madden Ultimate Team
Madden NFL 13 Ultimate Team is a free-to-play game mode that perfectly combines Madden NFL Football, fantasy football, and player trading cards.
Audio
Madden NFL 13 delivers a superb audio experience that faithfully replicates NFL Sundays with CBS Sports' Jim Nantz and Phil Simms calling the action, QB cadences, authentic sound effects and actual on-field player chatter, all provided by NFL Films, and a fully-scored orchestral theme that conveys the emotion and excitement of professional football.
Madden Social
Madden NFL Social for Facebook brings a whole new way to enjoy Madden NFL Football from the comfort of your computer, laptop and tablet. No need for a TV, a console system, or even a lot of time. Play for a minute or play for hours, it's up to you. And when you're away from the computer, you can even transfer the entire, complete game to your iPhone iOS if you'd like to play on the go.
You can check out some screenshots from Madden NFL 13 below:

Madden NFL 13 is available for the Xbox 360, PlayStation 3, Nintendo Wii, and PS Vita.