World's Top Wingsuit Athletes Fly Over Manhattan Skyline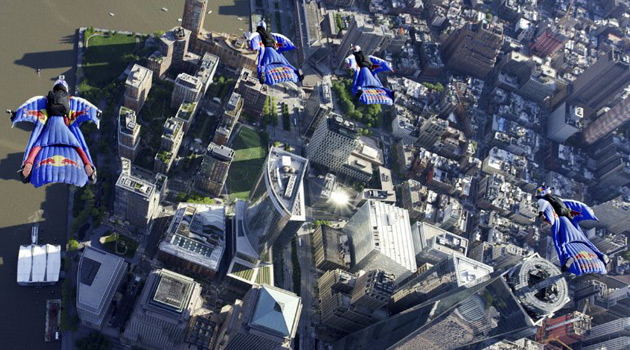 Last weekend, the best view of New York City was from the air as five Red Bull Air Force Wingsuit Flyers accomplished their dream of skydiving from above one of the world's most recognizable skylines, Manhattan, in anticipation of the 2014 Bethpage Air Show at Jones Beach, Long Island.
The elite aerial athletes of the Red Bull Air Force, who have performed at the most extraordinary locations in the world, propelled at 7,500 feet, traveling 120 mph, starting from the southern tip of Manhattan, passing by the defining buildings of the Financial District and heading uptown. With all necessary permits secured and notifications made, the latest technology of wingsuits allowed these professionals to travel along the Manhattan Skyline in two miles in two minutes and land safely on a barge located on the Hudson River.
In the following extended clip, we get to watch the Red Bull Air Force team planning and practicing for the 5 person wingsuit dive in Upstate New York, followed by footage of their actual jump over lower Manhattan where they dove from a plane at 7,500 feet at the top of Governor's Island, landing safely in a barge in the Hudson River roughly 2 minutes afterwards.
Participating Wingsuit Flyers Jon Devore, Jeff Provenzano, Amy Chmelecki, Sean MacCormac and Andy Farrington are part of the Red Bull Air Force (RBAF), an eleven person aerial sports team assembled from the most accomplished and experienced skydivers, BASE jumpers, wingsuit fliers, and paraglider pilots on the planet. For some of them with New York roots, returning to perform in the Air Show at Jones Beach provided an extremely coveted opportunity to take in the view from above the city they call home.
"Being from New York, this is so special and I've been dreaming about this since I was a kid," said wingsuit flyer Jeff Provenzano, who grew up just north of the city. "It's been years of looking up at the big buildings and wondering if there is a day that I can fly over them. That day was today."